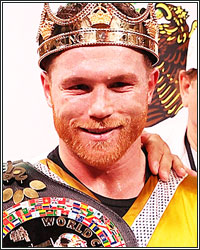 It's getting increasingly more difficult to "hate" on Saul "Canelo" Alvarez. But don't ever question boxing fans' and the boxing media's ability to grasp on to derision and old grudges.

In the span of eleven months, the 31-year-old Mexican superstar fully unified the super middleweight division, beating three of the consensus top five 168-pounders in the world (Callum Smith, Billy Joe Saunders, and Caleb Plant), as well as a soft-touch WBC gimme mandatory (Avni Yildirim).

He's now moving up to light heavyweight, challenging WBA middleweight champ Dmitry Bivol, who's ranked no lower than no.2 in the division. The bout with Bivol this Saturday in Las Vegas will place him one win away from fully unifying the 175 lb. division, if he can meet and beat the winner of next month's Artur Beterbiev-Joe Smith Jr. 3-belt unification contest.

Plus, of course, he's throwing in a third Gennadiy Golovkin bout between Bivol and a possible full unification at light heavyweight.

If you're keeping score, that would mean (if everything comes off as planned), in the span of less than two years Alvarez would've achieved full 4-belt undisputed champ status in two divisions, settled an old score against the consensus no. 1 middleweight in Golovkin, and walked through a top-ranked WBC super middleweight challenger.

But what about David Benavidez!

Really?

People are really writing about a "ducking" Canelo and whining about his "cherry-picking." Actually, one of the bottom-rung boxing websites is almost entirely devoted to this kind of ditzy, derpy, agenda-laden logic. I won't mention any names, but when you say "bottum-rung boxing website," most every knowledgeable, online-savvy fight fan should know who I'm talking about. It's one of the ones that let's everyone post whatever the hell they want because they crave CONTENT.

I mean, for fuck's sake, if anyone can aggressively hate on Alvarez through this recent run, they have some serious mental, emotional, and/or intellectual issues. And they definitely shouldn't be commenting on boxing. Somebody needs to cut off the internet for these people. Let them write their shitty analysis in Word to zero audience, in a padded room like a mental patient, and then turn off their computer each day without saving their jumbled words and ideas.

Alvarez is not beyond criticism and I've heaped plenty of it on his freckled shoulders over the years-- when he deserved it. Hell, I used to refer to him as the "Red-headed Step-champion."

Yes, he WAS pretty much gifted his first world title and, yes, he's been allowed to face some soft-touches because of his money-making ability. Yes, he's called the shots way too much in many of his big fights. But you could say all that stuff about a lot of (if not most...or all) the top fighters/money-makers in the sport today. Boxing is a business and money paves the way for privilege.

But if there's anyone who's worked to add legitimacy to his star-driven privilege, it's Alvarez. The man has busted his ass to become an elite-level boxer, adding skills and nuance that were completely foreign to him previously. In the ring, he's taken on a more diverse roster of opposition in recent years than any of his contemporaries.

Like the man or not, he's become the best in the world in a very old school way-- by developing his game in the gym and adding respectable names to his resume.

What more can be asked of the guy?

David Benavidez?

And if Alvarez DID fight and beat Benavidez (who's a very good fighter, by the way...no disrespect intended to him), these same "haters" would be saying that Benavidez was too young, too limited, too unproven. We all know how the hate game works in boxing. Nothing will ever be good enough for those already decided on discrediting someone they've invested so much time in disliking.

All of this Canelo hate, though, IS kind of humorous. Similar to watching old Three Stooges film shorts, it's funny to watch idiots flop around and make asses of themselves. And, ultimately, nobody takes these "haters" seriously, anyway.

Just know, though, that these people are dead wrong about their dismissals of Saul Alvarez and if you've decided to latch on to the water-headed among us, you're missing out on something special.