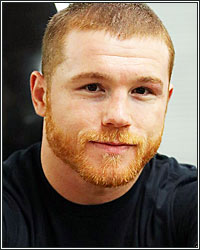 Every Thursday here at Fight Hype, boxing fans gather around my bulbous, bulging sack in anticipation of an Ol' Faithful money shot of gooey, salty truth. This Thursday is no different. So, put your goggles on and cinch up your plastic poncho, here it comes. This week, we have comments/questions regarding Canelo, Bivol, and a little bit (more) on Spence-Crawford.

Bivol over Canelo?

Hey Paul.

I can't help this feeling that Bivol will beat Canelo next week. I give a ton of credit for Canelo taking on this challenge. I don't hear Charlo or Benavidez calling out Bivol. (I know, its about the $, but you know what I mean). Bivol reminds me of a combo of prime Austin Trout and Lara. and Bivol beat the crap out of a prime Joe Smith. I would love to see Canelo win but I'm not sure.

Best regards.

-- John

Hey John.

Bivol is a very good fighter and a legit challenge for Canelo. I don't see him as an Austin Trout/Erislandy Lara-type, though. He's not as fluid as either and is not improvisational in the "Western" boxing sense. That's what gave a young Alvarez so much trouble with Trout and Lara-- they were very fluid, could think on their feet, and were good at keeping him doubtful and guessing. Bivol is very skilled and has fairly quick and heavy hands, but he's conservative and very orthodox in his strategy and mindset. I think that's where his downfall will be. In this fight, Canelo will be the one with the fluidity and the ability to improvise. I don't think Bivol will be able to adapt and play along. And the difference between Canelo right now and Lara/Trout back then is that Canelo is a killer. He'll throw his opponent off and then go for the kill rather than the points win.

I think Alvarez will disassemble Bivol in the later rounds after a close first half of the fight. But, like I said, Bivol is good and has a lot going for him. It's not going to be a walk in the park for the Mexican.

More on the Canelo Haters

Hey Magno.

You think Canelo beating the breaks off of Bivol will stop the haters? I think not. LOL. Let them hate, tho. I read your article on the haters and the dummies. LOL. I couldn't agree more. Why do you think they have it out for the man?

Keep doing what you do, hermano.

– Carlos C.

Hey Carlos.

You know the answer to your question, carnal. Haters will never stop hating. They wouldn't be haters in the first place if they were interested in fair play and being intellectually honest. As these kinds of people usually do, they'll just keep moving back the goal posts and setting up new hurdles for Canelo to leap. And every time he beats someone he was supposed to be ducking or accomplishes something he needed to accomplish, they'll make some sort of sorry-ass excuse about why what he did wasn't really all that impressive. Alvarez is never going to win those people over and I'm assuming he doesn't care about winning them over at this point.

As for the reason for the hate, well, it's probably several factors: He came up too quick...got too big, too fast...Got a lot handed to him as he came up...He's too much of a pretty boy...Dresses too fruity. It could be a million things, but it probably has to do with them more than him. As I wrote in that "dummies and haters" piece, if people are still hating on Canelo through this recent run of his, they are either sorely lacking in boxing acumen or absolutely goofed up on hate for a complete stranger.

Monster Canelo...and how about Spence-Crawford?

Paul, I've been reading your articles for about a year and a half sometimes disagreeing with what you write and others looking at things in different perspective, but the most recent article you wrote is spot on about Canelo. He has been a monster these past years in the ring. People don't give him his due. I think Benavidez would give him his hardest fight, but even then he would break him down and probably end up with the W !!

I'm a real hard-nose boxing fan. I love the sport. Keep your articles coming. Thank you, I enjoy them very much.

Oh, one more thing. I think if Spence fights Crawford, even though Crawford has a soft resume, something tells me he would beat Spence. I like Spence, he's a very talented fighter, but Crawford has grown into every weight he has moved up to. It's a competitive fight. I just think Crawford would pull it out. He looked very strong his last outing. What do you think?

-- Albert Felix

Hey Albert.

Thanks for the kind words.

Make no mistake about it, I do want to see Canelo-Benavidez. I just find it humorous that the Canelo critics are making a bout with Benavidez the be-all, end-all pivotal mark in Canelo's legacy.

David Benavidez is a superb offensive fighter and there's definitely a touch of genius in some of the things he does in the ring. He's clearly a prodigy of sorts and does some very nuanced stuff on the attack. Consider me a fan of his work. But there are some weak points as well, mostly on defense. There are also legit questions regarding his outside-the-ring dealings and general focus that will follow him around until he shows he can go some years without sabotaging his own career progress. Being a two-time world champ who's lost his title twice due to outside-the-ring issues makes for a big "yeah, but" when it comes to assessing his long-term viability as an elite player in the game.

But what about Canelo-Benavidez, right now? I think Benavidez would have his moments, but I don't think he's seasoned enough to beat Canelo in the present tense. I'd like to see him against a tougher level of opposition before making the grab for the real big-time. But I get it. Canelo is here right now and so is the money. Benavidez and his team want to grab at the mega-purse while it can still be had.

Canelo is looking at other career paths at the moment, so Benavidez would be well-advised to work on making the biggest non-Canelo fights that can be made and to stop pining away for a Canelo sweepstakes ticket. As good as he his now, Benavidez can become even better...but only if he can find a way to get bigger and better opposition to keep him sharp and focused.

As for Spence-Crawford, I agree with you. I think Crawford wins. I just like his versatility and his ability to switch gears mid-fight. His adaptability will help greatly against a guy in Spence who has a great A-game, but has yet to show the need for a B-game. Crawford will fight in a way where weight won't be an issue and take a close decision. That's how I see it, anyway.

Got a question (or hate mail) for Magno's Bulging Mail Sack? The best of the best gets included in the weekly mailbag segment right here at FightHype. Send your stuff here: paulmagno@theboxingtribune.com.