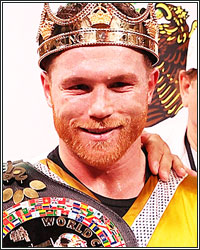 After every Canelo Alvarez fight, my sack is brimming with questions and comments regarding the red-headed Mexican golden goose. Post Bivol loss, though, my sack is especially bulky. So, let's grab the top of the top in comments/questions and go from there.

Canelo's Pride Before The Fall?

What's up Paul? You know I had to write this hot off the press. What I have to say might be dismissive towards Bivol so correct me if I'm wrong.

Canelo didn't take this fight seriously. Leading up to the fight he was talking about everything but Bivol. Golfing with Tiger Woods, fighting Usyk, etc etc. He thought he would steamroll another Euro fighter.

However, this was an embarrassing effort on behalf of Canelo Alvarez. He didn't appear to be in good shape and he gassed very early. Had a low work rate and made no adjustments. I'm not going to say Canelo quit, but by the 9th round it seems as if he resigned to the fact that he wouldn't win the fight, had his hands down and started resembling an Adrien Broner like effort in the championship rounds.

Props to Bivol he did what he had to do for sure. But he didn't do anything special. In my opinion, this fight was more indicative of how Canelo has been handling the limelight. I'm not riding with the narrative that Bivol was too big and Canelo couldn't overcome the size difference. For a fighter of Canelo's stature I expected better preparation, planning, composure and adaptiveness. These are all things Canelo has exhibited on numerous occasions.

I know the Canelo haters are going to say Canelo got exposed and everything else. But I truly think Canelo playing El Jefe outside the ring is deterring his ability to be El Jefe inside the ring.

-- Nail Rahman

Hey Nail.

I think you may have hit the nail (no pun intended) squarely on the head with your assessment. From, like, the first or second round, we could clearly see that this matchup was not at all favorable to Canelo. We could also clearly see that Canelo wasn't making the adjustments needed to get himself into the fight. And, given that we KNOW him to have the skill to change course mid-fight, we can only assume that he either couldn't make the necessary adjustments or wouldn't make them.

Your take may very well be the reason behind what we saw.

It could be that he got too big in the head, too invested in believing his own press clippings, and too focused on everything ELSE he wanted to achieve beyond Bivol. And maybe he DID underestimate the Russian or, at the very least, look past his challenge because he believed in himself to such a degree that he just assumed he'd will himself to the victory.

Well, he COULDN'T just will his way to a win. In Bivol, he met someone who not only presented a difficult style to deal with and had the size that worked to his benefit, but also someone who executed his game plan well and remained focused, unbendable, unflappable throughout the entire fight. Bivol didn't use a complex game plan against Canelo, he just maintained the perfect distance for himself and made Canelo pay every time he tried to get inside that distance. By the end of the fight, as you pointed out, Canelo's effort had diminished (although he never quite stopped trying entirely and, IMO, never fell into Adrien Broner land). He had been broken and conditioned to fight at Bivol's preferred pace and space, even though he may have convinced himself that he was, indeed, working at 100%.

Shit happens, but shit like that hasn't really happened to Alvarez, not even in his loss to Mayweather. It'll be up for debate as to why it happened. Your take is better than anyone else's I've seen.

So, how will this loss affect the man? Alvarez has used past setbacks as learning opportunities, coming back better and more mature as a fighter. Is he "too big" now to be a humble student? Is he at the point where everyone around him is a "yes man" and he just doesn't have to take that long, hard look in the mirror? We shall see.

The 3 Faces of Canelo

Hello Paul.

Hope you and your family had a great mother/boxing weekend.

My first choice for topic is obviously Canelo, I have given it too much thought and there are 3 versions of Canelo:

-The guy who fights on his backfoot, leans on the ropes and counters with combination punching (GGG1, Trout, Angulo)

-The guy who stays on the center of the ring, jabs his way in and counters body first combinations (GGG2)

-The guy who cuts off the ring, plods forward and throws with bad intentions (Smith, Saunders and Plant)

I am aware that the combination of going up in weight plus the talents of Bivol are a big factor, but in my mind the guy who fought GGG2 is the one who should've fought Bivol. Canelo made a mix between the 1st and 3rd style but in the wrong way (backing up to the ropes and not showing the head movement required to cut off the ring).

I am also aware that he got tired due to 175 maybe being too much for his body and the rhythm that Bivol was demanding was too much.

Assuming Canelo can make the adjustments I mentioned above, I am still not sure if that would allow him to beat Bivol (who is an excellent in-out boxer)

P.S. I dont wanna see the GGG fight

Best Regards

-- Miguel

Hey Miguel.

I took my deep dive into what possibly went wrong with Canelo and whether he can fix things for the future in the response above.

I don't think he came into this fight fully prepared, mentally, and found himself in deep waters that he simply couldn't navigate.

Bivol IS a very good fighter who delivered an outstandingly poised and high-end professional performance, but I still think that this fight's outcome had more to do with what Alvarez couldn't/wouldn't do.

He needs to be that "GGG2" guy you mentioned. He cannot win a fight on the outside against Bivol. He has to get up close and turn the boxing match into a Mexican-style battle. He can beat Bivol, but only if he can make the proper adjustments.

But, for me, as I mentioned above, the question is whether he's open to making those adjustments and still humble enough to go back to the gym as a student instead of a star. I guarantee you that the "yes men" in his life are already filling his head with toxic "You didn't really lose, Campeon...you got cheated" talk. Stars at Canelo's level often lose touch with reality and if he can't get back to basics, he has zero chance of beating Bivol in a rematch.

LOL @ Canelo

LOL LOL LOL

Your boy Canelo lost! Is he still on that road to greatness? LOL. He's an overrated bum who's been handed everything on a silver platter. He should have 6 losses by now. Even being on PEDs isn't enough to make him great! LOL. Shame on you fools in the media for buying into the Canelo hype in the first place!

– D.

Hey Sunny D.

First, you're dumb. That pretty much cancels out everything you'll ever think, say, or believe. So, there's no real point in addressing anything you wrote.

Second, I'll humor one of your "points" and ask-- where do you get that "your boy Canelo" stuff? I have no vested interest in anyone winning or losing. I just give credit where credit is due and heap criticism where criticism is warranted. Unlike you, I have no hard-on for or against anyone (with maybe a small handful of exceptions). As a matter of fact, as much as I respected Canelo's recent run of success, I was excited when I sensed an upset in the air against Bivol.

I'm just a boxing fan who actually respects the sport and its athletes, unlike people such as yourself, who are either groupies or butt-hurt rejected groupies.

Got a question (or hate mail) for Magno's Bulging Mail Sack? The best of the best gets included in the weekly mailbag segment right here at FightHype. Send your stuff here: paulmagno@theboxingtribune.com.