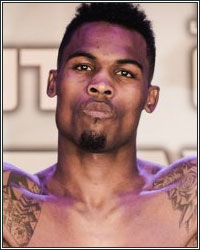 Jermell Charlo is the reigning WBA, WBC, and IBF junior middleweight champion, and if he beats WBO champ Brian Castaño this Saturday in a rematch of last July's split decision unification draw, he'll become the first-ever fully-unified 154 lb. champ in the 4-belt era. And, most impressively, he will have accomplished this feat honestly and earnestly amid a best vs. best dynamic that has made the junior middleweight division one of the most compelling weight classes over the last half-decade or so.

However, outside of small pockets of support here and there, there remains an odd amount of derision, dismissal, and downright "hate" for the Houston native.

This is nothing new.

You could sense the collective recoil of online critics and cynics back in 2018 when the Charlo brothers were featured in GQ magazine. You could almost fee the acid bubbling up in their stomachs from disgust.

Despite the exceedingly rare occurence of having boxers spotlighted in a mainstream, non-sports magazine, there was way more disdain than excitement. While universally acknowledged that mainstream exposure is the key to building up the sport after decades of being essentially shut off from the mainstream world, the general vibe from the online Universo Pugilistico regarding this GQ Jermall and Jermell piece was not positive.

Boxing fandom's hate affair with the Charlos didn't begin in 2018, though. Negativity had been tossed the Charlos' way a long time before that-- even as the identical twins were killing it on their way to the top, delivering the no-nonsense ring violence hardcore fans usually embrace in rising stars.

Jermell, especially, was taking care of things in a very old school way, beating everyone from usually durable gatekeepers to former world champs to fellow rising star contenders. His body of work, as a young, upcoming fighter, was already impressive by the time he won the vacant WBC 154 lb. world title against John Jackson in 2016 with names like Gabriel Rosado, Vanes Martirosyan, Denis Douglin, Demetrius Hopkins, Charles Bellamy, Joachim Alcine, and Harry Joe Yorgey on his resume. After winning his first world title, Charlo stopped Erickson Lubin and Charles Hatley before decisioning former world champ Austin Trout.

Even after experiencing his first career setback via close, controversial decision to Tony Harrison in late 2018, he bounced back in most impressive fashion, stopping Harrison one year later in a return bout and then knocking out 2-belt world champ Jeison Rosario to become a 3-belt champ.

Against Argentina's Brian Castaño last July, Charlo fought well and showed resolve against his awkward, pressure-fighter opponent, but had to settle for a split decision draw in his bid to become the first unified 4-belt champ in the division's history.

Yet Jermell, specifically, (and the Charlo twins, in general) doesn't get the respect or the acclaim he should be getting. And the question is why.

Charlo's had some run-ins with the law (none of which have stuck). But in a sport where wife beaters, wife murderers, gangsters, and general low-life creeps are revered for their ring exploits and often positioned as Hall of Fame heroes, Jermell's comparatively minor transgressions can't be the reason for the disdain.

The Charlo brothers' grating and seemingly non-stop trash talk is off-putting, but it can't be the cause for the disregard, either. Boxing has historically embraced trash talkers and loudmouths.

Maybe the Charlos coming up as killers, only to show themselves to be clinical, cautious counter-punchers at heart has turned some fans off?

Another factor could be the Charlos' alliance with adviser Al Haymon and Premier Boxing Champions. When Haymon first started making major waves in the boxing business, doing things in a pro-fighter and non-traditional way, he got major blowback from the boxing establishment and the boxing media, which is usually made up of lap dogs for the establishment and status quo. The negative press washing over all things Haymon, also washed over fighters associated with Haymon. It only stands to reason that if extremely likable Haymon fighters like Vernon Forrest and Paul Williams got odd amounts of negativity from the media, not-so-likable fighters like Jermell and Jermall would get more and worse.

Whatever the case, the Charlos, relative to other active main stage fighters, do NOT get the credit and acclaim they deserve.

And Jermell, on the precipice of making history this Saturday and earning legit top dog, undisputed champ status in a very old school way, is almost embarrassingly lacking in that credit and acclaim.

It would be nice to think that a decisive win over Castaño this Saturday will change that, but everyone knows that the boxing hive mind doesn't work like that. Those withholding respect from Jermell Charlo will continue to do so, no matter what happens. And if Charlo should lose to Castaño, well, then there will be an absolute blood orgy as they work to bring down the fighter's entire body of work.

Kudos to Jermell Charlo and any other fighter able to make things work despite the fickle and often maddening mindset of boxing fans.