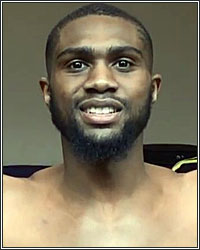 I was waiting a few days to let the dust settle and the social media buzz to die down before I said this-- Jaron "Boots" Ennis is a fucking beast!

I'm not one to fall easily to hyperbole or fly off the handle after a big-shot rising star beats the stuffing out of someone he's supposed to beat. I know how the game works and how good matchmaking can often make bread pudding seem like filet mignon. And, a little bit later on, I'm going to toss out some caveats and "what abouts" when it comes to whether the 24-year-old from Philly can be declared Tommy Hearns 2.0 just yet. But, for the most part, there's nothing NOT to get excited about when it comes to this kid.

On Saturday, underneath Charlo-Castaño 2 in Carson, California, Ennis stopped Custio Clayton in the second round with a cuffing shot behind the ear. Yeah, he was SUPPOSED to beat the poutine out of the Canadian, but it was a still an impressive feat nonetheless. Clayton was undefeated and showed a durable chin throughout his 20-fight pro career and impressive amateur stint.

Clipping Clayton early added to the impressive "name-making" run Ennis has been having since graduating from ShoBox showcases to the boxing main stage. In September of 2020, he was the first to stop Juan Carlos Abreu. In April of 2021, he was the first to stop former world titlist Sergey Lipinets. In October of 2021, he blew away the usually durable gatekeeper Thomas Dulorme in the first round.

These have been performances above and beyond those seen in the usual record-padding runs of young prospects.

Ennis' exploits have even garnered the attention of Floyd Mayweather, who should know a thing or two about what constitutes a "real" talent.

Mayweather Promotions CEO Leonard Ellerbe recently recalled to FightHype.com a call he got from the five-division former world champ.

"I can recall; it was a little while ago, and I got a phone call," Ellerbe said. "Floyd was like 'Who the f*** is this Boots guy? That mother f**** can fight his a** off.'"

Aside from passing the eye test of knowledgeable boxing insiders, he's also doing well in the fickle collective minds of the four sanctioning bodies, where he's ranked within the top 4 of each. And that means, at least in theory, that a world title shot should be coming fairly soon.

"Mr. Big Fish is here, so it's time to go fishing," Ennis said, post-Clayton clubbing, referring to WBA/WBC/IBF world welterweight champ Errol Spence, who was in attendance at Dignity Health Sports Park Saturday night.

Spence, of course, may have bigger immediate fish to fry, though, if the much-awaited unification bout with WBO champ Terence Crawford comes together.

Ennis, however, has been pragmatic and patient in his run to the top and doesn't seem to be all that stressed out about not getting the really big fights he wants and needs. The top guys have to fight him eventually, he believes.

"I feel like ain't no fighter scared of nobody," Ennis told reporters during an open workout in the lead-up to the Clayton fight. "I feel like they just make the smart business decisions and what's best for they career. I mean, eventually I'll see these guys, whether it's at '47 or '54."

No worries. These guys HAVE to fight him eventually. And, even if they don't, if he keeps entertaining and impressing and making a name for himself with explosive performances, he'll be a big enough star to generate his own big-bank paydays. Just a month shy of his 25th birthday, time is definitely on his side.

Being a jaded realist forces me to point out that Ennis has yet to be tested by a mover, a thinker, a proven elite-level welterweight just yet. None of the tough veterans he's blown out have been stylistically equipped to frustrate and fluster the rising star. They were there to be hit, although most had proven to be tough and hard to hurt. The real tests for Ennis' pre-title fight "realness" will be guys like Keith Thurman and Danny Garcia and maybe a fellow young gun like Vergil Ortiz Jr., who is ranked ahead of him in three of the four sanctioning body rankings, but has become MIA lately. With dominant guys like Ennis, we simply don't know what they can't do until they face someone who pushes them past their comfort zone.

But having said all of that, he gives off a definitive vibe of being something special. He passes all eye tests and, like the truly great ones, is getting better, sharper with each move up in class. At this point, there's nothing NOT to like about the kid.

I'm looking forward to the next act in the Jaron "Boots" Ennis show. You don't get that kind of cheery optimism from me all the time.