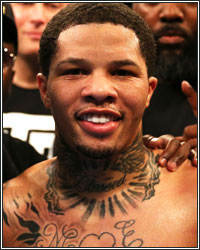 Thursdays, in this corner of the Universo Pugilistico, are all about my sack-- my bulging, bulbous, aching sack-- and the gooey, salty truth contained within. So...sit back, close your eyes, pull back your hair, and get ready for a money shot of wisdom. This week, post-Rolly Romero TKO, I got nothing but Gervonta Davis talk hitting my inbox. So, let's take a look at some of that.

Raining on the Tank Parade

Hey Magno.

Predictably, Tank Davis' win on Saturday was met with the usual BS disrespect and hate by the usual suspects in the boxing media. I get where Rolly isn't exactly Lomachenko or Kambosos for that matter, but the man just seems to catch all the flak when all he does is entertain, sell tickets, and put on good shows for the fans. Why do you think he gets so much static by media and certain fans? When will it stop...or will it ever stop?

Keep up the good work, my man.

– Antonio D from STL.

Hey Antonio.

If boxing history has taught us anything, it's that there's no cure for terminal Hateritis. Davis will never completely shake off the critics biting at his ass hairs. That's just the nature of things when it comes to certain fans and members of the media. They will never stop stacking hurdles for him to prove himself and never stop diminishing the height of those hurdles after he jumps them. There will always be something else that Davis SHOULD be doing, someone else he SHOULD be fighting. Maybe the criticisms would die down a bit if he signs with Top Rank or Matchroom because, as well all know and have seen, all things attached to Floyd Mayweather and/or Al Haymon seems to draw attacks from the same people.

I'm not even talking about whether the criticisms are warranted or not, it's just that they're so selective. It IS damn predictable, though, when it comes to who gets criticized and who doesn't. As Davis and his people have pointed out, it's not exactly as though everybody is fighting everybody at 135-140. If George Kambosos hadn't wedged himself into the lightweight scene by winning all the belts that matter versus Teofimo Lopez last November, nothing would be any different now than it was last year. Lopez, Devin Haney, Ryan Garcia, Vasiliy Lomachenko, and Tank Davis would all still NOT be fighting one another and the one big fight of Kambosos-Haney, of course, would not be happening either. There's a lot of blame to go around. Why take aim at the one elite-level fighter who IS drawing attention and putting asses in seats?

The good thing is that these perpetually jaded critics and biased media lap dogs are absolutely irrelevant in the big picture of things. Their criticisms and catty laments mean nothing to any of the fighters, management, networks, or even 99.9% of the fans.

Chinks in Tank's Armor, Tank's Next Moves

Hi Paul.

Love your work. I don't always agree with you, but I can see that everything you write comes from an honest place, so I'm cool with that.

I have two questions re: Tank Davis.

1. This is the second fight in a row that we've seen him struggle to a degree. It should also be noted that he had some semi-rough patches in his fights with Santa Cruz and Mario Barrios before closing the show with something big. Are we seeing chinks in his armor, but glossing over them because his power is so spectacular? Could this be a bad sign for when he faces someone with the skills and focus to stick with a game plan and avoid the big power shots? I guess what I'm getting at is this-- is Tank Davis overrated because of his power?

2. What do you see next for Tank? I'm not talking about what we want to see, but what we'll realistically be getting.

Thanks for all your good work over the years.

– John Deeks

Hey John.

Thanks for the kind words. I'll tackle your questions in order.

1. I think there's a tendency to overrate all power punchers to an extent, but I don't know if that can be applied to Davis. I wouldn't say that he struggled with Romero and Cruz. He dropped some rounds and didn't look as dominant overall (well, except for when he knocked Romero loopy), but I didn't see him overwhelmed at any point. He wasn't losing, even when he wasn't winning, if that makes sense. I never felt like he was on the verge of losing control in either fight. As for his bouts with Santa Cruz and Barrios, I didn't see rough patches as much as I saw him figuring things out and sizing up the fighters. Now, that doesn't mean that he won't struggle against an elite-level boxer with elite-level smarts and focus. Frankly, he hasn't faced that kind of opponent yet, so we just don't know. And, so, we also don't really know if what you saw are chinks in his armor or just stylistic quirks playing out against a certain type of opponent.

2. I'm getting a strong vibe that Davis and his people may want to rematch Isaac Cruz next. It's a smart match to make at this point, even if it's going to get dumped on ferociously by some fans and media. Cruz got a lot of credit for giving Davis problems and, so, he'll enter into a rematch with at least the appearance of being a legitimate threat. Realistically, though, Cruz was never close to upsetting Davis. He also has a black-and-white style that probably won't bode well for his chances in a rematch. Davis-Cruz 2 being in the works is the only explanation I can find for Team Cruz rejecting a big and, IMO, winnable Ryan Garcia fight.

After Cruz, it's anyone's guess as to who Tank fights. If I'm going full-on practical/cynical, I'd say Jeremia Nakathila, who just walked through Miguel Berchelt, could be an option. Another practical/cynical choice would be the UK's Gary Cully, who stopped former champ Miguel Vazquez in March and is ranked in the WBA's top 5. "Tank in the UK" might be a tempting option for Team Gervonta Davis.

Got a question (or hate mail) for Magno's Bulging Mail Sack? The best of the best gets included in the weekly mailbag segment right here at FightHype. Send your stuff here: paulmagno@theboxingtribune.com.