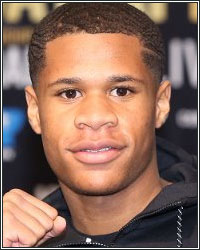 Talent matters. Skill matters.

We were reminded of that fact on Saturday night in two high-profile main event championship bouts.

In Melbourne, Australia, WBC lightweight champ Devin Haney jabbed and moved his way to a one-sided victory against IBF/WBA/WBO champ, Australia's George Kambosos Jr.

At practically the same time, in Minneapolis, Minnesota, defending WBC and WBO junior featherweight champ Stephen Fulton Jr. jabbed and moved his own way to a one-sided decision over former unified 122 lb. champ Danny Roman.

In both contests, the class of the victors showed in a big way. Haney and Fulton performed to the best of their high-end abilities, did not deviate from their plans, and, in the process, almost completely nullified two very good, very game opponents. For Kambosos and Roman, being game, tough, and hungry for victory in the ring just wasn't enough.

There's a kinda sweet, but utterly naive notion among fight fans that toughness is all that matters in boxing. Maybe there's some accuracy to that notion, but not in the way we like to think.

In boxing, toughness not only entails the ability to withstand punishment and tolerate pain in pursuit of victory, it's tied up in all the details of training yourself to be the best you can be. Toughness is dragging your ass to the gym day after day, from the time you're a kid to the time you're a world class professional, to work on the most minute details of your craft. Toughness is working on that craft through all the nicks, bruises, and lingering injuries associated with preparing your body for battle. Toughness is keeping yourself away from the pleasures and indulgences of youth so you can get yourself into the gym to work through your pain and perfect your craft.

In the specific cases of Haney and Fulton, their toughness of character manifested itself in how they fought on Saturday—not in how much they could endure on fight night, but in how much their well-honed skills could take them to the best, safest, and ultimately most effective path to victory.

None of this is to suggest that George Kambosos and Danny Roman are not tough. These guys are tough-as-nails warriors and have proven their ability and willingness to walk through fire. But, again, that kind of toughness is, very often, not enough…especially against someone who has done all that tough gym work in living up to his full potential as a boxer.

Haney and Fulton made things look easy in very high-profile and high-end legacy-building fights and they did it while using just a small handful of the tools in their arsenal. What they did was as dominant and as definitive as a first-round knockout. They didn't have to fight like fiends in the ring because they trained like fiends outside the ring. That's what boxing is supposed to be about.

There are definitely ways for a less-talented, less-skilled fighter to overcome their disadvantages in a prizefight. But that requires the more subtle, outside-the-ring form of toughness described above.

Kudos to Haney, Fulton and, for that matter, any boxer who's put in those long hours perfecting the art of boxing. Kudos to those warriors and their trainers who approach the gym as not only a place to build up their body and physical fortitude, but also as a place of real learning.

Don't blame the skillful warriors for being "boring." They've done their part in the prizefight world. They're living up to their potential. It's just a very real fact that a true boxer, fully actualized, almost always has his way with a tough guy fighter.

*******************

Okay, so how about Devin Haney and George Kambosos Jr.?

A rematch is a contractual must. But after that pretty one-sided affair on Saturday, why would anyone want to see a part two? Even in Australia, where fans were whipped into a pro-Kambosos frenzy before the fight and then quieted into an increasingly stupefied daze as the fight progressed, there has to be minimal demand for a second chapter to this rivalry.

Would it be in everyone's best interest if, maybe, Kambosos passed on the rematch? Sure, he'd lose a big payday (significantly less than the $10 million guarantee for the first fight, though) and I'm sure the competitive fires are burning for a chance at taking back his belts, plus one...but, honestly, after what we saw on Saturday, does anyone see him making the proper adjustments to win a second bout with Haney? I don't. At best, he'd come into a rematch with only a puncher's chance-- and he's not really a puncher.

What would (will) most likely happen in part two is that Haney would (will) win even more convincingly. Conventional boxing wisdom tells us that whoever wins the first bout will likely win the second bout even more decisively. Kambosos had twelve full rounds to figure out and get past a Devin Haney who never had to deviate from basic boxing technique to stay two steps ahead at all times. Call me a pessimist, but I just don't think the Australian has the ability or the skill level to nullify what Haney did so naturally.

Kambosos would probably be better served pursuing all-action fights and building a reputation as an Aussie warrior, like Michael Katsidis back in the day, with occasional runs at a vulnerable champ or two. Another one-sided loss to Haney could be career suicide for the 28-year-old.

As for the 23-year-old Haney, the jury is still out on his value as a total package, despite his dominance over Kambosos and the fact that he now holds all four lightweight belts. Chinks in his armor have appeared since he took this last step up in class and it remains to be seen whether they are exploitable weaknesses or momentary lapses. The kid needs to be fighting better and better boxers to develop his elite-level chops and not opponents he can beat in easy mode with a jab and footwork.

Got something for Magno? Send it here: paulmagno@theboxingtribune.com.