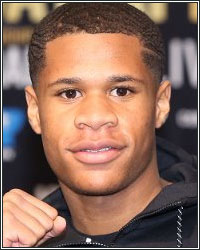 Thursday's, in this corner of the Universo Pugilistico, are all about my sack-- my bulging, bulbous, aching sack-- and the gooey, salty truth contained within. So...sit back, close your eyes, pull back your hair, and get ready for this week's money shot of wisdom. This week we focus on Haney-Kambosos comments/questions.

Haney Undisputed

Hey Paul, hope all is well in this crazy world. Let's jump right in.

I'm not a Monday morning QB. In fact I despise those guys. So let's use a bit of facts to back up my case before we fully dive in.

On March 31st 2022 I wrote a lengthy post in which you published for the sack. This was my last paragraph.

"But ducking is a sin, and as those before him he will pay for ducking. His 15 mins is up. There is nothing from a boxing perspective he does better than Haney. It's funny when someone beats a fighter that's in such high regard (Lopez who was always overrated and has serious flaws). He's now the best thing since sliced bread. Hell, put Valdez in here with a win over Berchelt. A few months ago the hardest of hardcore fans knew little to nothing about Kambosos. Devin is going to pick him apart. Kambosos isn't a legacy fight, but being undisputed is. This fight has replaced my future Spence-Crawford fight and has replaced my thirst to see Stevenson stop the drug cheat Valdez. I can't wait for Haney to beat up Kambosos in Aussie land!"

I want to emphasize the underlined bold part of my comment. As I said a few months back, Kambosos does nothing better than Haney from a boxing perspective and boy was that evident. He was completely outclassed in a fight where 2 judges need to be investigated and suspended. Kambosos didn't win 4 seconds of that fight. Let alone 4 rounds. Not only did the eye test reveal to me how the fight would unfold, but I did my homework. I watched a handful of Kambosos' previous fights and he was below average to me. Not fast, not strong, inaccurate to say the least. I didn't rate him anywhere near Devin. It all stems from the pedestal. Lopez beats Loma (who people worship) now Lopez is the best, he has a terrible night loses to Kambosos and now Kambosos is overhyped. I think we as fans need to stop prematurely crowning people.

This is where I have to respectfully hold your feet to the fire. In your most recent article you ended it by writing this," The kid needs to be fighting better and better boxers to develop his elite-level chops and not opponents he can beat in easy mode with a jab and footwork."

In your response to the post I made in March you said this about the fight outcome:

"As for the fight, itself? I said last week that, right now, I'm leaning towards Kambosos. Haney is a better fighter, but is he tougher? Will he be up to the task of fighting on such hostile territory? Can he get a fair shake? A lot will be working against him and he'll need to fight a near-perfect fight with zero slip-ups. I don't think he's capable of that big showing just yet. I'm hardly saying he has zero chance, though. I say it's probably 55-45 or 60-40 that Kambosos wins, but, of course, we're more than two months out and I reserve the right to change my mind based on what I see leading up to fight night."

Haney in the eyes of some just can't get a fair shake. Before the fight many predicted he would lose. Some even said he would be stopped. He dominated in such fashion now some say he needs to be matched with better fighters and not ones he can just beat with a jab. It's not Devin's fault Kambosos was highly overrated as I previously stated. Who was he supposed to fight? lol Blame the media and fans for hyping him the way they did. There was no logical reason in my mind one would pick Kambosos over Haney in a fight. Kambosos is a mediocre fighter who beat another fighter with serious flaws (Lopez) that also ducked Haney for undisputed. You also said Haney has chinks in his armor. Well if one is to accept that than what the hell does everyone else have Swiss cheese holes?

He just beat a man with 3 belts that was supposedly suppose to be a warrior, but I saw no warrior mentality I saw no relentlessness. What I see now is a crownless self-imposed and exposed emperor that is doing nothing but making excuses that he won the fight like Lopez did and Loma before him.

-Haney Undisputed!

-- Lawrence Westbrook

Hey Lawrence.

I've been chomping at the bit to respond to your email ever since I got it. I love a good challenge and I also love having my feet held to the fire. Good challenges keep everyone sharp and honest.

Anyway, the thing about any fighter is that we don't know until we know. Haney's performances have been uneven and uninspired, especially as he's stepped in class. The talent and skill is there, but the kid has never performed like an elite-level fighter determined to be an elite-level fighter. He's done the bare minimum to come out ahead, coasting on his edges in skill and raw ability. Sorry, that's just reality. Nobody can tell me that they ever looked at Haney and said, "Damn, this kid is burning to prove his greatness!"

And, you know what? That's STILL the case.

Haney fought Kambosos very, extremely adequately to take the decision. He never pushed things to truly establish his dominance. This, despite it being very obvious that he was the far superior fighter when the fight actually started playing out. That doesn't exactly scream "greatness." The great ones drill home their greatness. So, for me, yeah, the jury is still out on Haney and I need to see him execute at an elite level against someone who can (and will) also execute at an elite level.

You can't have it both ways when it comes to this win. You can't say that this win makes him an elite, but also say that Kambosos is mediocre. Taking a controlled, safe victory over a mediocre fighter is hardly a legacy-defining feat. Haney had to have this fight to unify the titles, so there's nothing negative about fighting Kambosos and I gave the kid tons of credit for making the concessions needed to get this opportunity.

Ultimately, Kambosos didn't have the skill, raw ability, or mental fortitude to make any adjustments in this fight. But Haney never hammered home his dominance either. We left this fight exactly as we came into it-- not knowing what happens when Haney can't get through a fight with raw athleticism and bare-minimum skill, alone.

So, yeah...everything I said before still applies now and I'm absolutely not willing to proclaim Haney's greatness based on this showing. He has to be recognized as the no. 1 lightweight because he has all the belts, but those questions about perceived chinks in his armor-- which mostly related to his mental makeup and mental toughness-- were not at all resolved last Saturday.

I have nothing against Haney and I'm the last person to withhold proper recognition from someone who's earned it, but I just have to keep things real. Devin Haney remains a work in progress and, at 23, that's not a mean, nasty, pessimistic thing to say at all. What he proved on Saturday was that he could keep to his game plan and not be overwhelmed by the do-or-die pressure of what this fight meant or by having to perform in very hostile territory. He passed one major gut check that I wasn't sure he'd pass, but he still has more to prove.

I don't mean to come off as a "hater" or an asshole, but I'm not going to fawn all over him for this one bout. He did what he had to do, he did it well, and is now the unified world champ. But while winning is the prime objective, he could (and should) have done much more considering the disparity in talent and skill. To me, at this point, he's still more Devon Alexander than Terence Crawford. That could very well change in the future and I will happily acknowledge his true ascension to elite level when it happens.

Devin Haney = Horrible fighter

Hi Paul.

I want to start with positives first, I need to give credit to Devin Haney for dominating George Kambosos, I was under the impression he [w]as going [to lose]. That being said, what a horrible style has he shown during his last 2 fights. When he fought Linares he was using combination punching defense and speed. Since the Jojo Fight and now this one, he is now opting to jab and grab to boring decisions. If Devin wishes to become a PPV star he needs to start showing something else. As far as Kambosos, he simply ran out of imagination on ways to be present during the fight. He was not throwing combinations and not investing in body attack.

Best Regards.

– Miguel

Hey Miguel.

I went into detail in the response above, but I agree that, while Haney's win was one-sided, he could've and should've done more. It's troubling to see a talented fighter settled into a "do the minimum to take the win" groove, especially at such a young age when he should be burning with desire to prove that he's the very best. It's like having a Ferrari in your garage, built for speed and power, but only driving it 25 mph down side streets because that's all you really need to run your errands. In a prizefighter, this safety-first mindset almost never results in long-term, sustained success at the elite level. You just have to look at the true greats, both present and past. Would they be content with jabbing and grabbing their way to a one-sided points win if they could clearly do whatever they wanted against a limited opponent? Of course not. This was the biggest of all stages for Haney and the greatest opportunity of his career up to this point, and he never even tried to kick things into high gear. That's disappointing. Yeah, he got the win and took all the belts, but he didn't make the case for himself as the best lightweight in the world, at least not ENOUGH of a case.

As for Kambosos? Well, I said a number of times that he was better than I thought, but not as good as people think. His performance was also disappointing. He had no answers for even the simplest of fundamental strategies and couldn't (or wouldn't) throw caution to the wind to try and bridge the gap of skill and talent. Given what he didn't show in the part one, who in the world will want to see a part two?

Got a question (or hate mail) for Magno's Bulging Mail Sack? The best of the best gets included in the weekly mailbag segment right here at FightHype. Send your stuff here: paulmagno@theboxingtribune.com.