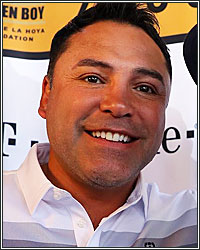 On a slow news day, having an in-depth Oscar De La Hoya interview pop up is an absolute godsend.

What can I say about Goldie that I haven't said already? Whether it's gender-bending cheesecake photos being released to the public or tales of cringey sex romps involving kitchen utensils being inserted into him (look it up...but, yuck) or just run-of-the-mill boxing hypocrisy, the Golden Boy Promotions founder and CEO has been a constant source of material over the years. The guy just always seems to have some drama going on in his life and, well, for a guy like me, with the job I have, that's a good thing. Yeah, I know that sounds like a shit-head thing to say, but I got a family to feed and deadlines that need to be met. A few softball, easy-to-write-about scandals are always appreciated.

Anyway, in Wednesday's matinee at the ODH Theater of the Derply Odd (during something called the MMA Hour), we got nearly 30 minutes of Oscar being Oscar, contradicting himself, grasping at old grudges, and basically admitting to not being very hands-on involved in the running of his own promotional company.

Here are some of the highlights:

On Canelo Alvarez fighting Dmitry Bivol

"...it was a lose-lose situation. Nobody knew Bivol whatsoever. I would have promoted Bivol to have a bigger name, because nobody knew who he was before he fought Canelo. He was irrelevant, he was nobody...Canelo has a promoter now that obviously doesn't come from the boxing world, he doesn't really know the fight game, and he got Canelo beat. It was the wrong style. Las Vegas had no buzz whatsoever. I was there, actually, sitting ringside, supporting Canelo.

"Canelo is the superstar of the game right now. Eddie Hearn didn't do no justice to Canelo when he faced him against Bivol."

...Yeah, but...

This is what Oscar said back in March, when Canelo-Bivol was first announced:

"I love the match-up, and I love the fact that he's a dangerous guy, and he [Canelo] chose him," De La Hoya told Fighthype.com.

"I haven't studied Bivol that much, but I'm actually excited that fight is taking place. Bivol is one of the dangerous ones. So either a fight with Charlo or the rest of the guys, it's a great choice. So, I think Canelo made the right choice

"I think Bivol is a perfect choice."

On Al Haymon as the devil:

Oscar would blast adviser and PBC bossman Al Haymon a few times during this interview, proclaiming him to be THE reason big fights don't happen in boxing. Here's just a couple of the instances of Haymon name dropping:

"I would think it's [a Ryan Garcia-Gervonta Davis bout this year] almost impossible, because there's a certain person who works against everyone in the industry. The 'manager on paper,' Al Haymon, who controls everybody on Showtime and all the fighters there, doesn't want to make these big fights happen. It's incredible, I just do not understand it. But I'm going to keep pushing."

"I'll work with everybody. I've worked with Bob Arum, I've worked with Don King in the past, I've worked with every single promoter out there in the world. I have no problem whatsoever, I have no ego whatsoever. I just want to make these fights happen. That certain person, Al Haymon, who basically controls everything, all the fighters at PBC, it's a tough position to be in. But as long as we keep on beating that drum, hopefully he'll crack."

This Haymon rage is probably the most understandable of De La Hoya quirks.

Back in 2014-2015, when the Hall of Fame fighter was lost in either the haze of substance abuse or gross incompetence, Haymon essentially walked out the GBP front door with nearly all of Oscar's top talent to begin his PBC project. Leaving the company were names such as Deontay Wilder, Errol Spence, Danny Garcia, Jermall Charlo, Jermell Charlo, Keith Thurman, Leo Santa Cruz, Shawn Porter, and Adrien Broner (among others).

As the story started to unravel, it turned out that none of these main stage fighters had been actually signed to Golden Boy promotional deals and, instead, were all working under informal agreements on a fight-by-fight basis. As GBP helped build their names, spending their money and time to do so, they were never really GBP properties.

Oscar's rage, however, would be better directed at former Golden Boy Promotions CEO Richard Schaefer, who was the hands-on business boss brokering the non-deals that allowed those fighters to stroll right out the door and who, allegedly, was the go-between in a failed effort to convince De La Hoya to flat-out sell his company to Haymon.

De La Hoya's failed $300 million antitrust lawsuit against Haymon and Premier Boxing Champions, which was quickly dismissed by a federal judge, may also have something to do with the lingering bad blood.

On not knowing who his fighter, Jaime Munguia, is fighting this weekend:

"We'll have, like, 12,000 people there. He's fighting actually-- I don't even know who the hell he is, who he's fighting...I was trying to make a Jaime Munguia vs Charlo fight, but the problem is Al Haymon, again, he blocks it. So I had to move on to the next contender. It's this kid (Jimmy) Kelly, who really-- I'm the biggest fight fan ever and I don't know who he is. But it should be a fun fight."

Well, it's very telling when you 'fess up to not knowing who the guy you co-promote is fighting. That's pretty bad, but I guess he gets points for honesty.

As for the Jermall Charlo-Jaime Munguia non-fight, well, the widely-sourced story is that it was Golden Boy who pulled Munguia out of talks over DAZN not having US broadcast rights to the fight.

That would leave Golden Boy and Team Munguia with a terrible track record when it comes to stepping up. In the recent past, they have backed away from two world title shots (against Demetrius Andrade and Jermall Charlo), an interim title shot (against Janibek Alimkhanuly) and an eliminator (against Carlos Adame).

But, yeah, unknown, unheralded, WBO no. 8 ranked Jimmy Kelly is "the next contender" after Charlo.

There was more to that MMA Hour interview-- like him claiming to be the former promoter of Terence Crawford and Manny Pacquiao (nope and nope)-- but I don't want to be writing a book here.

Needless to say, Goldie is a veritable cornucopia of cringe and he just never fails to deliver. Someday I'm gonna have to send him a fruit basket and a set of kitchen utensils to replace the ones that went up his...um...never mind...