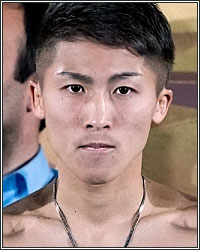 Hello boxing fans and dedicated haters. Here's another week's worth of my bulbous sack, bulging with gooey, salty truth, in your face. Enjoy. This week, we have comments/questions regarding Naoya Inoue, Edgar Berlanga, Canelo Alvarez, Jaime Munguia, Devin Haney, Oscar De La Hoya, and more.

Inoue's Monster Showing

Hey Paul,

Any thoughts on Inoue's latest performance? If I remember correctly you picked Donaire in this rematch. To me the little Japanese dude looked like he had made the correct adjustments and improved his defense (I especially liked the way he got away from Nonito's counter left hooks unlike last time) and seemed very sharp overall. To be honest, this kind of dominating performance came as a surprise considering the soft touches he had taken recently and the fact that Donaire had a lot of momentum behind him having stopped undefeated younger fighters in his last 2 bouts.

All the best to you.

-- Oliver

Hey Oliver.

I just want to make it clear that I wasn't underestimating Inoue by picking Donaire to beat him. I just thought that Nonito would take what he learned from the first fight, develop an effective strategy, and box his way to a decision victory. And he might have done so if he hadn't gotten clipped early. Inoue is a special fighter and it seemed like HE was the one who learned his lessons and developed the more effective strategy for the rematch. He did what a great fighter is supposed to do-- separate himself from a class opponent and push for a dominant victory. Much respect to "Monster."

Bad Berlanga

Hello again Paul, I just wanted to ask you about [Edgar] Berlanga. He is the most overrated boxer in boxing. He's horrible. I would love to see him against [David] Benavidez so he can knock him out. He's so cocky it makes you not like the guy. A 38-year-old [Alexis] Angulo gave him him major problems. And another thing-- what do you think about Canelo? I think he beats GG and after [that], what's your opinion? Oh, and last, Haney is the truth in that division I think he beats Tank, Loma and sorry-ass Ryan García, another overrated fighter that is not up to par in my eyes, at least. What do you think ?

-- Albert Felix

Hey Albert.

You must really hate Berlanga to want him matched against Benavidez! David Benavidez would absolutely scramble him. I can't really say that I find Berlanga overrated because, honestly, I never thought that highly of him in the first place. He's lacking a lot when it comes to ring IQ and all-around skill. His biggest flaw, however, is a prodigious lack of self-awareness, bordering on delusion. Angulo is just an opponent at this point, but if he had jacked up his activity by just maybe 10-15%, I think he would've beaten Berlanga and maybe would've stopped him.

As for Canelo? I agree that he beats GGG, and probably decisively. After that, I think he fights Jermall Charlo and Benavidez. I know there's been a lot of talk of a Bivol rematch, but I still think there's a heaping dose of face-saving from Canelo when it comes to supposedly wanting Bivol again. I think if he were serious about rematching Bivol, he would be fighting him next and not Golovkin. That was a pretty comprehensive defeat he suffered and a run at 175 makes no sense if he can't get Bivol out of the way. I think if/when he smashes old rival GGG, he'll have some separation from the Bivol fight and be more comfortable settling into his groove at 168 once again. Fighting (and beating) GGG, Charlo, and Benavidez will make it almost as if the Bivol fight never happened. I know there's some contractual stuff to work out with DAZN and a supposed fight to be made in December, but I don't know how iron-clad that is. A guy like John Ryder could always step in as a December foe before 2023 sees Canelo fight Charlo and/or Benavidez.

And, Haney? The kid is talented, but it remains to be seen what he can do against an elite-level opponent who he can't beat with pure athleticism and bare-minimum fundamentals. He didn't show that willingness to drill home his greatness against a Kambosos who turned out to be clearly overmatched. I don't think that kind of fire is something you learn. That's something you're born with, IMO. Could you imagine Terence Crawford carrying Jeff Horn for the full 12 rounds back in 2018, winning points with a jab, when he knew he was clearly the better fighter and could take him out inside the distance? That's what gives me pause about Devin Haney. Tank and Lomachenko have that spark of greatness. I haven't seen that in Haney. But, I agree, he handles Ryan Garcia fairly easily.

Bad Berlanga, Part II

Hi, Magno. Wishing you and your family the best of health. Ever since his performance against Rolls, we have all come to realize that Berlanga is a hype job, who soon will be exposed. As a Puerto Rican I was supporting him early on, but after these last performances , especially last Saturday, I am not a fan. He lacks the will, preparation and self-confidence and is living on his early fame KO streak. He acts and behaves like a boxer that has reached the pinnacle of his career. I would suggest very careful matchmaking, which is already the case, and Top Rank has the best matchmakers in the sport, and make a fight with Munguia, another hype job. We all know Golden Boy wants to cash out with Munguia against Golovkin. But that fight will not take place, I see Golovkin retiring after the Canelo fight, win or lose. If he wins, there is no way Golovkin and Canelo will agree on the purse splits for a fourth match. So really, with no other high-risk high-reward for Munguia or Berlanga, Golden Boy and Top Rank can cash out by making Munguia vs Berlanga next early next year. Munguia, even though he is extremely flawed, should be able to knock out Berlanga. What Munguia lacks in skills, he makes up in will, determination and self confidence. I don't see that in Berlanga. I have always believed that a fighter's will and preparation can overcome his lack of skills. That was the case with Mickey Ward, Mayorga when he beat Forrest, and many other fighters. Hopefully Top Rank and Golden Boy don't make the same mistake with Berlanga and Munguia and lose out on this opportunity, similar to what happened many years ago with Juan Manuel Lopez and Gamboa.

-- Benjamin from Puerto Rico

Hey Benjamin.

As I wrote above, Berlanga seems to be totally lacking in self-awareness to the point of being delusional. He's also a pantsload (meaning, he's a chore to tolerate as a person). His entire ring performance against Angulo was horse shit-- from the weak "skills" to the attempted ear bite to the post-fight boasting about how dominant he was. Again, he's a total pantsload. Munguia-Berlanga would be a good fight, though. Munguia stops him inside of 8.

De La Hoya's Screwups

Hi Paul

I have just read your ODLH article and I think I agree with most of what is written, ODLH should just stick nowadays to retiring from promoting as he has screwed up as follows:

-- He managed to lose the contract out of the only star level fighter he had

-- He has Jaime Munguia ranked as #1 in 2 boxing organizations and still can't fight for a belt or [fight a] meaningful opponent

-- He raised Ryan Garcia's resume by pairing him against Cambpell, only to stall him by fighting Fortuna and Tagoe (50% of this is Ryan's fault)

-- He can't pair Vergil Ortiz with a decent opponent.

You know what the sad part is? Seeing how Jaime Munguia struggled the first rounds with Jimmy Kelly, I bet they will give him a soft touch for his next fight (Again) and ODLH will blame this on Al Haymon.

Best regards

P.S. I dont even wanna google kitchen utensils

-- Miguel

Hey Miguel.

Good call on not wanting to know about Oscar and the kitchen utensils.

Oscar has been so damn annoying as of late.

The most annoying thing has been his insistence on taking this public "We want the best vs. the best, the other guys are standing in the way" stance when his top guys have become perpetual bottom feeders. But, to be fair, I don't know how much he even knows about the day-to-day business dealings of his own company or that of the fighters he represents. He clearly had no idea who Munguia's last opponent, Jimmy Kelly, was. It's just silly, though, for him to be throwing shade on any other fighter or boxing company when Vergil Ortiz, Ryan Garcia, and Jaime Munguia are either inactive or preying on soft touches. I also think that it was a total travesty how he spent a good chunk of 2021 promoting himself, his dumb comeback and stupid side projects at the expense of the promotion of his young fighters.

De la Hoya has become utter and total cringe in just about every sense of the word.

Indulging in Positivity

Dear Paul,

I've been reading your column for a few years now and finally am writing to thank you for what you do. I've been a fight fan for decades and appreciate you're willingness to call BS when you see it (today's Oscar article) as well as your ability to be non-invested in any one fighter. You have a great, accurate view of our sport.

I don't usually write in to anyone but your quality has inspired me to do so! Ha Ha

Keep doing what you do. We need more like you willing to write the truth as you see it.

-- Dave LaRose

Hey Dave.

I really appreciate this. I get LOTS of hate mail, but not many messages from people who are supportive. I guess that's just the nature of this business, though. I try to keep things fair and honest to the best of my ability and am totally willing to admit when and where I make my mistakes or have my biases. Even when I suck, at least I can say the "suckiness" comes from an honest place.

Kudos to Fighthype for keeping me on staff when I very often piss off some powerful people in the industry. When I started writing many, many years ago, I made lots of powerful enemies and am still persona non grata in boxing media circles for going after certain guys and stepping on certain toes. They, literally, tried to starve me out of the business and nearly DID. When I lost my last gig, I had the hardest time finding something new. I've kept the list of rejection emails from major sites that all pretty much said, "we love your work, but can't hire you because 'so-and-so' doesn't want you around." It was frustrating, but, thankfully, Fighthype didn't mind the heat I brought.

Thanks for reading and for the encouraging words. I'll probably end up pissing you off, eventually, as well. Haha.

Got a question (or hate mail) for Magno's Bulging Mail Sack? The best of the best gets included in the weekly mailbag segment right here at FightHype. Send your stuff here: paulmagno@theboxingtribune.com.