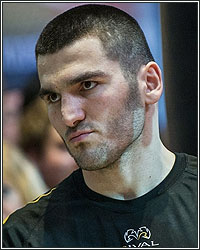 Hello fight fans and welcome to another Thursday gathered around my bulging sack, waiting on my weekly load of gooey, salty truth. This week, we have questions/comments regarding Artur Beterbiev, the light heavyweights, and an early look at Canelo-GGG 3.

Beterbiev, Beterbeast

Hi Paul.

How about that Beterbiev!?! Amazing, huh? The guy is a real beast and I don't see anyone knocking him off his pedestal any time soon. What's your assessment of him as a fighter and where/when/how do you see him getting knocked off his no. 1 spot?

– Diego from Cali.

Hey Diego.

Beterbiev IS a beast and definitely one of the best offensive fighters in the game. Now, I believe that offensive "beasts" are generally overrated to varying degrees, just because of how impressive they look when they're at their very best and against the right types of opponents. But Beterbiev's got extremely heavy hands and good timing. He's also deceptively smart and knows how to work angles to his advantage. However, I do see some exploitable flaws in him-- at least in theory. His choppy punching style and footwork suggests that he might have trouble with movement. But, having said that, I don't see any of the top light heavyweights at the moment being able to execute the right style to beat him. The fighter that defeats Beterbiev is going to be someone who can move and/or smother him on the inside, pushing him back and/or not allow him to set himself for his offense. Maybe Dmitry Bivol can do some of that with his sharp jab and quick hands. Maybe. It could be that the only one who can beat the 37-year-old Beterbiev is father time. Eventually, he'll get old and someone will take him out. But right now? I don't see it.

Light Heavyweight Breakdown

Hey Magno.

Now that there's a really clear no. 1 and no. 2 in the light heavyweight division with Artur Beterbiev and Dmitry Bivol, how do you see the division as a whole? I got guys like Anthony Yarde and Gilberto Ramirez behind them. Maybe Jean Pascal and Callum Smith could make a comeback and make some waves. How would you break down the division-- elite, world class contenders, outside challengers, fringe contenders, spoilers, etc…? What can we expect in the immediate future from 175?

– Simon

Hey Simon.

Beterbiev and Bivol are definitely the top two in the division, with Beterbiev being my pick for the best at 175. I think you're right about the next two after them. Ramirez and Yarde are the most interesting challengers to the big two. Pascal has put together a nice little comeback run with wins over Marcus Browne, Badou Jack, and Fanlong Meng, but I think there's some smoke and mirrors to that run. It wasn't too long ago that he was shut down fairly comprehensively by Bivol, but his name may carry him to another shot. He'd be smart to avoid Beterbiev, though. That would be ugly, IMO. I don't think Callum Smith will be much of a factor at 175 at all. There's a solid second tier at light heavyweight that would make for good fights against one another, but none that would be serious contenders to knock off the top dogs. Marcus Browne is still around. Jose Uzcategui is campaigning there now. There's Joshua Buatsi. Joe Smith Jr., if he sticks around, will always be a factor because of his one-punch power. Callum Johnson is a tough guy who can bang a little. There are a couple others, but, IMO, not much of a threat to beat the elite. Don't forget Canelo Alvarez, too, who is talented and skilled enough to beat ALMOST anyone in the division and who will cut to the front of the line if/when he wants to take another try at 175.

Canelo-GGG 3: An Early Look

Hi Paul.

Been a long time reader and now a first time sacker. Is that even a word? LOL. Anyway...we're still three months away, but what do you think of Canelo-Golovkin 3? The prevailing opinion seems to be that Canelo's going to beat GGG and maybe even stop him. I'm not so sure. I think he probably will beat him, but I don't think it's going to be easy. I see things going down like the first two chapters in the story-- close, competitive, and with neither being able to pull away too far from the other. They are just too evenly matched for one to blow away the other, ever. Anyway, that's my opinion. What do you think? Keep up the good work and I'll keep reading.

– John Freed

Hey John.

Thanks for sacking up. (I just invented a term too!)

I think what kept fights one and two close was the fact that both respected each other's power and, because of that, neither fully invested himself into a sustained offensive surge. Both fought conservatively. There's no reason to think that anything will change in either fighter's mindset come September. If Canelo comes into the fight fired up and aching to erase the sting of the Bivol loss, one heavy shot from Golovkin could push him back into being conservative. Golovkin is still a very potent offensive fighter and, IMO, still one of the best offensive fighters in the game. Having said that, though, I think Canelo is an all-around better fighter since their second fight in 2018, whereas Golovkin has remained stagnant in his development and has actually slipped in some areas. Alvarez's added skill level could be what earns him a decisive victory, not face-saving vengeance following a tough loss. I think if the KO makes itself available, he'll go for it, but, otherwise, he'll settle for a 116-112 or 117-111-type decision win.

Got a question (or hate mail) for Magno's Bulging Mail Sack? The best of the best gets included in the weekly mailbag segment right here at FightHype. Send your stuff here: paulmagno@theboxingtribune.com.