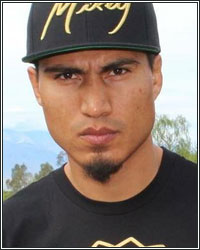 Mikey Garcia was always a man of few words who let his actions do his talking. And, if reports of his retirement are true, then he retired in a very Mikey Garcia fashion-- via a quiet updating of his Instagram profile update.

The four-division world champ's Instagram profile now reads: "Retired World Champ 126, 130, 135, 140 lbs."

And, apparently, that's enough for boxing media (myself included) to assume that the man IS retired.

So, yeah, let's make the assumption that Garcia's 16-year professional career has come to an end at 34 years of age and with a record of 40-2, with 30 KOs. What will be the legacy left behind by trainer Robert Garcia's kid brother?

Being a four-division world champ is a big deal, even in this era where belts are plentiful and a guy like Adrien Broner is also, technically, a four-division world champ.

Garcia was also a unified two-belt champ at lightweight, taking Dejan Zlaticanin's WBC title and, three fights later, after winning a junior welterweight title, taking Robert Easter Jr.'s IBF title.

Along the way, the Ventura, California resident packed some big wins on his resume against the likes of Orlando Salido, Juan Manuel Lopez, Roman Martinez, Dejan Zlaticanin, Robert Easter Jr., Adrien Broner, Sergey Lipinets, and Jessie Vargas.

And while the last three years of his career had been bogged down with a mostly failed attempt to become an elite player in the welterweight division (and nab a big-money Manny Pacquiao showdown), Garcia's excellence at the lower weights can't be overstated.

Raised in a boxing family, Mikey's technique was impeccable and his demeanor was unflappable. He was every bit the cool, clinical killer who picked until he saw an opening and than calmly went about brutally disassembling his opponent. He manifested a simple one-two-three style, but it was built around one of the sharpest jabs in the game. His brilliance was not based on athletic prowess or any one particular physical attribute, it was built around his mastery of basic boxing fundamentals. Efficient, focused, and with tremendous balance, Garcia was simply one of the best offensive fighters of his time.

His greatest legacy to the boxing business, however, may have come via his outside-the-ring battle for independence and professional self-determination. Faced with a very old school Top Rank boxing contract that violated the terms of the Muhammad Ali Boxing Reform Act by granting his promoter "the ability to extend the agreement indefinitely," Garcia filed a lawsuit in 2014, seeking full promotional independence.

Eventually, the suit was settled and Garcia would go on to have a series of lucrative fights as a free agent. But it cost him two-and-a-half years of his career-- in his physical prime-- and there was never a guarantee that he'd come out winning after giving up so much of his time in this struggle. His bravery in this regard should probably define him as a boxer, just as much as anything he did in the ring.

Since the news of his apparent retirement started to circulate, there's been a discussion over whether Garcia is a legit Hall of Famer. The answer to that should be a resounding "of course." The accomplishments are there, his resume stacks up with any of his high-end contemporaries, and, for a good chunk of his career, he was as dominant in his weight class as any of the contemporary best of the best.

But this is also boxing...so take this social media, virtual retirement with the appropriately sized grain of salt.