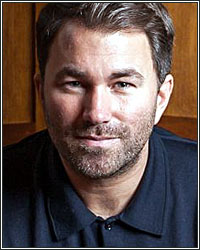 Not one to pussyfoot around a point, I'm just going to come right out and say it: Eddie Hearn is a pantsload.

[Pantsload (per The Urban Dictionary): Disparaging term for a person being un-fun, rude, unpleasant or engaging in irritating, frustrating or mindless behavior. The general comparison [is] of a specific person to a pair of pants full of human shit.]

Although I do have a personal distaste for well-manicured rich kids with zero self-awareness and a way-inflated opinion of themselves, personal feelings only make up part of my dislike for UK promoter and DAZN promotional figurehead Hearn. When it comes to boxing, all I really care about are the fights and the fighters (their safety, their fair compensation, and their ability to be as autonomous as possible in their career moves). The business stuff is something I write about and try to point fingers as much as possible. However, I'm fully aware that just about everyone in the boxing business is full of shit to varying degrees, so, taking sides is a little bit like picking a favorite louse in a head lice infestation.

But Hearn IS especially annoying.

What makes him the most disagreeable louse in the aforementioned head lice infestation is his compulsive insistence on commenting on the failures of other promoters and boxing companies.

There's a whole laundry list of mean-girl comments I could rattle off here, but we're all aware of his high-profile public beefs with guys like Mayweather Promotions CEO Leonard Ellerbe and Top Rank bossman Bob Arum. He's also issued a ton of "coulda, woulda, shoulda" comments about active fighters not under contract to him like Jermall Charlo, Gervonta Davis, Deontay Wilder, and, most recently, Tim Tszyu, who he said should stay away from a Jermell Charlo title fight because it's "too early for him."

And none of that would be as much of an issue if he weren't the least successful, most perpetually bumbling presence among the high-end promoters, at least in the US market.

Let's be real here. No promoter has gotten as much of a head start at success as Hearn (who, by the way, also earned his spot atop the UK promotional food chain, in good part, by being born to promoter and Matchroom Sports founder Barry Hearn]. Back in 2018, Hearn, the current chairman of Matchroom Sports, was practically handed a billion dollars to put together a boxing product for billionaire-funded streaming service DAZN.

Four years later, Hearn and DAZN have nothing to show for that investment and have had to change up their business model several times to slow down the full-on hemorrhage of money from one bone-headed spending decision after another. The only real returns under Hearn's leadership have come from their relationship with Canelo Alvarez (relationship=throwing money at him and allowing for full bossman independence), which also had to be adjusted a number of times to make "work."

The lack of success has forced DAZN to embrace ad revenue and a pay-per-view model-- two things to which they were supposedly diametrically opposed when starting their mission to take over the boxing scene in the US.

And let's not even mention some of the other missteps and mistakes made by Hearn and his money marks, such as bumbling matchmaking that gets their stars beat in what they hoped to be showcase squashes and their track record of signing unmarketable talent and somehow managing to make them even less marketable by contract's end. Oh yeah, and there was that effort Hearn and co. made to buy up and/or buy out an already-compliant boxing media by making media members "affiliates" and sending them those laughably cringe-worthy "DAZN is a great value for the money" scripts to read on social media.

All that bumbling aside, Hearn earns his designation of "pantsload" by being so smugly oblivious and patronizing in the face of that bumbling. In a recent interview with FightHype.com, he showcased this quirk when asked about the flak he's been getting from his promotional competitors.

"I'm being met with fierce resistance from everybody, which is flattering, because they know how good we are and they know the potential we have. So, whether it's [President of Showtime Sports, Stephen] Espinoza, [Leonard] Ellerbe, [Lou] DiBella, [Bob] Arum-- all these people-- are desperate to keep me out. That's exciting to me because if I went in there and everyone was my friend, I'd know they have no fear of me. So...I'm gonna get on everyone's nerves and I'm not gonna stop...I'm gonna make boxing great again in America."

Or maybe you've pissed everyone off because you're constantly digging into everyone else's business and, apparently, looking to poach talent whenever and wherever possible.

And, as for the "potential" he has….well, how about delivering on that potential? How long do we have to wait before he "makes boxing great again in America?" Is that next billion gonna do it?

None of this is to say that there aren't a bountiful number of pantsloads in the boxing business. Arum and Ellerbe, for instance, can certainly be pantsloads in their own way. It's just that Hearn presents the most bountifully packed and pungent knickers of the lot.

Back in 2018, when the DAZN boxing project was first announced, Hearn was beaming with self-importance, so much so that even the most jaded of critics was at least somewhat sold on his ability to bring positive change to the sport.

"I needed artillery and we're dangerous with artillery, let me tell you," Hearn told media with a swagger at the official DAZN Boxing kick-off press conference. "And now we've got it, $1 billion over eight years. We have by far the biggest rights budget in the sport of boxing and we're going to be ultra-competitive. We're going to put on the greatest shows with the greatest talent. This is a brand new era for boxing in the U.S. We're here and we mean business."

"We're going to have a lot of fun and we have money never seen before in the sport of boxing," Hearn added. "I can't fail. If I fail here, I'm a disgrace."

Well, I'm not going to call the guy a failure or a disgrace-- he's rolling in dough and has plenty of people still enthralled-- but he IS a pantsload.