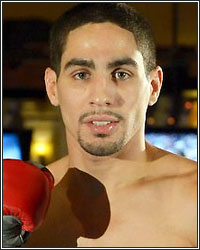 Thursday's, in this corner of the Universo Pugilistico, are all about my sack-- my bulging, bulbous, aching sack-- and the gooey, salty truth contained within. So...sit back, close your eyes, pull back your hair, and get ready for this week's money shot of wisdom. This week we have comments/questions regarding Danny Garcia, the American heavyweight scene, and the wrath of Canelo.

Danny Garcia at 154

Hi Paul.

What do you think of Danny Garcia making a run at super welter? I don't blame him. A man has to eat. But if he couldn't get to the top of the welterweight division, what makes him think that he can make it to the top in a division where he'll be at a size disadvantage? It's smart of him to make his 154 lb. debut against another natural welterweight in Jose Benavidez, but I don't see him beating Jermell Charlo or any of the other best at 154. What say you?

– Sal C.

Hey Sal.

It's not as if Garcia was some sort of journeyman or club fighter being batted around at 147. He lost two very close decisions against Shawn Porter and Keith Thurman-- which, arguably, were one or two rounds from flipping his way. He also accounted well for himself in his other career loss against Errol Spence. Garcia's problem has been a lack of urgency in his fights, which, IMO, comes from a stalwart belief and confidence in his own skills. If anything, it could be argued that he's TOO disciplined and that if he had been willing to let his hands go a bit more, he could be undefeated right now, ranked where Errol Spence is. But, yeah, if ifs and buts were candy and nuts, every day would be Christmas. Danny Garcia isn't going to change who he is, especially not at 34. And it IS smart to match him with a natural welterweight in his first try at the 154 lb. limit (although Benavidez is a bit bigger than him). I don't know, I think a lot of what makes Garcia good will move up with him. With a couple of exceptions, there aren't any overtly physical "beasts" dominating at junior middleweight right now. He could make his way and pick up some wins there and will probably find a shortcut to a title shot because of his name value. Garcia-Charlo would be an interesting matchup although two counter-punchers at heart usually don't make for a scintillating action fight. We'll see, but I won't immediately discount Garcia's chances of making some waves in the deepest waters of the 154 lb. division.

The Future of Heavyweight Boxing in America

Hi Paul.

It seems that there are fewer and fewer American heavyweights making waves and also fewer and fewer big heavyweight fights taking place in the United States. The old adage has always been that the heavyweight division dictates the overall health of boxing in general. If that's the case, we're in a rough place and things don't look good for the foreseeable future, either. What do you see in the future of the American heavyweight boxing scene?

– Phil McGirt

Hey Phil.

You're right. Things don't look good at all. When it comes to American heavyweights, there's not much there at all. Deontay Wilder may or may not come back. Andy Ruiz is scheduled to face Luis Ortiz in September, but you never can tell when he's hitting the gym and on track or goofing around and completely off the rails. Jarrell Miller just had his first fight in almost four years due to multiple instances of failed doping tests. Charles Martin, Trevor Bryan, and Jerry Forrest are all coming off decisive, almost cataclysmic, losses. Michael Hunter has been "meh." Jonathan Rice has two significant wins over Michael Coffie, but has looked like an underachiever for most of his career before that. Even Tyson Fury, who is not American, but has had five of his last six bouts staged in the United States, may not be back in the USA any time soon due to visa issues allegedly related to ties with accused mob boss Daniel Kinahan. Things look bleak. On the bright side, though, is the 22-year-old Jared Anderson, who, IMO, is the best young heavyweight prospect in all of boxing. Andy Ruiz and Deontay Wilder are also just one big win away from being right back in the thick of things among top big men. For the time being, however, American fight fans will just have to deal with non-Americans owning the division of Ali, Frazier, Foreman, Marciano, Louis, Holyfield, and Tyson. By the way, I don't think that old saying is true. The American boxing scene can do just fine without the heavyweight division, although having a big and dominant American heavyweight champ will always help in attracting the casual-curious fans.

The Wrath of Canelo

Hey Magno.

Canelo's talking real big ahead of this Golovkin fight. Says he's going to retire him. Is this all just talk to hype the fight or do you think that Canelo will really go for the kill this time?

– Luis S.

Hey Luis.

I certainly hope he's sincere in his anger and his eagerness to put a hurting on Golovkin. That would definitely make for a great fight and a compelling evening. I think the bad blood from Canelo's side is very real and that, right now, he may have every intention of coming in there and trying to bust GGG up. We'll see what happens, though, when he takes a sharp counter from the Kazakh and feels those still-heavy hands. Canelo is too good of a boxer now to NOT fall back on his skills. After an early push, he may just find it easier and more efficient to back off a bit and box his way to a decisive decision, similar to what happened in their second fight. We'll see, but I think a lot depends on how well Golovkin takes what he dishes out in the beginning of the fight. If Canelo sees weakness, I think he goes all in and tries to get the stoppage. If there's significant pushback, he may just settle for the decision. This is very close to being a "must-win" for Canelo and he must avoid the "L" at all costs. So, being smart will trump being pissed off.

Got a question (or hate mail) for Magno's Bulging Mail Sack? The best of the best gets included in the weekly mailbag segment right here at FightHype. Send your stuff here: paulmagno@theboxingtribune.com.