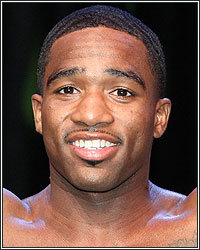 Well, it looks like Adrien Broner's rumored bout with Omar Figueroa Jr. is officially official. And with the "official" announcement, comes one more extremely unofficial "last chance" for the Cincinnati fighter.

Set to face Figueroa in Hollywood, Florida on Showtime, August 20, Broner is returning to the ring for the first time since decisioning Jovanie Santiago in February of 2021 and for only the second time since losing to Manny Pacquiao in January of 2019. But it's not like "The Problem" was all that active or career-serious before that, at least not for a very long time.

It's been about nine years now since Broner has actually looked world class sharp in the ring and not like fighting is the necessary evil he must endure to collect a paycheck. For those who DO remember a 23-year-old Broner, full of angry pride and raw potential, it's jarring to see what the man-- once scouted to be a cross between Floyd Mayweather and Aaron Pryor-- has settled into.

The last couple years, especially, have been sad. Police blotter headlines and court admissions of being dead broke and unable to make lawsuit settlement payments have replaced bratty social media video vignettes where he buys up retails stores and laughingly flushes small bills down the toilet. Not too long ago, shortly after being forced to admit in court that he had just $13 in his bank account, "About Billions" took to his social media account, soliciting CashApp donations.

It's up for debate whether Broner was actually broke or simply trying to hustle his way out of making lawsuit settlement payments. His decline in the ring, however, is indisputable.

By 24 years of age, he had stopped developing as a fighter and fell back on using his speed and reflexes to safely make his way to the next payday. He fought bravely in a losing effort against Marcos Maidana in 2013 but, since then, has been outworked by Shawn Porter, outclassed by Mikey Garcia, and dominated by Manny Pacquiao, turning in performance after performance where the description "going through the motions" would've been very generous.

Just two weeks shy of his 33rd birthday, Broner is not, technically, old, but the story of his wasted potential is. There's no more talk about whether he can put it all back together and become the fighter many thought he could be. The most generously positive talk, now, is about whether he'll come into the Figueroa fight in shape. Nobody thinks that Broner has "it" anymore and, if you wander into his social media world, you have to question whether Broner, himself, thinks he has "it" anymore.

But boxing is a world where second chances abound if you can put asses in seats and eyeballs in front of TVs. And that's where Broner has succeeded above and beyond most fighters of his generation.

Despite a perceived lack of dedication and the general lowbrow buffoonery he passes off as wit, he DOES instinctively understand one thing that many of today's fighters and promoters don't get-- boxing is entertainment.

There will always be a core audience that tunes in to boxing just for the actual fighting, but the fans who turn a solid event into an in-the-black money maker are the ones who tune in for the spectacle that only boxing can deliver. In this sport, the money is often in the sizzle-- the build-up to the fight-- rather than the steak.

People want to KNOW the fighters, whether they love them or love to hate them, and they want to CARE about who wins the fight in a much more personal way than they care about who wins an NFL or NBA playoff game. And even if the fight turns out to be a dud, they'll carry on their love/hate into the next fight where, maybe, possibly, this time, the bad guy gets his comeuppance or the good guy gets his just reward.

Boxing is, and always will be, a star-driven sport where star power and charisma are just as important as the actual sporting aspect. Broner is proof positive of this dynamic. Whether you like him or not, his drawing power-- despite diminishing substantially after each poor performance and layoff-- still allows him to be a factor.

So, roll your eyes all you want when he talks about "this time" being dead serious and going for the knockout to make a statement. Enough people still care about the Adrien Broner Show to make him a draw and enough people with the money and the stroke to make big fights are willing to bet on his bankability.

Boxing is a business...an ENTERTAINMENT business, not always a fight business.