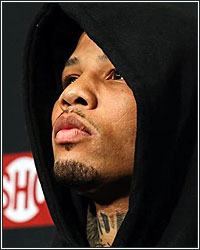 Hello fight fans and welcome to another Thursday gathered around my bulging sack waiting on your weekly load of gooey, salty truth. This week, we have questions/comments regarding Ryan Garcia, Gervonta Davis, and a hypothetical comeback-minded Floyd Mayweather.

Honest on King Ry

Magno.

There's nobody else in boxing media I'd trust more for an honest assessment than you. What did you think of Ryan Garcia's performance this past Saturday? In my personal opinion, people are making a lot of noise about a very marginal accomplishment in the big picture of things. Javier Fortuna was pudgy, tentative, and fighting someone at least three divisions bigger than him. Plus, he was never all that, anyway (Does he even have a true signature win?). Garcia did what he was supposed to do when facing an opponent like Fortuna. The Ryan Garcia hype is way overblown. He may someday develop into something special, but right now he's just a kid with a big left hook and the insanely cringey support of a DAZN very desperate for a star. What say you, Magno?

– Damon

Hey Damon.

Javier Fortuna is a good fighter, but you're pretty much right about everything you said. I thought it would be a tougher stylistic matchup than it turned out to be, but Garcia beating Fortuna was not as devastatingly huge as some people seem to think it was. Having said that, though, Garcia DID do what he was supposed to do against a guy like Fortuna and in the best possible way. The kid looked dominant and he looked like a real force. The wailing hype IS overblown and, yeah, more than a bit cringe-worthy, and I wouldn't expect anything less from someone looking to push a "next big thing" narrative. But like I said in this week's Notes from the Boxing Underground column on Monday, Garcia is still very much a work in progress and he definitely gives off a vibe of being a bad weekend away from a complete implosion. So, it's going to be interesting to see whether he can stay focused and mentally strong amid all the adulation and hype to get to the point where he's more than just a left hook and fast hands. If he can put it all together, though, he's going to be something else.

Ryan Garcia vs. Tank Davis

Hi Paul.

OK. There's so much hype already. Ryan Garcia vs. Tank Davis. Who wins and how? This fight is a 50-50 for me. Davis is the more complete fighter, but he's going to struggle with those fast hands of Garcia's. Right now, I'm leaning towards Tank, but it'll be close.

– Marcos from Miami.

Hey Marcos.

I've said this before and I'll say it again, but I think Tank Davis puts a serious hurting on Ryan Garcia and knocks him out. This is not a 50-50 fight to me at all, not right now at least. Yeah, Garcia's hand speed would be a factor, but that'll only give him a puncher's chance at the win. Garcia just has so many defensive flaws that it's hard to imagine him not getting laid out at some point.

Floyd Mayweather vs. The World (In the present tense)

Hi Paul.

Settle an argument for me. I was having a Twitter debate with some boxing friends over how well Floyd Mayweather would do if he came back to active duty right now, at 45. I hold firm to my belief that he'd do very well, still, against the current batch of welterweights. With the exception of the top of the top (Crawford, Spence), I think he could beat them all, provided he has time to get back into fighting shape, of course. I think he could maybe even find a way to beat Spence. As they say, skills pay bills and as we saw with Bernard Hopkins, who beat younger, fresher upper tier opponents well into his 50's, those skills win fights. So, am I way off here or what?

– T.J.

Hey T.J.

I see what you're getting at, but what applied to Hopkins when he was competing at 175 would not apply to Mayweather against this current crop of welterweights. Even when nearing the end of his career run, Mayweather's legs looked heavy and his reaction time was slowing down. If he jumped back into the mix right now, even given an appropriate amount of time to get back into fighting shape, he'd be seven years slower than what he was when he retired. Sure, he'd beat the journeymen and some of the fringe contenders, but I think he'd get owned, maybe even blown out, by guys like Crawford and Spence or even young guns Jaron Ennis and Vergil Ortiz Jr. This isn't a knock on Mayweather's skills, just an acknowledgment of the limitations of the human body. Bernard Hopkins dealt with a lot of slow-footed, stiff light heavyweights at the end of his run, Mayweather would be facing much sharper opposition.

Got a question (or hate mail) for Magno's Bulging Mail Sack? The best of the best gets included in the weekly mailbag segment right here at FightHype. Send your stuff here: paulmagno@theboxingtribune.com.