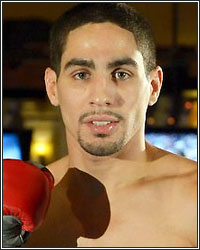 Every Thursday, right here at FightHype.com, boxing fans gather around my bulbous, bulging sack and marvel at the magnificent load of gooey, salty truth that I call into action-- and this Thursday is no different. This week, we have comments/questions regarding Garcia vs. Davis silliness, Danny Garcia at 154, and Jermall Charlo.

The King Ry vs. Tank Nonsense

Hi, Magno.

As always, wishing you and your family the best. Keep up the good work with your articles, I enjoy them very much. As a hardcore fan, I will always welcome a great fight like Garcia vs Tank, but I just don't believe it's going to happen this soon. Both Davis and Garcia are the only cash cows, respectively, of Mayweather Promotion and Golden Boy, and in the case of Garcia, add DAZN's. I'm not referring to the fighters, I can believe they are more than willing. But Golden Boy has to be crazy to let Ryan against a seasoned pro like Davis. Golden Boy and Mayweather are using the hype as promotional tools, which as promoters is what they should do, but at the end of the day will protect their investment, and like what happened with Munguia and Charlo, will find a reason for the fight not to happen and blame each other, while keeping their fighter happy with a well paid plan B. I believe Golden Boy can collaborate with Top Rank in the future if it makes sense for them, but not with PBC, too much bad blood between them. In a couple of years, if the fight makes sense, then maybe. But you know what, I would love to be proven wrong and have these promoters take a page out of the 80's and have these two go at it for the enjoyment of the fans. Let's see, time will tell.

-- Benjamin from Puerto Rico.

Hey Benjamin.

The Garcia-Tank stuff is so pungent with bullshit that it makes me queasy just hearing about it. This fight ain't happening for a number of reasons, but the one you mentioned above is the main one. It just makes zero business sense for anyone involved and, competitively, as you said, Golden Boy would be crazy to put Ryan in there against Gervonta right now. It's just dumb and the louder Garcia and De La Hoya scream about it, the more ridiculous it seems. At least Davis' side is not as insulting to our intelligence with this nonsense. They seem absolutely ambivalent about the whole thing. Of course I want the fight, just like everyone else, and I can see where this fight SHOULD happen, but we have to live in the real world and stop biting at every bit of hype floated our way. If I'm dead wrong and this fight does get made in the near future, I will gladly and happily admit that I was all wrong about this. But, nope...I ain't wrong.

Danny Garcia

Hi Paul.

Danny Garcia makes his 154 lb. debut against Jose Benavidez this Saturday. What do you think about Garcia's second career breath? I'm doubtful that he can do much at 154, especially considering that he couldn't beat the top fighters at 147, but the man clearly has skills and he's never really looked bad in any of his fights, even the losses. Does he have a chance to make some waves at junior middle? What do you think his long-term plans are?

– Sam from Buffalo

Hey Sam.

154 now is not 147 of the last few years. I have doubts as to whether Garcia can operate as a true 154-pounder, but, stylistically, he can probably do better against the top present tense stars at junior middleweight than the top stars at welterweight. There are openings for him to make some waves in this new division, especially if Jermell Charlo vacates his belts and moves up to 160, as many think he will. Given the current talent pool at 154, he could probably snatch one of the four vacant belts if they go up for grabs. Beyond that, though, I think it'll be tough for him to maintain any long-term success, mostly because of his age, size, and style. A match against Sebastian Fundora, for example, would be ring suicide. In the short term, however, I think he'll do fine if his team is smart with the matchmaking. I expect him to beat Benavidez this Saturday and we'll just see how it goes from there.

Jermall…Are you there?

Hello, Jermall Charlo…Are you there? Hellooooo. Jermall? So much talk, so little results. What a fucking joke.

-- Anonymous

Hey "Anonymous"

I can definitely see where you're coming from. Charlo's run the last few years has been exceptionally disappointing, especially considering what many expected from him. A back injury has put him on the shelf at the moment, but I don't think many are mourning the temporary loss of a Maciej Sulecki fight. Some of the disappointment can be blamed on waiting around for a big-money Canelo fight to fall into his lap, but a lot can be chalked up to matchmaking and some lukewarm performances sprinkled throughout his recent run. The Derevyanchenko win in 2020 was a good one, but you'd probably have to go all the way back to 2016 (against Julian Williams) for the last victory with real heft before that. I like Charlo and his abilities and I want to see more. Maybe he'll get that Canelo windfall and all of this spinning of his wheels will pay off, but, for now, his prime years have been more than a bit of a letdown.

Got a question (or hate mail) for Magno's Bulging Mail Sack? The best of the best gets included in the weekly mailbag segment right here at FightHype. Send your stuff here: paulmagno@theboxingtribune.com.