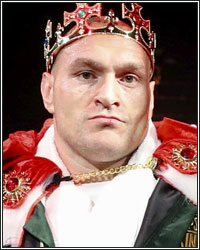 Every Thursday here at Fight Hype, we make a space among the video content for a good, old-fashioned written word money shot from the depths of my bulbous, bulging sack. So, get ready for some of that infamous Magno-rific gooey, salty, sometimes NSFW truth. This week, we have comments/questions regarding Anthony Joshua, Tyson Fury, and David Morrell.

The Anthony Joshua Spin

Hi Paul.

I don't know, my man, sometimes when I hear boxing analysts in the media, I just don't see what they're trying to sell. This Joshua-Usyk fight is one of those instances. All I've been hearing is how Joshua fought so well, so much better than the first time and how he really stepped things up in his losing effort against someone in Usyk who is just at another level. I agree that Usyk is at another level, but what am I missing when it comes to Joshua's performance? He may have done better this time around, but I saw nothing as good as some of these people are saying. Maybe that's just me being a non-expert. I don't know. Am I missing something?

– D from Minnesota

Hey D.

No, you're not missing anything. Joshua did do somewhat better this time around in the sense that he was more controlled, tighter in his technique. But he didn't do anything he needed to do to beat a guy like Usyk. It was not a "good" performance for that reason. And I'm sure his team, which included Robert Garcia this time, had strategy in mind for facing Usyk. The very simplest advice would've been to use the jab more efficiently, which he absolutely did NOT (Joshua landed and threw less than half the amount of jabs that he did in the first fight). Although he tweaked a few things, those tweaks only served to keep him from losing more convincingly and he simply did not do what needed to be done to win. The little that he DID do right, he failed to follow up on. That all has to fall on him failing to execute, IMO.

As for why this media narrative has popped up and keeps washing over the reality? It's called spin. There's still money invested in Anthony Joshua and more to be had from his future endeavors. What you're seeing is damage control and image rebuild. And we all know how quickly and easily some in the media fall for some of this stuff.

$500 Million Fury

Hey Magno.

What's this I hear about Tyson Fury asking for $500 million to fight Usyk and giving organizers a week to find it? Has the Gypsy King gone mad?

– Simon

Hey Simon

If we piece together two separate Tyson Fury rants-- one on social media and one during a talkSPORT interview segment-- we get the idea that Fury wants $500 million to fight Usyk and he wants guarantee of it in a week's time. That's not going to happen and Fury knows this as well. Fury just talks a lot of shit and the media jumps at everything he says, taking it all at face value. If he really wants the Usyk fight, he'll get a ton of money for it and it should be relatively easy to make. If he doesn't care for the fight, he'll stay "retired" until Usyk is out of the picture and then proceed from there. The only thing I do know for certain is that you can't really believe anything that comes from the man's mouth.

David Morrell

Hi Paul

Short and sweet, what do you think of David Morrell? I think he's special and would love to see him get a chance to prove it.

-- John C.

Hi John.

I agree. Although he really hasn't been matched up all that tough just yet, it's clear to me that he's a special talent. I think, right now, he could very well beat anyone at 168, Canelo included (yeah, I said it). With just a touch more seasoning, though? Man…

The problem will be in getting him big, meaningful fights. He could be the poster boy for poor risk vs. reward ratio and it's going to be really tough finding a top dog at 168 willing to fight him, even with that paper WBA world title around his waist. PBC will have to put some pressure on some of their "name" fighters in the division and, probably, pay more to wrangle them into considering a Morrell fight. But the up side when it comes to this kid is huge and if nothing sidetracks his progress, he could very well be a top pound-for-pound talent for a good, long time.

Got a question (or hate mail) for Magno's Bulging Mail Sack? The best of the best gets included in the weekly mailbag segment right here at FightHype. Send your stuff here: paulmagno@theboxingtribune.com.