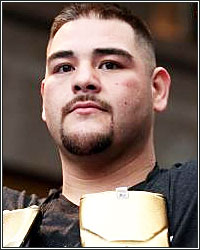 Every Thursday here at Fight Hype, boxing fans gather around my bulbous, bulging sack in anticipation of an Ol' Faithful money shot of gooey, salty truth. This Thursday is no different. So, put your goggles on and cinch up your plastic poncho, here it comes. This week, we have comments/questions regarding Andy Ruiz vs. Luis Ortiz and the continuing Demetrius Andrade saga.

Andy Ruiz vs. Luis Ortiz

Hey Paul.

I really, really like Andy Ruiz vs. Luis Ortiz. And I even like that it's on a Sunday night, where I don't have to sacrifice date night for a fight night. What do you think happens in this one? I like Ruiz and I can see him stopping Ortiz, who's a bit long in the tooth if you ask me. Where does the winner go after this fight?

Thanks for all your years of service, bringing us honest, unbiased analysis and good writing. You're the only boxing writer who has me LOLing.

– Jaime from Austin

Hey Jaime.

I like Ruiz-Ortiz, too. This should be a really good pairing of two fighters who can really fight and who won't go down easy. Both need this win and may not get another opportunity as big as this one if they lose at this stage of their careers. I also like that it's on Sunday. Why not experiment with shows on different days of the week? Saturday night is rough for some people, who, like you said, have a date night or other plans for outside-the-house fun. And given that Monday is Labor Day, the Sunday show makes sense.

I think Ruiz should win and I wouldn't argue against a stoppage victory if Ruiz goes hard at Ortiz, who is 43 and showed some punch resistance issues in his last bout against Charles Martin. But Ortiz is heavy -handed and very savvy. His jab and the threat of his big left hand could keep Ruiz respectful and at a distance. Ruiz, however, is the younger, fresher fighter and I think he has the edge this Sunday.

This is a WBC title eliminator (which is odd since Ruiz is no. 5 in the WBC's rankings and Ortiz is no. 8), so, at least on paper, the winner will become top contender to Tyson Fury. Deontay Wilder, however, is still the WBC's no. 1 contender. It makes sense that the winner of Ruiz-Ortiz would meet the winner of the upcoming Wilder-Robert Helenius bout for either mandatory contender status or, if Fury is really retired, the vacant WBC title.

Re-re-re-revisiting Boo Boo's Dilemma

Hey Paul,

Why can't Demetrius Andrade get a big fight? It seems as if the super middle weight division is scared of him?

Respectfully,

-- Randy McKire Jr.

Hey Randy.

Just when I thought I had received the last of the "why is everyone scared of Demetrius Andrade" emails…

Boxing is a business and all managers/promoters/advisors assess risk vs. reward when selecting opposition. In Andrade's case, he has almost always been on the wrong side of that risk-reward assessment. It happens. It sometimes happens with slick fighters, awkward fighters, one-punch KO artists, but it always happens, to varying degrees, to fighters with poor representation and an inability to parlay connections into opportunities.

Andrade has been a victim of his own bad business decisions for years and years. For instance, his decision to sign with Matchroom/DAZN may have bagged him a shit-ton of money for limited work, but being tucked away on subscription TV did nothing to raise his profile and put him in a position to get big-money legacy fights. As a matter of fact, his run at the streaming service probably lowered his profile even further. And it sure as hell didn't help that he's turned in some godawful dull, safety-first performances in bouts where he had the talent to steamroll his opposition.

It should be pointed out, though, that he passed on a Jermall Charlo fight several years back when he was considered the higher-profile star and Charlo was on the losing end of the risk vs. reward assessment.

So, there's a bit of hypocrisy in Andrade's laments about being ducked. He just bypassed a bout with heavy-handed Kazakh Janibek Alimkhanuly, presumably for the same reason other fighters have bypassed him-- too much risk for too little reward-- and went after the much less imposing Zach Parker.

Nobody is scared of anybody in this sport, especially at the highest levels. It's just that business gets in the way of fighting sometimes. And if you fight a guy like Andrade, who can make you look horrible in victory or defeat, you're going to expect to be compensated more generously for taking that risk.

At this point, I don't think he's going to get those big fights. Avoided fighters have to go off the beaten path to make names for themselves. They move up or down in weight, take on other avoided fighters, and generally take greater risks in their matchmaking. The time for that was several years ago. He's 34 and a total free agent now, still separated from the big fights by business barriers and his own lack of drawing ability. It ain't gonna happen anymore for him and his legacy will be one of "Just how far could this talented guy have gone?"

Got a question (or hate mail) for Magno's Bulging Mail Sack? The best of the best gets included in the weekly mailbag segment right here at FightHype. Send your stuff here: paulmagno@theboxingtribune.com.