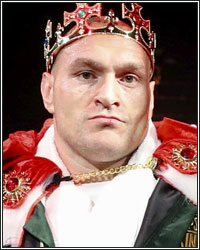 First, a little caveat. I don't believe a word that comes from Tyson Fury's mouth. I've been around enough hustlers and con men to sniff a load of BS from a mile away. If "The Gypsy King" told me that my hair was on fire, I'd run to grab a mirror before running for water. That's not an insult in my books, by the way, it just means that the man knows his way around words.

"I think you've all heard that I'm going to be fighting soon within the next few months," WBC champ Fury recently said via social media video, "and I think that before I announce an opponent that I need to do this, just in case: Anthony Joshua, I know you've just lost a fight to Usyk and you're beltless at the moment, and I'd like to give you an opportunity to fight me for the WBC heavyweight championship of the world and the lineal championship in the next few months. You're coming off a twelve round fight, so you're much fit, you're ready. I'm giving you a few months notice. If you're interested I'll send you the date over and we can rumble. A battle of Britain for the WBC heavyweight championship of the world. Let me know if you're interested. If not, I will select another opponent. Thank you very much and good night. Boom."

What followed was the usual stuff when fighters get called out online.

Joshua replied with a tacit 'Let's get it on-type' response with a big 'if' built in.

"Yeah calm. I don't do the online discussions just for clout, so if your really about it shout @258mgt. I'll be ready in December," Joshua replied via Twitter.

Then the suits got involved.

"We're sending a written offer across today to them," Fury's co-promoter Frank Warren told talkSPORT, "My son George spoke with Eddie Hearn yesterday. The terms that we are gonna put forward, I think, are very, very fair.

"He's willing to make that voluntary defense, so we'll send the offer across today, and then they'll have to look at it and decide whether they wanna grab this with both hands."

"I would love to get excited about this," Joshua's promoter Eddie Hearn told Talk Sport in response. "Because it's a fight I get stopped in the street for more than any other. Don't forget, we signed for this fight last year before the arbitration forced the [third] Deontay Wilder fight for Fury. The message is quite clear from AJ, we don't want to get involved in a backwards and forwards, we want the fight, it's the fight he's wanted a long time. If the fight is there and they're serious, and I have my doubts, but for the good of trying to make it happen let's believe Tyson Fury and I said to (co-promoter) George Warren last night, get the details and the offer over to us...We didn't expect this opportunity, but it's a great opportunity to fight for the world heavyweight title in the biggest fight in boxing. And we will definitely look at it."

Then, there was some follow up to the followup.

"This is easy fight to make normal champion to challenger privileges, & I'm 100% serious. Let's rumble uk," Fury write via social media.

"I'm being bombarded with messages of how much am I going to pay AJ," Fury responded to his own response.

"Everyone is saying 80/20, 70/30, 75/25, the actual answer is I've offered him 60/40. 40 per cent of this amazing fight because I want this fight to happen.

"He doesn't have any excuses now not to take it, he can't say I've lowballed him by offering him 20 or 30%.

"I've offered the people 40%, take it or leave it, let us know.'

Before anyone gets too excited, we should back up this truck and remember how these deliveries of steaming bullshit usually go down.

What will follow is an intense back-and-forth via social media that carries over to the traditional media, which is always in desperate need of CONTENT and is generally chock-full of marks and morons.

Then, when things fall apart-- as they invariably do when negotiations are done in public and through media-- both sides will retreat to the safety of their respective "I wanted to fight him, but their side pussied out" security blankets.

Maybe this will be one of the rare one-in-a-million times where there's some substance to the smoke and mirrors. But probably not.

And there are many reasons why this one screams "going nowhere" in a thick Irish brogue. Not the least of which is the fact that Joshua just fought this past August 20-- and lost and had a near breakdown afterwards. Team Fury is talking about this fight happening in November, which would essentially mean just over two months for training, publicity, and to sort out the wide range of logistics issues related to an event of this size.

The fight is doable, though. UK fans will gobble up Fury-Joshua like baked beans in a full English breakfast, so promotion would be easy. Warren and Hearn are veterans at putting together big shows, so the logistics wouldn't be a major issue, either. And, physically, Joshua could probably be alright coming from a big fight straight back into an 8-week training camp.

But the problem is all of those things, plus the reality that Joshua just may not be ready, mentally, for the kind of do or die showdown a Fury fight represents to him right now. He's lost his last two fights and three of his last five. Honestly, there's probably no way in hell Joshua would be mentally ready for something like this, so soon.

For Fury, all of this is a win-win. If he gets the Joshua fight, he'll make a fortune and be coming into the bout with a huge mental edge and a well-rested body. If it doesn't happen, he'll get all of the positive publicity from "wanting" the fight that Joshua and his team wouldn't make. These positive vibes will boost his negotiating hand in future talks with 3-belt champ Oleksandr Usyk or play into the narrative that these big names-- namely, Usyk and Joshua-- are avoiding him (and he's already pushing the storyline of approaching Joshua because 'easy-work' Usyk won't fight him).

It's the perfect setup for a savvy hustle/con.

Or this could all just be Tyson Fury's play for attention in the face of all the recent adulation tossed Usyk's way. Don't overlook the possibility that his recent retiring, un-retiring, re-retiring, re-un-retiring and these social media call-outs are all the product of a man who, for whatever reason (cough, cough...Daniel Kinahan...cough, cough) can't fight right now, but who desperately wants to stay in the spotlight.

So, yeah, it's grain of salt time with all this Fury-Joshua stuff. It's a lot like buying a lottery ticket. If it comes through, great...but don't make any real plans for the windfall.