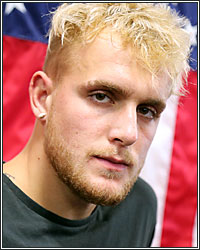 Hello fight fans and welcome to a special Monday gathered around my bulging sack, waiting on my weekly load of gooey, salty truth. This week, we have questions/comments regarding Bivol-Ramirez, Paul-Silva, Ryan Garcia, the fans' role in boxing's decline, and the timing of the Spence-Crawford announcement.

Bivol-Ramirez, Ryan Garcia, Spence-Crawford

Hey Paul how's it going? It's me again. Well, we have some good fights coming up. I really like Bivol and Ramirez. What's your take? You think Ramirez can pull off the upset? I give the edge to Bivol and not because he beat Canelo, but because I think he is that good??? And what do you think about Ryan talk-a-lot Garcia? He is the biggest joke in boxing, just like De la Hoya's hating ass. They talk such a big game but he fights nobodies. And my last question-- When will we get confirmation on Spence-Crawford. I'm a big Canelo guy, but that's the fight I really want to see. Let me know what you think.

Thank you. I always enjoy your takes on all boxing subjects.

-- AF

Hey AF.

Bivol-Ramirez is going to be good. I've noticed some downplaying of Ramirez's resume and abilities in recent days/weeks, but I think he's the real deal. He's big, strong, and can fight. Don't underestimate the significance of him being a southpaw, either. Bivol hasn't fought a southpaw since Cedric Agnew in 2017. The Russian definitely won't be able to fight the same epiphany-level fight he did against the short and short-armed Canelo Alvarez. Ramirez will be coming hard at him and he'll have the confidence of an undefeated former world champ in his prime. He'll be coming to hurt Bivol, not just out-box him and he'll have the edge in both size and reach. Bivol may deserve to be the favorite coming into this bout, but Ramirez is a real live dog in this one.

My stance on Ryan Garcia is the same as my stance on UFOs-- I'll believe it when I see it. Garcia definitely has the raw tools to be a special fighter. That light speed left hand, alone, already puts him in the top 1% of fighters and can end any fight at any moment. He'll need more than the threat of one big weapon as he starts to face other one-percenters. His body of work is still light, so there's a lot he hasn't proven just yet. His mouth and social media reach have far exceeded his ring work at this point, so he's going to rub a lot of people the wrong way and generate a lot of heat. In terms of promotion, however, that's not a bad thing. Garcia's problem is inside himself. Will the pressure, the early fame and, perhaps more importantly, his ability to make money outside of the ring, pull him away from the rough and nasty world of boxing? Realistically, the kid could be out before he's even all the way in.

As for Spence-Crawford, my semi-educated opinion is that we hear confirmation soon. I think this one's likely done, signed up, and ready to be announced. The lack of talk from all parties is a good sign. My guess is that the announcement will be made right before Wilder-Helenius in October or immediately after. Could be sooner, though. Maybe during Sebastian Fundora-Carlos Ocampo October 8, a week before Wilder-Helenius? I'm just playing amateur promoter here, but they could tease the announcement for the Fundora-Ocampo card, draw people to that fight and not only make the big announcement, but also hype the Wilder-Helenius pay-per-view. PBC/Showtime/Fox all lining up to play off one another. That's what the suits call SYNERGY, baby!

Jake Paul-Anderson Silva

Hi Paul.

This one just came across the wires. Jake Paul vs. Anderson Silva on October 29. I'm asking you about this because you're one of the only...maybe THE only...boxing writer to give the kid a fair break when it comes to his boxing. I think this is a very legit challenge for him. But win, lose, or draw will it bring him any degree of respect among hardcore boxing fans and media? I think I know the answer to that, but you say it so much better than I could. So, Mags, what do you think of Paul-Silva?

– John L.

Hey John.

It IS a big challenge for Paul. Anderson Silva has real boxing skills and instincts. A lot of the success he had in the UFC was due to his boxing chops and the boxing rhythm he carried inside the octagon. He's had four actual pro boxing bouts and is 3-1, with his lone defeat coming way back in 1998. Most recently he outclassed Julio Cesar Chavez Jr. in June of 2021 and then blew away Tito Ortiz via first round KO in a boxing match three months after that.

Yeah, he's 47, but he's just one year removed from out-boxing Chavez Jr., who, even though under-trained and under-motivated, was still a "legit" veteran boxer and should be a few levels above a novice pro like Jake Paul.

As for Paul? Let's be honest here. Hate him for being a YouTuber or a social media influencer or C-list celebrity, but how many novice pros will ever fight anyone as good as Silva, in just their sixth professional fight? I'd say none. I'd say that anyone facing someone as good as Silva in their sixth pro fight is probably a rare breed-type with a stellar and extended amateur pedigree. It's definitely not someone who picked up boxing as an adult.

So, give the kid credit. He's putting in the work to better his game and is now taking on a big risk against a guy with real skills.

But, no, he won't get any respect from the phony baloney "purists" or the swamp-assed media no matter what. They'll point to the 22-year age difference in Paul's favor. They'll diminish Silva as not being a "real" boxer. And when all else fails, they'll cry fix. Win, lose, or draw, though, this should be a respect earner for Jake Paul.

The fans are the problem

Everyone wants to blame PBC, Top Rank, Matchroom, GBP, etc. But the fact is that the fans dictate how the promoters move.

Devin Haney is the undisputed 135lb champion. However, the demand at 135 is Ryan Garcia v Tank Davis. Neither guy has a belt at 135. In a perfect boxing world the demand would be Haney v Davis.

Usyk v Fury is supposed to be an undisputed fight. You'd think that fans would want to see that fight. However, the demand is Fury v Joshua. It's absurd that Fury can make more money fighting a guy that just lost twice to a cruiserweight as opposed to fight the cruiserweight himself.

Nobody's ducking nobody nowadays. Promoters aren't hiding their stable from dangerous fights. Promoters are just supplying the public's demand.

If Usyk v Fury doesn't happen next. Who's fault would it be?

-- Nail Rahman

Hey Nail.

You're touching on something that I've been saying since, well, since always. Boxing is-- and always has been-- a star-driven sport. It just so happened that, in the past, fighters built up their star power by engaging in tough, high-profile fights on their way up the ladder and it often worked out that the best fighters would become the biggest fighters in a more organic manner. That's not the case anymore and there are lots of reasons for that-- the impact of social media, the fragmenting of the business, the move away from the mainstream sports world, etc. But the fans and their fickle, capricious ways are at the root of it all. Promoters and networks are constantly juking fans out of their proverbial shoes and have conditioned the hardcore base to buy whatever's offered to them. Rather than hold out for what could be (and should be), fans are content with the "best available." The fan base has been whittled down to a comparatively select few who will watch anything and everything offered to them. And, because of this, for the top guys there's often not all that much more money in a risky, challenging fight than in a showcase, second rate bout. If the fans stopped buying, subscribing, showing up at the live events, I guarantee you that all of these promoters, managers, and network execs would rush to some fancy boardroom, singing Kumbaya, eager to work together for the common good of the sport.

Got a question (or hate mail) for Magno's Bulging Mail Sack? The best of the best gets included in the weekly mailbag segment right here at FightHype. Send your stuff here: paulmagno@theboxingtribune.com.