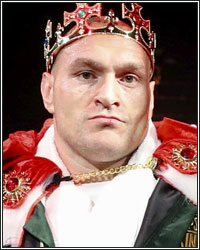 Every Thursday here at FightHype, boxing fans gather around my bulbous, bulging sack in anticipation of an Ol' Faithful money shot of gooey, salty truth. This Thursday is no different. So, put your goggles on and cinch up your plastic poncho, here it comes. This week, we have comments/questions regarding Anthony Joshua-Tyson Fury, Gervonta Davis-Ryan Garcia, and Canelo-GGG 3.

Fury-AJ, Tank-Ryan, Canelo-GGG

Hello Paul

I will start with heavyweights. I am not sold on this AJ vs Fury fight. Fury leans into his opponents and that basically removes energy from a fighter, AJ has shown he can be mentally drained and adding this leaning strategy makes me believe this is not a good scenario for him. The only guy I can see beating Fury is Usyk only because he might not be a fixed target for Fury leaning his 300-plus frame on him.

Next, I keep reading and reading rumors that Tank vs Ryan Garcia is being negotiated. I don't know what to believe since ODLH claims he has yet to receive a call from them, but again, ODLH seems not interested in promoting and focuses on showing off his GF and advertising.

Finally, I still believe Canelo will win against GGG, but I don't think it will be easy. Jonathon Banks had stuff to say regarding their strategy and I seem to like it, basically claiming they want to avoid Canelo countering by doubling their jab. It is easier said than done though, because GGG knew that since fight 1 but I am not sure if GGG´s arsenal includes doubling the jab (he does have the best single jab and that is a fact).

Best Regards

-- Miguel

Hey Miguel.

The Fury fight is a terrible one for Joshua. Everything that usually works to AJ's benefit-- size, strength, reach-- will be null and void against Tyson Fury. But, at this point, Team Joshua has to roll the dice and take a huge risk in an all-or-nothing stab at unseating Fury. He'll always have a puncher's chance and if he can clip Fury in just the right spot, at the right time, he could change the downward trajectory of his career. I wouldn't count on the upset, though.

Honestly, I'm not even thinking about Tank-Garcia. I don't think anything's even being discussed and I don't think anyone wants this fight, except for the fans. When I see even the slightest hint of a faint sign that there's some forward movement in making this fight, then I'll start paying attention.

Golovkin won't be doing anything different in this fight. At this point, he's set in his ways and not at all likely to try anything new now. If he seriously thought that he won those first two fights (and he does), why would he make any changes, other than, possibly, doing more of what he usually does?

Doubling up on the jab, using some of the jab-centric tactics that worked so well for Dmitry Bivol, would definitely be to his benefit. We saw a major chink in Canelo's armor in that Bivol fight when it comes to working through a stiff, persistent jab and it would be very wise to work that into GGG's fight strategy. For whatever reason-- maybe having so much confidence (arrogance) that he thinks he can just walk through an opponent's long-range game-- Canelo could not solve the Bivol jab riddle. Golovkin is not the same kind of fighter as Bivol, but he could use some of what we saw in that fight. But he won't. Golovkin will play the Golovkin game, such as it is...and he'll lose because of it. Maybe not as decisively as some people seem to think, but he'll lose solidly enough.

Post-Canelo/GGG 3

Hey Paul.

Longtime reader, first time emailer. I'm sure you're getting asked who will win a thousand times, but my question is about what you see happening after Canelo vs. Golovkin 3. What do you see in the future of both fighters if they win or lose?

– Tomas from Tijuana

Hey Tomas.

If Canelo wins, I DON'T see him moving on to fight Dmitry Bivol again. I don't think that's a fight he wants at all and has only spoken about it for face-saving purposes. I think he's secretly hoping that Gilberto Ramirez beats Bivol and takes the Russian out of the equation entirely. Bivol is just a tough stylistic matchup for Canelo and Canelo realized that halfway through their bout. It's not just the style that gave Canelo fits, it was Bivol's composure, focus, and inability to be intimidated by either Alvarez or the weight of the event.

If Canelo beats Golovkin this Saturday, I think he stays at 168 and probably fights either John Ryder if he's got another option to fulfill with Matchroom/DAZN or Jermall Charlo. If he loses, I don't know. Maybe still John Ryder or maybe he makes the fight he's being accused of ducking with David Benavidez. He'll need a rebuild, definitely, if he gets beat twice in a row.

Win or lose, I think Golovkin may retire after this fight. Maybe he fights one more time to fulfill his DAZN obligations. Expect a soft touch either way.

Canelo-GGG 3 Pick

Hey Magno.

This is a quick one, my man. What happens this Saturday? Canelo or GGG? How?

– Damon

Hey Damon.

I think Canelo will try to stop Golovkin. Expect a lot of pressure early on. And when he sees that he's not able to take GGG out (or maybe after he tastes some big shots in pursuit of a stoppage), he'll settle into a boxing groove and box his way to a unanimous decision in the 116-112, 117-111 range.

Got a question (or hate mail) for Magno's Bulging Mail Sack? The best of the best gets included in the weekly mailbag segment right here at FightHype. Send your stuff here: paulmagno@theboxingtribune.com.
[ Follow Paul Buitrago on Twitter @PaulBuitrago ]