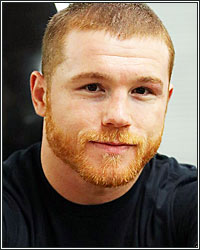 I guess we should've seen it coming when he arrived to the weigh-in wearing what looked like silk pajamas. You know what Marvelous Marvin Hagler once said about it being tough to get out of bed to do roadwork when you're sleeping in silk pajamas?

Last Saturday, in an alleged grudge match against what was supposed to be his bitterest of rivals, Saul "Canelo" Alvarez fought with shockingly little fire and urgency in boxing his way to a unanimous decision. It was his second straight flat performance in what was supposed to be a legacy fight against Gennady Golovkin.

One can understand looking flat against Dmitry Bivol back in May. Bivol was sharp, on-point, and unflappable. It wasn't shocking that Alvarez, moving up in weight, could be shut down by the Russian.

But against Golovkin, Alvarez was in little-to-no-danger. He was in command for the first eight rounds and Golovkin looked ripe for the picking throughout that stretch. The Mexican star was beating the Kazakh to the punch, nullifying his ability to plant his feet to make an attack, and pushing him backwards. He just forgot about the part where he was supposed to vanquish his opponent and not just nullify him.

It doesn't matter whether Alvarez gassed after the eighth round, lost some of his focus, or lost ground to a suddenly energized Golovkin. From the ninth round on, this was a 50-50 fight when, honestly, it probably should've been over by the ninth.

Like I wrote in this Monday's now-classic (says me) Notes from the Boxing Underground column, maybe the boxing stars of today are just cut from a different cloth. Can you imagine Julio Cesar Chavez beating up Roger Mayweather for eight rounds and not trying to close the show?

What's especially disappointing when it comes to Canelo is that he DID appear to have that old school boxing mentality in recent fights. In his run to unify the 168 lb. division, anyway, he looked about as old school as anyone could be in this new school world. He beat down his opposition and then took them out. It was beautiful brutality.

Saturday's fight was a tease that left viewers with boxing blue balls and a nagging feeling that maybe they'd been had. I know I had some serious egg on my face when I had to explain to the casual boxing fans watching the fight with me why the bad blood I told them about was nowhere to be seen. And when they I-love-you-bro hugged and hugged after the fight, I felt a little like that time in high school when I overpaid for a dime bag and it turned out to be oregano.

Fighters do lose "it." It happens. The fire sometimes goes out or it diminishes greatly. Alvarez has pointed to a wrist injury that will require surgery. But comfort and a diminished need to prove he has "it" may be the real cause of a low-flame Canelo. The greats close out the show when they clearly can, boo-boos or not.

The 32-year-old is talking about taking a break to heal. Maybe time and the nagging itch to build an ATG legacy will rekindle the flame. Few fighters seem as affected by outside criticism as Canelo, few are as touchy about their boxing legacies.

But, then again, is there a real, burning need to prove some abstract concept like greatness to people he knows will half-reject him no matter what he does? And to go through all that hassle when his bank account has a nine-digit balance?

A reasonable human being would see no reason to fight on or to risk wellness to make a point of dominance. Play it safe. Take the "W." Keep padding the bank account. That's the smart human instinct.

But as I also said in this Monday's now-classic (says me, again) Notes from the Boxing Underground column, this smart human instinct sure doesn't make for an all that compelling boxing product.