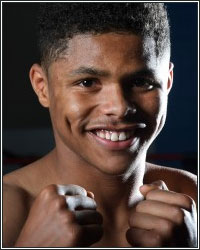 With Shakur Stevenson outgrowing 130, the lightweight division has gone from having "Four Kings" to "Five Kings."

But, like the ascension of King Charles III to the British throne following the death of Queen Elizabeth, this spotlights the fact that royalty just ain't what it used to be.

This piece is not to disparage the talents of 135's current batch of top dogs-- Devin Haney, Gervonta Davis, Vasiliy Lomachenko, Ryan Garcia, and Stevenson. This piece is, however, meant to disparage boxing's ass-backwards business philosophy and rotten business model that will keep any of these guys from fighting one another any time soon.

And make no mistake about it, none of these guys will likely be getting in the ring with any of the others on this short list of stars in the foreseeable future.

Realistically, some of the best fights at 135 COULD happen. Lomachenko and Stevenson are Top Rank fighters. Haney is now co-promoted by Top Rank. Former "king," Teofimo Lopez is also with Top Rank, even though he now competes at 140, where most of these other guys will also be campaigning at some point soon.

But, nah. The Top Rank in-house stuff ain't happening, just as the cross-promotional, cross-platform, cross-network stuff ain't likely to happen. Rather, it's only happening over Bob Arum's dead body. Arum pitting Lomachenko and Stevenson, especially, against one another, in his eyes, would be like taking a big money Ferrari and a top of the line Lamborghini and crashing them into one another. But Arum IS 90 years old, so "over his dead body" doesn't mean as much as it used to.

I'm sure Arum would gladly throw Haney under either the Shakur or Vasiliy bus to get the four belts around someone he fully controls. But that'll be a bit down the line and tougher than one would image since Team Haney can be a tough nut to crack in negotiations.

Gervonta "Tank" Davis versus any of these guys looks to be an absolute fairy tale at this point. Davis' promoter, Floyd Mayweather, seems to confuse what worked for him and what will work for different fighters in a different time. It remains to be seen whether intentionally antagonizing fans by proudly and defiantly not giving them what they want will do anything to move the needle from live attraction to superstar.

And Ryan Garcia? I'll repeat myself, but my stance on all things "King Ry" is the same as my stance on UFOs-- I'll believe it when I see it. The kid calls everyone out, then jumps into his social media rabbit hole while promoter Oscar De La Hoya fumbles around making a jackass of himself and making it harder to make any of the big fights Garcia supposedly wants. I don't know. I don't care. But the reality is that this kid could be a money-making machine. That makes it even more doubtful that, at 24 and still very much an unfinished project, his team would throw him in the ring against someone who could curb stomp him and send him back to the comfort zone of Bang Energy Drink sponsored Instagram posts.

Meanwhile, 4-belt unified champ Devin Haney and his team have proven themselves to be exceedingly pragmatic-- so much so that it's hard to imagine them taking all that many risks considering the concessions they had to make to get their shot at unifying all the belts.

And there you have it. Five "kings" ruling five entirely separate kingdoms who might never actually bother to invade anyone else's. Just through dumb luck, some of these guys may happen to face one another, although it'll probably happen when one or two show considerable slippage or vulnerability.

There are some solid lightweights-- surely princes, not yet kings-- who stand outside the top five and would be worthy pretenders/contenders to the thrones, totally willing to jump at any chance to get these guys into the ring. Isaac Cruz, for example, would fight a threshing machine if there was a paycheck attached to it.

But the stars aren't fighting one another. They're not even close to doing so. Blame the boxing business for that. Blame the fans for not boycotting the promoters' filler and distraction. Blame the fighters, themselves, for riding the lopsided wagon of a broken-down boxing business cart. Whatever.

All I know is that this should piss us off more than it is.