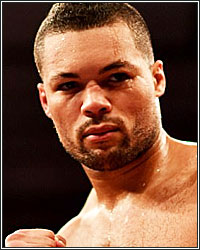 Welcome to another Thursday edition of Magno's Bulging Mail Sack-- The only online boxing mailbag column that mixes crude references to the male anatomy with sissy-hurting hard truths. This week, we have comments/questions regarding Joe Joyce, Canelo's fizzle, Martin Bakole, and "The Most Feared."

Joyce, Bakole, Canelo

Hello Paul

Hope yourself and your family are good...how are you?

I wanted to start with Joe Joyce, most people are not high on him for the fact that he punches in slow motion. I try seeing other things, such as the fact that the last time I saw a fighter being slow with a come forward attitude and excellent chin was Antonio Margarito. If at welterweight some fighters are discouraged by their inability to put a man down, imagine how heavyweight punchers feel?

Which brings me to my next topic. There is this little known fighter at HW called Martin Bakole, I saw a sparring clip where he was punching Joyce as if he were a Pinata. This seems to be dangerous based on the fact that he can punch and he throws combinations, just ask Tony Yoka [who Bakole beat via majority decision in May]. The only question mark I have for him is that he got beat by Michael Hunter, but I will give him the benefit of the doubt based on him apparently getting injured.

Finally, Canelo. I wish my man would only have the Makabu fight and then retire. I see signs of decline now and I think he pushed this forward with his 4-fight unification year campaign. But like El Terrible said, it's hard to retire when they are throwing the biggest bone on your face. Is your Spanish good enough to listen to un round mas (their podcast)?

Best regards, apologies for the long email.

– Miguel

Hey Miguel.

Me and the family are doing well here in the Mexican heartland. Thanks for asking.

When Joyce was first coming up, I had serious doubts about his high-end potential. As you pointed out, he was just so damn slow-handed and slow of foot. But I've had to re-think my assessment over the last couple of years. The guy is very heavy-handed and that makes up for a lack of hand speed. He's also got an overlooked sense of timing that makes up for his lack of speed. Stoppage wins over Joseph Parker, Daniel Dubois, Carlos Takam, and the usually durable Christian Hammer tell the tale of someone who belongs near the top. His heavy hands and unflappable demeanor will make him a tough opponent for anyone. Maybe, already, he's at the point where only the elites (Fury, Usyk) can beat him.

I don't know a whole lot about Bakole, but I do know that, to go along with his legit power, he has some very real and exploitable defensive flaws that could cost him dearly against someone with big one-punch power and a solid chin. The guy is fearless, though, and that goes a long away in a division where some of the top contenders tend to be cautious and conservative. We shall see.

As for Canelo? His last two performances have been disappointing. The lack of fire and resolve in his efforts against Bivol and Golovkin stand in stark contrast to the hunger he showed in brutalizing his way to unified champ status at 168. One can easily say that he was just outclassed by Bivol and there'd be no shame in that. But he wasn't just outclassed. Halfway through the fight, he pretty much resigned himself to not being able to do better. Against Golovkin, he also lacked fire and simply cruised his way to a tepid points win in a fight where he should've scored a stoppage. I doubt that his 11-month super middleweight unification run burned him out. I'm leaning towards the belief that he has simply become very content, complacent, and filled with a sense of entitlement. He seems to be fighting under the assumption these days that if things get tough, all he has to do is keep the fight close until the closing bell to win the decision. He can work his way out of this funk, but nobody can light that fire but himself.

Yeah, I'm fluent in Spanish and have been meaning to check out Morales' podcast. I've heard clips and it sounds good.

Most Feared

Hi Paul.

Just wanted to get your take on boxing's most feared fighters. David Benavidez gets mentioned a lot in this category and I think rightly so. Canelo doesn't want anything to do with him. Charlo doesn't either. Caleb Plant either. Demetrius Andrade also comes to mind. There's also Terence Crawford. Who else do you think belongs on this list?

– Ty

Hey Ty.

I don't think anyone belongs on a "most feared" list. I think that whole "They're all afraid of me, so I can't get a big fight" stuff is a load of pungent promoter-shoveled bullshit.

I'll repeat myself for the 10,000th time and emphasize, yet again, that boxing is a business. And if a fighter doesn't offer significant reward for the risk he presents, he's not going to get the fight(s) he wants. It's not up to the "A-listers" to reach down and elevate anyone. It's up to the "B-listers" to elevate themselves to the point where they DO provide significant reward for the risk they present.

Maybe it shouldn't be like this, but boxing is not run like a "real" sport. There's no real playoff system that forces the best to face the best in an ultimate championship contest. Boxing is all about marketing, salability, and the politics of boxing business. If the NFL were run like boxing, only major market teams would be allowed to play in the Super Bowl. So, yeah, if you're a fighter, you gotta get big to be big.

But how does one go about getting "big" if the big guys won't risk passing the torch to you?

You fight the "best availables" and "best of the rest" and make sure to look damn good doing it.

Fighters have been avoided since boxing matchmaking first existed. No smart boxing businessman, ever, wanted to risk losing everything for a chance to gain nothing. Fighters who can't get their big shots have to hustle and take extra risks to get where they want to be. They have to move up or down in weight, roll the dice on bouts with other avoided fighters, and create public demand by putting on a hell of a show when they do step into the ring. They most definitely won't help their cause by whining incessantly and then turning around to play the same risk vs. reward game with THEIR opponent selection.

I'm not going to point any fingers at anyone specifically, mostly because a lot of fighters can have fingers pointed at them. But I do think that, often, this "feared" crap is used by promoters/managers as a pretext to keep their own fighters from taking risks and as an excuse to fight lesser competition because "hey, we want to fight the big guys, but none of them will step up to the plate." If they can keep the focus on the "cowards" and "duckers" who won't fight their guy, the attention is diverted from their own fighter's body of work and they can then put him up against whoever the hell they want, indefinitely. The current business model facilitates this kind of silliness and, for the most part, fans and media gobble it up like warm pancakes on a cold winter morning.

I refuse to play that game anymore.

Got a question (or hate mail) for Magno's Bulging Mail Sack? The best of the best gets included in the weekly mailbag segment right here at FightHype. Send your stuff here: paulmagno@theboxingtribune.com.