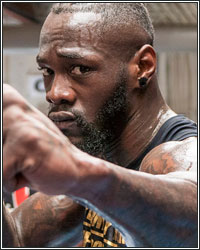 I have to admit it. I opened this Word document totally with the intention of mocking Deontay Wilder and his "peace and love" rebirth.

"I hope all you guys make it home safely," Wilder told the crowd at Barclays Center in Brooklyn after stopping Robert Helenius via brutal first-round KO. "We gotta spread more love out here, man. There's nothing wrong with loving each other, hugging each other. Tell someone you love them and mean it. Look them in the eyes and tell them you love them. There's so much hate in this world and we need to change that. As the people, we can change it."

Okay.

And then there was the more-than-slightly-uncomfortable-to-watch 42-second "Are you okay? I love you man. I'm sorry" hug Wilder gave Helenius in The Nordic Nightmare's hotel room.

I mean, what the fuck is a cynical boxing media pundit supposed to do with shit like that? I'm almost duty-bound to make fun of this kind of stuff.

But then I finally got around to watching Wilder's post-fight press conference.

"My heart goes out to him [Helenius] and hope he's doing okay and he'll be able to go back to his family because this is a tough business that we're in," Wilder told the assembled media. "I'm just trying to support my family as well. This is what we sign up to do.

"Yeah that's a great knockout, making history and stuff like that, but how much is that man going to suffer? He may be alright right now, a little bit but what about the next day? What about two weeks from now? What about a month from now, maybe years from now?

"That's why I tell people you've got to respect all fighters. People always go on about records and all this. 'He lost and he's a bum' and all that. Well, you get in there then. Because you don't play this. You can't play this. We demand respect at all times for every fighter that steps in the ring, I don't care what their record is, I don't care who they are or where they come from."

An emotional, tearful Wilder then evoked the story of Prichard Colon, the young fighter and emerging prospect who was incapacitate with a severe brain injury suffered during a 2017 bout.

"You all don't understand what we go through. I don't even know him like that. But I'll always be an advocate for us. This man will never know what it feels like to be somebody's father and that's the most precious thing in the world to be somebody's father.

"This man will never have a chance of living again because he got in the ring to support his family. But now his family have got to take care of him for the rest of his life. He probably was the breadwinner of his family and now they're looking, seeking for help.

"That's why you can't play this. This is serious.

"I always have concern for all fighters," he continued.

"I'm a big advocate for fighters because we get done wrong. This is not a sport. A sport is something you play. You don't play this. We risk our lives for you guys' entertainment.

"I just did a job. I'm great at what I do. [But] I don't mean to take people away from their lifestyle."

This hit hard. I've written volumes about respecting fighters for their efforts and sacrifices. I've advocated for fair compensation and for post-career support. I've championed the cause of fighters who strive for career self-determination. I've battled with other boxing media members who DON'T respect the fighters they cover.

And, also, I spoke frequently with Prichard Colon as he rose through the boxing ranks and started making a name for himself. He asked for advice regarding the business side of this cruel sport and I did what I could to help. I knew the young man and I knew of the love he had for a sport that would eventually cost him his future.

I'll admit, the 42-second Wilder-Helenius hotel hug is pretty amusing. And there's a degree of absurdity in a fighter talking about spreading love minutes after poleaxing the soul out of another man. It reminds me of the scene from that sci-fi movie "Mars Attacks" where the aliens are playing a "we come in peace" recording while blasting everyone around them with a death ray. But there was nothing laughable about what Deontay Wilder said in that press conference.

Anyone with a soul in the boxing business at any level-- fighting, training, managing, or even writing about the sport-- has that inner battle, that internal debate about whether the salvation found through boxing is worth the toll fighting takes on the fighters.

Most of us with a passion for the sport stick around and try to walk that balance between the good done and the damage done, hoping that we can make at least a little bit of a difference.