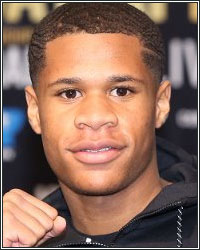 Hello fight fans and welcome to another Thursday gathered around my bulging sack, waiting on your weekly load of gooey, salty truth. This week, we have questions/comments regarding the failing "Four Kings" and restructuring boxing's business model.

New Model for TV Boxing

Hi, Magno, hope you and your family are doing great.

I get it, boxing is a business first, and fans interest is second, but I firmly believe that PBC has the stable of fighters and smart people in their team to structure a deal with Paramount, which owns CBS, Showtime and Paramount Plus, that can consistently show quality fights on these different platforms and have the Pay Per Views for the mega-fights. The PPV numbers have been disappointing as of late, mainly because of piracy, but if they can figure out a reasonable subscription price for Paramount Plus, we will sign up and their fighters can fight more often, especially the prospects and mid-tier fighters on the app, world class championship fights on Showtime and the mega-fights on PPV. I don't mention CBS because it has been expressed that they are not willing to give up any of their primetime for boxing, but hey, how about on a weekday every now and then or a Sunday in the afternoon? We are getting some good fights on ESPN PLUS, like Teofimo vs Loma, Valdez vs Stevenson, Beterviev vs Smith, and some others. PBC has a deeper stable of fighters that are of interest to us. PPV for every meaningful fight is, I believe, not in the fighters' best interest. DAZN is terrible, not even worth my time, they just don't have the stable, so all they do is provide content, garbage content, for the U.S fans.

Figure it out, I know Espinoza and Mr. Haymon can do it.

– Benjamín from Puerto Rico

Hey Benjamin.

Oh, it can be done. Something can be figured out. But do any of the bossmen have the time, power, and financial freedom to restructure the sport's entire business structure? Do they even have the desire to jump on that grenade in an effort to attempt those essential changes?

You need look no further for a template to reform than the music industry's struggles in the new millennium, dealing with piracy on the open internet via services such as Napster and Limewire. The music industry was really on the verge of full collapse as it struggled to adapt to new technology and new consumer habits.

Their solution was the same one boxing should be eyeballing. Instead of jacking up prices to make up for revenue loss, exploiting loyal consumers who were still willing to do things the old school way, they made their product more accessible, cheaper to purchase, and more flexible in how/when/where it can be enjoyed. The music industry supported subscription services that charged comparatively little, but offered a world of variety and flexibility. The logic was that enough consumers would do things the legal way if subscription fees were reasonable and quality was top notch. Why go through the hassle of finding downloads, risking virus infection, and gambling on quality when they could get what they want the "right" way and for a price that would amount to the price of one CD per month?

For the music industry, this worked. For boxing, this could work as well.

On paper, DAZN seemed to represent the first step in going this direction. But the brain trust behind the effort failed miserably, most significantly with the appointment of Eddie Hearn as their leader and chief boxing mind. Hearn has never bothered himself with really pushing for the success of DAZN, the project, or even the advancement of the sport. He's acted exactly like what he is-- an active promoter who lucked into some money marks and set about using that money to benefit his own company. I've been especially hard on DAZN in my writings because they came into being with the right idea and the right funding. They COULD have done so much good, but they've been The Gang That Couldn't Shoot Straight from day one and have made so many wrong turns that there's no longer a way to get on the right path.

Boxing's business model definitely has to be restructured, though. There's a lot to work on.

One thing, for example, is that it makes no sense for the young, up-and-coming stars to be stuck on PPV undercards and buried on subscription services. The idea is to get these guys into the public eye. In a universe that allows easy access to millions (billions) of potential viewers via YouTube and social media, why the fuck is boxing choosing to build their future stars by showcasing them to the same few thousand hardcore fans who are already sold on the product? I mean, seriously. The fights featuring prospects and new blood are rarely money-makers anyway, so why not take their loss performing to a potential audience of million rather than a few thousand?

There's a lot more that I could say, but I'd be here all night writing this response. Needless to say, the boxing bossmen need to be doing something and, for the most part, they're not.

The Four "Kings?"

Really, its been almost 5 years since this moniker was linked to Garcia, Teo, Haney and Tank and still NONE of these guys have faced each other, once!

Could you even imagine this scenario with Hearns, Hagler, Leonard and Duran?

– John

Hey John.

Honestly, I give up with these guys. This "nobody fighting nobody" nonsense is just another byproduct of boxing's shitty business model. The money is good enough (thanks to new, naive money coming into the sport, trying to grab on to "exclusive content.") and there's just not that much extra money in taking the bigger risks. The "big" fights can only be so big and generate so much revenue because the mainstream audience (aka: the "casuals") is not there anymore. Getting anything done with these guys is a muddled mess that I choose not to give too much thought about anymore. If fight fans haven't moved on from these guys already, they are either terminally slow or obsessively, pathologically, illogically loyal.

Got a question (or hate mail) for Magno's Bulging Mail Sack? The best of the best gets included in the weekly mailbag segment right here at FightHype. Send your stuff here: paulmagno@theboxingtribune.com.