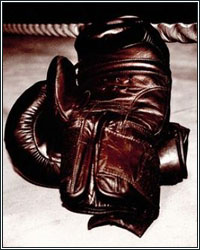 Around the seventh or eighth round in Saturday's WBA super middleweight title fight between champion David Morrell Jr. and Aidos Yerbossynuly, it was clear that there was no point in continuing. Morrell was landing at will, toying with the WBA's no. 1 contender, and Yerbossynuly, who had been bleeding profusely from the nose since the second round, was doing nothing but taking punishment in a tough-but-pointless march forward.

Now, we're learning that the native of Zharkent, Kazakhstan, who recently began working out of Las Vegas, has been placed in a medically induced coma following injuries sustained in his twelfth-round KO loss.

Again, as with most boxing injuries like this, there's a case to be made that things didn't have to go down as they did.

By the time he was dropped for the first time in the twelfth and final round, the Kazakh challenger wore a grotesque, bloody swollen mask. He sported the forlorn eyes of a human being in peril, something which boxing veterans have come to recognize as the prelude to serious injury and/or death.

Still, Yerbossynuly fought on. He clinched desperately, instinctively, doing the only thing he could do to avoid further punishment. Referee Tony Weeks pried his clenched gloves loose, forcing the pummeling to continue. Morrell would land the final shot-- a brutal right hand-- just seconds after Yerbossynuly was penalized a point for clinching.

Still, the challenger, who boasts a bloodline that traces back to Mongol conqueror Genghis Khan, got up, albeit after Weeks finally waved off the beating. He would nearly collapse shortly thereafter, moving Morrell to pause his celebration and help walk him to his corner.

All in all, the 30-year-old got an ugly beating that was absolutely unnecessary and now his life is in jeopardy. At the very least, his career is over.

Emanuel Savoy, Yerbossynuly's assistant trainer, later told ESPN that he wanted to throw in the towel around the ninth or tenth round.

"I actually had the towel in my hand," Savoy said. "Aidos wanted to continue. His head coach (Kanat Orakbaev) wanted him to continue. He evaluated Aidos and said nothing was wrong with him."

Morrell's trainer Ronnie Shields, in a post-fight interview with Boxingscene.com, also expressed his frustration for a fight that went far too long.

"That fight should've been stopped sooner," Shields said. "They let this kid take way too much punishment. But even the referee, and Tony Weeks is a really good ref, but sometimes you've gotta go to the corner and say, 'Hey man, y'all need to stop this.'"

"It was all pride," Shields added. "I commend the guy for taking all that punishment, but you've gotta save guys from themselves. He took way too many punches."

So, who's to blame for something like this?

Boxing is an inherently brutal sport and injuries/deaths are inevitable. Many tragedies, however, are preventable.

A finger could be pointed at referee Tony Weeks, who, as Shields pointed out, should've felt compelled to save Yerbossynuly from himself. A finger could also be pointed at Yerbossynuly's corner for not pulling their guy from what was clearly an unwinnable battle. Again, it was clear very early on in the contest that an eye should be kept on the well-being of the obviously overmatched fighter.

I wrote the official Premier Boxing Champions fight preview for Morrell-Yerbossynuly and acknowledged that the rising Cuban star would have every conceivable advantage coming into this fight. But the Kazakh was undefeated in sixteen bouts and ranked no. 1 in the super middleweight division by the WBA. It's hard to make the argument that Yerbossynuly didn't deserve a shot at "regular" world champ Morrell, who, despite all his talent and ability, was only a seven-fight pro coming into this bout and still untested in the deepest of world class waters.

There's nothing to do now but hope for the best when it comes to the tough Kazakh battler. Maybe a bright enough spotlight on this fight's mistakes will help prevent another tragedy later. Maybe.