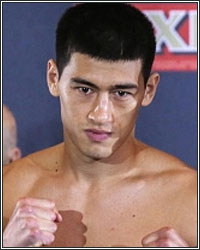 Welcome to another Thursday edition of Magno's Bulging Mail Sack, the only boxing mailbag column not endorsed by the creeps and weirdos in the Boxing Writers Association of America. This week, we have comments/questions regarding Dmitry Bivol, Canelo Alvarez's plans, Crawford-Spence, and Plant-Benavidez.

Bivol, Crawford, Plant-Benavidez

Paul. Haven't wrote to you in a min.

First of all, I want to ask about Bivol. After the Canelo fight he seemed to be a really, really good fighter, but now he has the potential to be a great pound-for-pound star. Zurdo Ramírez is a good fighter, I never thought he was a great fighter. He was too slow for Bivol. As soon as he got touched in the first rounds with those combos, he started to fade and fyi I love my Mexican fighters 100 percent, but I have to say this guy is an assassin. What do you think ??

And now...why doesn't Crawford want to fight Spence? Why did it fall through and is this another Pacquiao-Mayweather we will not see it for years and to be honest I don't want to see it in years. I want to see it now.

Thanks, Paul. Let me know what you think

Oh, one more thing. Plant-Benavidez. What do you think? Who do you got? I like Plant. I don't know why. I just think he has better footwork than Benavidez and he has a lil of that touch and move that can outpoint opposition. Thanks.

– AF

Hey AF.

I've been up and down with Bivol. He looked really good and really sharp when he was coming up the ranks and in his first few title defenses. Then, he hit a patch of about a half-dozen fights where he seemed to be just going through the motions, doing the minimum to get a decision win. The Canelo fight, however, seemed to wake him up a bit and he's been fighting with a bit of fire added to his calm, cool precision. Regardless, he's a tough task for anyone and is clearly a full step ahead of those wanting to take his title at the moment. I expected him to beat Ramirez, but I was impressed nonetheless by his ability to maintain his composure throughout the contest and his continued ability to maintain picture-perfect technique, working entirely within his own comfort zone. He's impressive. I don't see him as an assassin, but he IS a machine.

I think Spence and Crawford do want to fight one another. I think egos are getting in the way. I also think boxing's horrible current business environment is making things infinitely harder. Terence Crawford's general truculence is also a significant factor, to be honest. I used to be pretty confident that this fight would happen eventually. I'm not so sure anymore. A lot can happen while two proud fighters circle one another over and over.

As for Plant-Benavidez? I've been a huge mark for Caleb Plant since he was first a prospect. I have some doubts as to whether he can stand up to the pressure that David Benavidez brings, though. But, then again, smart movement and precision tend to negate much of what makes a pressure fighter so impressive. So, we'll see. That's why this fight is so compelling. It's as close to a 50-50 fight at the top level as we see these days.

Right now, tentatively, I'd pick Benavidez by decision.

Canelo-Bivol 2?

Hi Paul.

Love your sack and your work. Been reading for a couple years now. My question to you is about Canelo Alvarez and his rematch with Dmitry Bivol. Do you think that fight happens next. If so, who wins and how?

Thanks. Take care of yourself in the wilds of Mexico.

– Gabriel Hernandez-Blancas

Hey Gabriel.

It's been my take all along that Alvarez does NOT want to get back into the ring with Bivol. He's a smart enough tactician to see just how decisively he lost and how slim his chances would be of making any adjustments to get him a win in a rematch. Bivol just didn't make any mistakes, didn't waver, didn't let down his guard, didn't allow any opportunity for the smaller fighter to do what he had to do. And Canelo, as that smaller fighter, absolutely needed some openings he could exploit. None of that will change in a part 2 and Alvarez has to know that.

Of course, he had to give lip service to a return bout. But that was all to save face after a pretty decisive besting. If Canelo was burning for "venganza," he would've faced Bivol in an immediate rematch, rather than fight Golovkin and now drift about with no "next opponent" locked in.

A Bivol fight is just a tough, bordering on impossible, stylistic matchup for Canelo, in a weight class where he simply doesn't belong. I don't think we see him try the Russian again.

Got a question (or hate mail) for Magno's Bulging Mail Sack? The best of the best gets included in the weekly mailbag segment right here at FightHype. Send your stuff here: paulmagno@theboxingtribune.com.