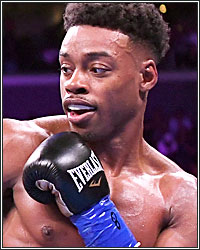 Every Thursday here at FightHype, I pull out my gigantic, bulbous, bulging sack and give truth-minded boxing fans a gander. This week, I shoot ropes of truth all over comments/questions regarding Spence-Crawford consolation prizes and the so-called Soviet Bloc invasion.

A Decent Consolation for Losing Spence-Crawford

Yo Paulie!

Its been a while since I've written in, but I hope you're doing well! While we didn't get the fight we wanted in Spence vs. Crawford (at least in the immediate future), I read the WBA has allowed for Spence to fight Thurman (WBC Mandated this fight) with the obligation of fighting the winner of the Stanionis vs Ortiz fight for the regular WBA title. Assuming both of these fights get made, I'd say that we at least should get 2 interesting fights as a consolation to Spence vs Crawford. I think Ortiz beats Stanionis and I'm very intrigued by the idea of a Spence vs Ortiz fight. I don't know if GBP would let that happen in 2023, but on paper it's a great fight with a cool dynamic. What are your thoughts on that situation and how those fights would play out? I've long thought that Spence would break down Thurman, but Thurman still has a punch and some athletic ability left. I'm interested in what you have to say on the subject. Keep up the good work!

-- Jackie D

Hey Jackie.

Good to hear from you again.

Spence-Thurman is a good fight, although it will surely get shit on by fans and media because everyone would rather have Spence-Crawford. Thurman's movement and athleticism might give Spence some issues, but Spence is just so focused and unflappable (and in possession of a tight skill set) that I don't see anyone other than maybe Crawford beating him at the moment.

Golden Boy would be in a tough spot if they didn't believe Ortiz was for real. I think they'd happily take the Stanionis fight and would push for a Spence fight as well. They really don't have anything to lose and everything to gain. PBC, at the moment, has welterweight almost completely under wraps and completely controls junior middleweight. If Ortiz can't wedge his way into a top spot at 147, he's going to go nowhere, anyway. So, why not roll the dice with him and see how far he can get his foot in the door?

With Ortiz and Boots Ennis on the verge of a major breakthrough and ranked no. 1 and no. 2 in three of the four sanctioning bodies (no. 2 and no. 3 in the WBA), things are going to get very interesting, very soon at 147. It's almost at the point already where Spence and Crawford won't be able to wait on one another anymore and will have to face these young lions. We shall see.

But, yeah, Spence-Crawford falling apart was not the end of the world.

Eastern European Dominance?

Hi Paul.

For the longest time, all we heard was how the Eastern European fighters, the Soviet Bloc guys, were taking over the sport or going to be taking it over soon. There have been some good fighters coming out of that area and many are still around, but what we got was hardly a wave that overrode the entirety of boxing. How many elites did that wave produce? Lomachenko. Golovkin. Usyk. Kovalev for awhile. Bivol and Beterbiev. If I'm missing anyone, it's not a lot. What's your take on this so-called Eastern Bloc invasion?

– Clyde

Hey Clyde.

It only stood to reason that when the Soviet Bloc collapsed, there would be an influx of boxing talent that normally would not have entered the pro ranks. We've completed that first real generation of post-Soviet fighters and, you're right (and Paulie Malignaggi is wrong), the Eastern Europeans do NOT control the sport, nor have they really come even marginally close to doing so.

A lot of that hype was pushed along by HBO Boxing, which was trying their damnedest to create stars after basically losing out on (or pushing away) all top American talent via oddly vindictive mismanagement. They pushed Golovkin, Lomachenko, and Kovalev hard (obnoxiously so) and it did have some effect, but it influenced media coverage much more so than fan interest. None of those guys being pushed as stars generated bottom-line revenue that far above and beyond what high-end domestic talent did. That's just the reality. For all the hype it generated, the so-called Soviet Bloc/Eastern Bloc invasion was pretty much a brief, somewhat minor, incursion. There are still many good Eastern European fighters out there, at or near the highest levels of the sport, but the idea that they took over or are taking over the sport is ridiculous.

Got a question (or hate mail) for Magno's Bulging Mail Sack? The best of the best gets included in the weekly mailbag segment right here at FightHype. Send your stuff here: paulmagno@theboxingtribune.com.