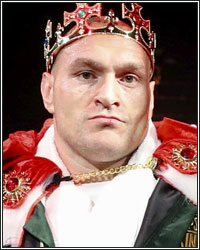 Hey, UK boxing fans...Welcome to the real world.

For the longest time, the UK boxing scene was presented as a utopia of combat sports. It was a pure fighting paradise in stark contrast to the toxic waste of the American scene-- a place where the fans loved the sport, supported the sport, and the bossmen delivered the right product for the right price to them.

Well, the UK may still have a better, healthier boxing scene than their American counterpart, but reality is starting to creep into their lives and nobody on the consumer side of things is happy about it.

News of the December 3 heavyweight title fight between Tyson Fury and Derek Chisora mainlined some dreary cynicism into the happy worlds of UK fight fans. The WBC titlist, after all, has already beaten Chisora twice, decisively. The recent revelation of that event's pay-per-view price, however, hit like an overdose of dark realism.

BT Sport Box Office has put a price tag of £26.95 (just over $32 USD, which would be considered a bargain-basement pay-per-view price in the States) on the third meeting of the two big men. That matches the all-time high British PPV price set for Anthony Joshua-Oleksandr Usyk 2-- a bigger and definitely more significant title fight than Fury-Chisora-- this past August. It's also £7 (nearly $9 USD) more expensive than Fury's third fight against Deontay Wilder last year and £2 (about $2.50 USD) pricier than his more appealing bout versus Dillian Whyte in April.

Although the price hikes aren't necessarily extreme, charging more for perceived less definitely makes for bad optics and has been leading to angry, frustrated laments from consumers.

Social media has been filled with UK fans crying foul. "Disgrace" seems to be a common word tossed about and there's an overriding wave of aggressive non-support and flat-out calls for boycott.

Initially, reports of brisk ticket sales for the Tottenham Hotspur Stadium event were trickled to the media, but recent revelations paint a very different picture, one where there will, indeed, be plenty of empty seats on fight night.

In hindsight, this should've been expected. But British boxing fans have been so cheery and generally supportive of their product that it was hard to imagine this poor of a reception for an event featuring two prominent UK fighters.

Fury-Chisora 3, though, is just "real" boxing business settling into the UK scene. It's fighters holding increasing leverage and promoters passing the hat to fans to make up for corresponding increased purse demands. Rather than work harder to better promote events or invest more in opponent selection, the promoters merely skimp on the B-side quality and jack up the event price. Something like this would barely cause an American boxing fans to bat an eye. American fans are used to these poor, short-sighted business operations.

UK fans, though, are just getting their first taste of it and, well, they're not too pleased. But if they're anything like their American cousins, many will come around to accepting less for more. Many others will simply throw up their hands and walk away from the sport.

But nobody directly involved in the promotion seems all that concerned about how the fans are taking all of this.

Fury, who could correctly argue that he's earned the right to a "gimme" money grab, is still spewing nonsense about the Chisora fight being "historical" because he'll be "the first heavyweight champion in history to complete two trilogies." The promoters keep flailing in their efforts to sell a worse fight than the last at a higher price. Chisora, meanwhile, couldn't care less about this drama. He's happy-- and fortunate-- for this kind of payday at this stage of a flat-lining career.

At this point, there's really nothing to tell British boxing fans other than "hold on, the worst is yet to come." Fury-Chisora 3, with its augmented price tag and disregard for consumer contentment, is a harbinger of things to come.