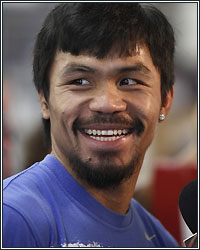 Ummm...I guess the first question I had when I saw this story pop up is, "Why isn't this a bigger story?"

Then, I answered my own question and, really, it was a no-brainer: "Because the boxing media is a mass of dullards and pantsloads who will only begrudgingly take a half-assed stab at doing the right thing if forced, kicking and screaming, to do so."

Hall of Fame veteran referee Carlos Padilla has admitted to cheating-- twice-- to secure a victory for fellow Filipino Manny Pacquiao in a 2000 WBC international super bantamweight title fight in Antipolo City, The Philippines against Australia's Nedal Hussein.

The sordid tale was revealed, unintentionally, about a month ago on the WBC's official YouTube channel in an interview with Padilla, but didn't see the light of day until boxing's non-journalist journalists brought it up. Apparently, it's since been deleted after a sprinkling of outrage began showing up on social media and on fringe boxing news sites.

Here's what a laughing Padilla had to say about his first admission, that he gave an intentional long count to Pacquiao after the rising Filipino star was hurt and knocked down by the Aussie battler:

"Manny was not a world champion yet, he was only good in the Philippines...That fight, I'm about to go and leave the following day and they told me 'Carlos, please... this is an important fight for Manny Pacquiao, because the winner will have the chance to fight for the world championship.'

"So, you know the opponent, Hussein, or whatever his name was. He is taller, younger, stronger and dirty fighter, managed by Jeff Fenech, the trainer from Australia.

"So in the seventh round, I think, Manny got knocked down, I thought he was going to get up, but his eyes were cross eyed [laughs]. I am Filipino and everybody watching the fight is Fillipino, so I prolonged the count. I know how to do it.

"When he got up, I told him, 'hey, are you OK?,' still prolonging the fight. 'Are you OK?' [Padilla imitates Pacquiao groaning in response] 'OK, fight!'...Because Manny was not like Manny is now, he wasn't trained by Freddie Roach yet, he holds for his dear life and the guy throws him and he went down again.

"I said to the opponent 'hey, you don't do this,' you know, I was prolonging the fight, 'you don't do that. OK, judges, [point] deduction.'

Then, Padilla chuckles his way to the second cheat, which ultimately brought about the end of the fight and, of course, a TKO 10 victory for Pacquiao.

After Hussein was cut by a Pacquiao headbutt, Padilla admitted to using that opportunity to snatch a Filipino victory from the jaws of defeat. He would declare the butt a punch and push for the fight to be waved off, feeling that going to the scorecards after an accidental clash of heads would see Pacquiao come away with a points loss.

"Manny is still groaning and then [I told Pacquiao] 'get up, are you OK?' [laughs] and then because he is shorter he headbutted the other guy and there is a cut, but I declared it a punch. If there is a headbutt you have to stop the fight and declare to the judges a point deduction, but I didn't do that, meaning the fight could continue.

"It [the cut] is not really big and not really...but I never got the doctor to check it [because] I want to see it serious [laughs].

"[Later in the fight] I said 'better knock that guy out Manny, because we may be in trouble.' The guy was strong.

"I told the doctor to reposition himself to the neutral corner, I looked at him and he already sensed what I mean. He went over the ropes and [gestures looking at Hussein before waving it off]."

So, yeah.

Ironically enough, Padilla's interview came about to celebrate his induction into the Nevada Boxing Hall of Fame. But, maybe, I should replace "ironically" with "fittingly."

And for those who may cry about this being 22 years ago and water under a rusted bridge-- Hussein, the fighter cheated out of a rightful victory that would've changed his life forever, certainly doesn't feel "over" it.

"My first reaction? I was gutted," Hussein told The Daily Mail, regarding his reaction to Padilla's admission. "I was just gutted. The arrogance of it. I was also really angry-- I was burning.

"Winning that fight would have changed my life. I missed out on a couple of hundred grand and a world title fight. I would have been able to buy a house and been so much better off.

"I would have been able to establish my family earlier. And with my career, I missed out on the big fights [afterwards] because of it.

"I hated the sport after that...I just couldn't handle the politics."

Hussein claims to bear no ill will towards Pacquiao, but is furious with the veteran Filipino ref, who he recently called a "putrid dog" on social media.

"I don't want to speak to him [Padilla]. It wouldn't end well," said Hussein.

Now that this article has been posted, let's see how long it takes for the Padilla story to trickle out to other major boxing media outlets, shamed into saying something, anything about it.

P.S. The WBC's silence about this has been deafening. Come on Mauricio Sulaiman, you always blather on self-righteously about the integrity of the sport and your respect for the fighters, what do you have to say?