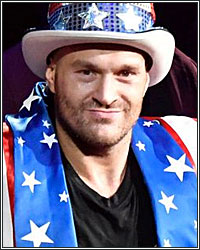 Every Thursday here at Fight Hype, boxing fans gather around my bulbous, bulging sack in anticipation of an Ol' Faithful money shot of gooey, salty truth. This Thursday is no different. So, put your goggles on and cinch up your plastic poncho, here it comes. This week, we have comments/questions regarding A Fury-Chisora ppset and the proper way to bring up fighters.

Fury-Chisora 3

Hi Paul.

Tell me what happens this Saturday in the Fury-Chisora fight. No Joke and I'm not trolling. Is there even the slightest possibility of of something interesting happening or even, dare I say, and upset? I'm holding out hope.

– Simon

Hey Simon.

You know, if an upset WERE brewing, this would be the perfect kind of fight that facilitates the percolation. You have a huge favorite versus a tough, battle-tested fighter who nobody-- not even the favorite-- believes has a chance of winning. As a matter of fact, people believe SO much in Chisora not standing a chance that they've, as a collective mass of fandom, shat on the fight even being made. That kind painted narrative could conceivably affect Fury's intensity and lull him into a sense of complacency while he's looking ahead to bigger things. Chisora has nothing to lose and everything to gain. Fury, meanwhile, has nothing to gain by beating someone he's beaten twice already (and is supposed to steamroll on Saturday) and everything to lose. Throw in the fact that Chisora is not as bad or as shot as people are painting him to be and, yeah, the conditions are perfect for an upset or near-upset. This is not to say that it WILL happen, but the conditions are certainly right for it. It would be sublime karma if this cynical cash grab resulted in a setback that would fuck with everyone's (except Chisora's) filthy lucre.

Bringing 'em Up

Paul,

Thank you for the feedback man. Enjoyed your write up on my question. You fueled me with some great talking points for all things boxing over Thanksgiving.

I had another question involved building a fighter. How would you build a good prospect from the ground up with a great amateur background? Obviously, it always depends. Going to give you some jargon/opinions of mine for talking points if you decide to engage my comments. Secondly, how would you build a fighter with no/limited experience or someone who goes pro at 18? I always respected guys like Tyson who fought like 15 times in year 1 as a professional to work their way up the ranks.

I'm looking at guys like Bakhodir Jalolov who has an excellent amateur background and Olympic Gold. Do 15-20 fights against low level opposition to pad his record matter? I honestly don't like how some of these guys are being pushed. You got guys fighting for titles with 12 fights. Just feels inauthentic to me; even with an amateur background. I didn't even like Loma getting a title shot with such a limited professional background. Here you have a world class fighter in Jalolov in my opinion who has fought relatively nobody, only has 11 fights in 5 years and is 28 years old and we're being told he's the real deal. I have to wonder why he didn't fight almost monthly after his debut in 2018, build a record and a following and a brand; just like Tyson did. I feel like some of these guys don't fight at all, end up being 12-0 and all of a sudden we're talking world titles? In my personal opinion, fighters should build careers similar to a rock band that becomes incredibly popular. You start off in crappy garage parties, you move into bars, then clubs, then an arena and then finally to PPV. I just look at careers of guys like Haney who scrapped through the professional ranks, or Tyson who fought 15 times as a debut guy, Wilder fought regularly and even pros destined for success like Mayweather fought a lot of early fights.

Long story short, I don't like how fighters are subjectively being pushed. You wanna fight the best, I feel like you should work the circuit and prove it first. Just look at Anthony Joshua. Dude has 24 fights and it shows in my opinion.

-Greg

Hey Greg.

I think a lot of the decision making when it comes to bringing these decorated amateurs up to the pros revolves around economics. Shocker, right? A promoter won't start turning a profit on a prominent fighter until he reaches that world stage level (or very near it). So, if they think they can cut to the big stuff sooner, leaving out the long record-building process where they operate in the red and run the risk of their guy being derailed for whatever reason, they will.

Jalolov's particular case is a bit puzzling, though. He appears to have the skills and raw ability to cut to (near) the top of the ladder and he certainly has the amateur achievements to support his early push, yet , as you pointed out, he's still fighting low-level opposition, with only twelve fights, four years into his pro career. I believe he had some management/promotional issues early on and, of course, there was the pandemic slowdown in 2020-2021. He's fought three times this year, so maybe we'll see him get more active and climb the ladder faster. The guy can definitely fight, though. I like his hand speed, mobility, and all-around skill set.

Many times, fighters are slowed down by their own teams because they see some flaws that need to be corrected. Sometimes, a fighter's team sees a fatal flaw that might mean their guy could probably be just a one-and-done guy and they're going to bring him along very carefully until they get a cash-out fight. Maybe the fighter, himself, is just not all that keen on fighting so often. There are many things we don't see that affect how a fighter is brought along.

But I agree that, ideally, you'd want to bring your guy up the old school way, by fighting frequently and not only building up you skill set in real fights, but also building an organic following by keeping your name on the minds of the fans.

With an amateur star who's already fighting at an elite level, I think how quickly you bring him along would depend, to a great extent, on his age. Lomachenko, for example, was already 25 when he turned pro and had some mileage on his odometer from a long amateur career. It would've been a waste to have him fighting Footlocker assistant managers and Waffle House fry cooks for 5 years before making his way to the top. So, there has to be a balance with these decorated veterans who already have a bit of a name and enter the ranks in prime or near-prime form.

As for a fighter with no or limited experience? That's where you'd want to keep the kid active. You'd want to match him with opponents of different styles and temperaments. You'd want to accept a loss or two on the way up, as long as they "learning experience" losses. You'd also want to find that balance between matching him hard and not overwhelming him. A young novice, no matter how talented he is, can easily slip into "opponent" mindset if you match him too hard, too soon.

These days, we definitely have cases where "world class" fighters bring a lot of unanswered questions with them to the top of the boxing food chain. Anthony Joshua is a perfect example. A two-time world champion and perpetually top-3 ranked fighter for over six years should not have unanswered questions regarding his temperament, adaptability, and depth of skills. That's just proof positive that he wasn't brought up in a way to best develop him as a fighter. Often, getting that immediate money return trumps patient, well-done fighter development. It's hard to argue AGAINST someone making money, but that rush to the top is certainly no way to ensure a long-term stay at the top.

Got a question (or hate mail) for Magno's Bulging Mail Sack? The best of the best gets included in the weekly mailbag segment right here at FightHype. Send your stuff here: paulmagno@theboxingtribune.com.