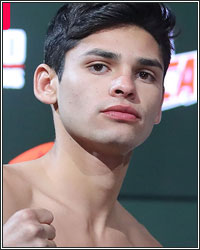 I hate to be the one to break it to you, but Gervonta "Tank" Davis vs. Ryan "King Ry" Garcia ain't happening...and I think it's going to be because of Garcia.

I don't have any big scoop about this and I don't claim to have any insider info. I just have a good amount of common sense and enough insight into the human character to know when someone is blowing smoke up my ass.

In my jaded eye, Ryan Garcia is like that young-adult relative you have who, at Thanksgiving dinner, brags about the bank job he has and how he's been fast-racked to management training. Really impressive shit. Good for him. But then you find out that he's had five jobs in six months and that a week after bragging about the bank job, he was let go for stealing office supplies.

"King Ry" gives off that vibe.

That feeling is not entirely unwarranted. There's definitely reason to feel that the kid's not the steadiest of characters and, maybe, is better at talking big things than grinding his way to big things.

If you recall, we're only about a year-and-a-half away from Garcia having to walk back a rumor of him fighting Manny Pacquiao that he pushed and pushed forward, even when his promoter Golden Boy publicly stated that there was absolutely zero truth in that tale. The Pacquiao nonsense came shortly after Garcia started the rumor that he'd be fighting Gervonta Davis next, which was most definitely not the case at the time.

The kid has a long history of talking big and then having reality slap him back down to earth.

He also has a long history of pulling out of fights and/or walking away from opportunities. Whether it be due to injury or money disagreements or mental health issues, the fact is that, thus far in his young career, Garcia is equally well-known for disappointing fight pull-outs as he is for flashy ring performances.

His announcement last week that he's skipping over his planned January 21 bout with Mercito Gesta, forgoing the interim challenge prior to the proposed April Davis bout, shouldn't have surprised us all that much.

"I refuse to do another tune up," Garcia said via social media. "I'm ready for this moment. In my heart I didn't want to do that to you guys! We are coming straight for Tank!

"Fuck the tune up. Bring on Tank. SPARKING HIM OUT IN 2"

Garcia would double-down on his sentiment in a recent interview with Chris Mannix of Sports Illustrated.

"I had time to think about if I really wanted to do this," Garcia said. "Tank has always wanted to do things that are going to make him as comfortable as he could be and as ready as he could be going into a fight. I didn't need to tune up and I don't need to tune up. I want to put on the biggest fights for the fans. So I've decided that I'm done fucking around. I'm ready to go right after Tank."

Of course, this doesn't make all that much sense. Skipping on the interim fight is not going to make the Davis fight happen any sooner. Davis is set to face Hector Luis Garcia on January 7 and he's keeping the date. Ryan Garcia sitting out is, well, just him sitting out. Promoter Oscar De La Hoya has come out publicly and said that he "strongly" feels Garcia's decision is "a big mistake."

Garcia seems to be blowing a lot of smoke up the people's asses by his virtuous talk on social media. Claims that he's skipping the Gesta fight for the sake of the fans, who are tired of tune-ups, should raise eyebrows. That talk registers a 9.5 on the Bullshit Detector, just below Teofimo Lopez's assertion that his "Do I still got it" self-doubt in front of ESPN cameras post-Sandor Martin bout was a "strategic" move to trick the media into talking about him.

Some cynical theories on why Garcia nixed his January fight have been tossed about on social media. Gervonta Davis was among the first to seize on the one with the most online traction.

Davis, who has asserted in the past that Garcia may be using performance enhancing drugs, was beyond eager to share a tweet questioning Garcia's clean-athlete status.

"Someone is cycling off the juice so they are skipping on the 'tune up' huh @Gervontaa was right," Davis retweeted from his verified Twitter account.

Whatever the case, there's a lot of time between now and April for Ryan Garcia to Ryan Garcia things up and somehow fall out of the big fight. A late January bout may have kept him focused on boxing a bit longer with less time available to be distracted/depressed/randomly injured/etc.

Now, "Tank" Davis isn't without his own distractions or his own dramas that could keep him out of an April Ryan Garcia bout. Primarily, he has a February trial coming for a hit and run case that could possibly result in prison time.

But, for as hard as he is to get into the ring, he's usually good when it comes to following through on his own talking points.

The loose cannon in this Davis-Garcia scenario is clearly Garcia and when-- and I did say WHEN-- the April date gets canceled, it's probably going to be Garcia's doing for any number of possible reasons.

I will be overjoyed to be wrong about this and will gladly eat my words on Tank-King Ry fight night. But, nope, I'm not going to be wrong on this one.