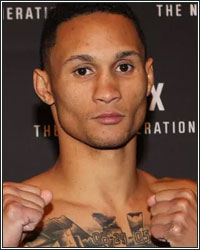 In this holiday edition of Magno's Bulging Mail Sack, I shove my big candy cane down the Christmas stockings of boxing ignorance and then pull out to shoot loads of milky eggnog all over boxing Grinches. This week, we have comments/questions regarding Ryan Garcia's latest pull-out, the Ramirez-Prograis fallout, Naoya Inoue vs. Stephen Fulton, and Keyshawn Davis vs. Shakur Stevenson.

Garcia's Pull-Out

Hi Paul.

What's the deal with Ryan Garcia skipping his tune-up fight with Mercito Gesta? Could it be true that he's cycling off PEDs and couldn't take the fight or he'd test dirty? That's what lots of people are saying and I'm inclined to believe it. I just don't see the logic in not taking a fight to stay sharp before the biggest fight of his career. What do you think?

– Sam from Phoenix

Hey Sam.

I have an article coming out soon, touching on Ryan Garcia and his "flight risk" when it comes to pulling out of fights (and possibly not making it to the Tank fight in April).

I'm very careful about making accusations regarding a fighter possibly using PEDs. It's not fair to point fingers at anyone if you don't have any real proof of wrongdoing. So, I'm the wrong person to come to when it comes to speaking on whether Garcia is dirty or not.

What I will say is that Ryan Garcia has set a precedent for not doing what he doesn't feel like doing, even when it's detrimental to his career and to his development as a fighter. For a fully developed fighter at the top of his game, skipping out on an interim fight before a big one probably wouldn't hurt all that much. Garcia, however, is still developing and is most definitely not as good as his potential indicates he can be. Keeping himself sharp would be to his great benefit. It would also keep him focused on boxing and provide less opportunity for distraction.

But I don't think Tank-Ryan happens in April. As I wrote in the above mentioned article, there's just too much that could happen between now and April. Garcia isn't stable and Davis has his February court date. I think the fight falls apart and my guess is that it would have something to do with Garcia, who has become equally well-known for fight pull-out as he is for in-ring performances.

Ramirez-Prograis, Inoue-Fulton

Hello Paul

A couple of questions for this week´s mailbag:

1. What do you make out of this Ramirez-Prograis situation? I would understand if people claimed Ramirez was ducking, it seems there was never an effort to negotiate that 70-30 split which make me believe he was never interested in facing Prograis. Next in line now is Teofimo which I would advise against if I were his manager.

2. It seems Inoue is now moving up to 122. We might be on the path of something special, as we might get to see (I know there are small chances as long as we have different promoters) one of the greatest displays of Offensive fighter vs defensive fighter (Stephen Fulton). Do you expect this fight to happen? If so how much of a chance do you give Inoue?

Happy Holidays/Best Regards

-- Miguel

Hey Miguel.

Happy Holidays.

I'll tackle these in order.

1. There are a couple of takeaways from the Ramirez-Prograis situation. First, this is a completely different game than what we saw just a generation or two ago. Fighters are not the least bit afraid these days of being businessmen out in the open. In the old days, it would've been unheard of for a fighter-- especially a Mexican or Mexican-American fighter with Ramirez's style-- to be discussing percentages out in the open. I know he kind of got drawn out into a discussion, but the percentage talk, still, would not have been something an old school boxer would care to handle in public. Second, the way fans and media have handled this story shows the clear double standard in play when it comes to how certain fighters are portrayed based on race and ethnicity. A black fighter would be raked over the coals for taking the same stand Ramirez did. His courage would've been called into question and his legacy would've been picked apart. He would've been buried as someone who cared more about business than boxing. Ramirez has taken some flak for passing on the Prograis title fight based on revenue split, but nowhere near what a black fighter would've gotten. I'm just being real here.

As for the deal, itself? The WBC dictated the 65-35 revenue split for Prograis-Ramirez. I can see where that may not have been to the liking of Ramirez and his team, based on the fighters' respective history of drawing power. But the WBC established the split based on champ vs. challenger status. Per WBC bylaws, a 75-25 champion/challenger split is usually mandated in purse bid situations. Ramirez is within his rights to decline the offer, but then he has to deal with whatever comes his way in the form of criticism or bad press. With, apparently, little effort made to strike a compromise deal and a fight already in the works versus Richard Commey, it sure looks as thought Team Ramirez did not want a Prograis fight, just as they didn't seemingly want a Prograis fight a few years back, either. There's no shame in being strategic in your matchmaking, though. Everyone does it. Let's just call a spade a spade.

A Prograis-Teofimo Lopez fight won't happen for the same reason the Prograis-Ramirez fight didn't happen. Top Rank, Teofimo's promoter, won't do business with Prograis' promoter Probellum, so the fight would go to purse bid-- where Lopez would pass on a 75-25 or 65-35 split. But, you're right, Lopez's people would be smart to pass on a Prograis fight, anyway.

2. Naoya Inoue vs. Stephen Fulton would be an absolute dream fight, a really compelling clash of styles, temperaments, and skill sets. There are so many hurdles to that fight happening, however, that I won't even dream of it. Standing in the way would be obstacles brought on by money issues, promotional conflicts, network entanglements, and more. It would be interesting, though, to see how Inoue's power would move up with him and how he'd handle a guy who is not only naturally bigger and stronger, but who also employs the type of "American style" he's never faced before. I think Inoue will do well at 122-- the division isn't loaded with a lot of elite-level fighters at the moment-- but he may struggle with someone like Fulton, who will nullify, with speed and skill, much of what makes Inoue special. Remember, Nonito Donaire's touch of nuance in their first fight-- backed by "bigger man" power-- gave Inoue some serious issues and led to him sustaining big damage, like never before. Fulton is fresher and sharper than Donaire was at the time. I'd definitely like to see "The Monster" fight someone who wasn't stylistically perfect to be knocked out.

Keyshawn vs. Shakur

Hello Paul,

How are you?

I think Keyshawn Davis could take Shakur Stevenson at 135.

What's your thoughts?

Thanks

– Brian C.

Hey Brian.

I like Keyshawn Davis, but I think it's way too early for him to face someone like Shakur Stevenson. There's no rush with Davis right now. Bring him up nice and steady and resist the urge to throw him into any proverbial lion's dens until it makes business and boxing sense to do so.

Got a question (or hate mail) for Magno's Bulging Mail Sack? The best of the best gets included in the weekly mailbag segment right here at FightHype. Send your stuff here: paulmagno@theboxingtribune.com.