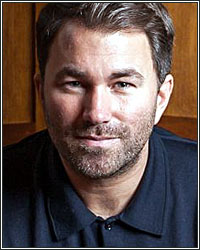 Matchroom Boxing bossman and captain of the downward-bound DAZN Boxing Titanic, Eddie Hearn, once again blathered something dumb into a microphone. This time, though, there was some real-world ugliness to his glib prattling.

During an interview for The DAZN Boxing Show, the UK promoter gave a heavyweight champ of a back-handed compliment when talking about lightweight titlist Gervonta "Tank" Davis.

"The dangerous thing about Gervonta Davis is he's not a deep thinker, not articulate," Hearn said. "I don't mean that in a disrespectful way. He's a bad motherfucker like Mike Tyson. That makes him dangerous because he's fearless, you can't get into his head."

No, of course…Nothing disrespectful about any of that.

This comment is offensive on a couple of fronts.

First, it touches on the stereotype of boxers being inarticulate animals, only built for brutality and indentured labor.

Second, this kind of talk has definite undertones of racism, especially in boxing, which still exists in a dark corner of polite society. Even in this day and age, the sport is not at all removed from overt racism in both the constructs of the business and its own media coverage.

Many prominent boxing voices were quick to react to Hearn's statement. Leonard Ellerbe, CEO of Mayweather Promotions, who's had a running online beef with Hearn, was among the first and the most aggressive in tone.

"@Eddie Hearn you did mean that in a disrespectful way with your privileged racist ass," Ellerbe wrote via Twitter. "Who tf you think you are saying he's not deep thinker or not articulate? That's the problem, mf's like you think you are more superior than others. We don't play that shit over here you (fuckin' clown)."

Whether you like/respect Ellerbe or not, it's hard to refute his claim. The words are right there for everyone to hear and see. And when tossed alongside comments made by his father Barry Hearn (the founder of Matchroom Sports, who handed the business over to Eddie), it makes a strong case that Hearn, at the very least, is amazingly lacking in self-awareness and sensitivity as a privileged nepo baby.

Back in 2019, at a press conference to hype a Dillian Whyte vs. Oscar Rivas heavyweight contest, the elder Hearn wistfully recalled the days when promoters like himself engaged in "slave trade" activities and did what they pleased with fighters.

"Matchroom Sport has a fight-by-fight arrangement with Dillian Whyte. Isn't that weird?" Hearn said. "He's not tied up like the slave contractor of yesteryear."

"When I was running boxing, it was much easier," he continued, with the Jamaica-born Londoner, Whyte, right next to him, chuckling politely. "We were slave traders! We had these guys and they were working for us and we was the boss. The pendulum has swung. Now I have to say, 'Mr. Dillian Whyte.' I have to be respectful."

Giving full benefit of every doubt, the Hearns speak as privileged men who have made a livelihood from exploiting the work of people of color and, because of that, have a hard time mustering respect.

However, Eddie, who has a fondness for classic R&B music and occasionally croons classic soul tunes during cringe-worthy moments in interviews, is especially grating with this kind of talk. It recalls the classic image of the vacuous Jersey kids who appropriate hip-hop culture and idolize African American athletes, but spout nothing but racist, anti-African American rhetoric.

Eddie Hearn hasn't gone THAT far with this recent comment. He wouldn't go THAT far. He's smarter than that. Although, looking at some of the overtly racist stuff that goes on in boxing—much of it perpetrated by actual members of its own media—there probably wouldn't be too many repercussions if he DID go full-on bigot.

At any rate, Gervonta Davis would get the last laugh in this bit of nastiness, via pretty articulate Twitter post.

"Not a deep thinker and not articulate made me 'not' sign that bullshit ass offer he sent," Davis replied, referring to Hearn's attempts to lure him into a contract.

Expect plenty of Hearn damage control to come, with a heaping side order of heated social media battles among fans.