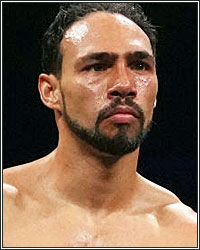 Every Thursday here at Fight Hype, we make a space among the video content for a good, old-fashioned written word money shot from the depths of my bulbous, bulging sack. So, get ready for some of that infamous Magno-rific gooey, salty, sometimes NSFW truth. This week, we have comments/questions regarding Spence-Thurman, Tank-Ryan, PBC, Amanda Serrano, Demetrius Andrade, and more.

Spence-Thurman?

Hello Paul.

Hope all is well on your side

What is your opinion on Errol Spence moving up to take on Keith Thurman? Do you think he will stay at that weight and why would he? I find that weight class extremely boring. Or is this a response to Crawford. Also, does Thurman stand a chance or might this be a painful defeat?

Your thoughts please.

– B.C.

Hey B.C.

All of this is pretty confusing, to be honest. My only guess is that both Spence and Thurman are using this fight as a trial run at 154. Otherwise, what's the point of taking the bout up one division when it was already mandated as a 147 lb. title defense for Spence by the WBC? It can't be because one or both are grossly overweight, because there's plenty of time between now and April to drop down to the welterweight limit if that were the case.

Unfortunately, I see this as the likely kill shot for a Spence-Crawford fight. If Spence does well at 154 against Thurman, I think he stays at 154. The wheels will then go into motion for Spence to challenge Jermell Charlo for the undisputed title. I warned that this was a possibility if Spence-Crawford didn't happen. Spence has options, Crawford doesn't. And it seems like Spence is moving on to one of those options, ticking off Thurman as opponent and also ticking off the move up in weight. Without the Crawford fight, all that's left at welterweight are mandatory challenges from Jaron Ennis and the winner of Eimantas Stanionis-Vergil Ortiz Jr.-- both high risk/relatively low reward propositions.

Spence-Thurman, itself, is a solid matchup. I don't think Thurman has that gumption anymore to put in the kind of trench work he'll need to beat Spence. Spence's jab will keep Thurman at arm's length and I think Thurman will probably stay there, content with doing enough to avoid punishment and make a grab at a some degree of plausible deniability when it comes to the loss. I say Spence wins a solid decision, in the 117-111 range.

PBC on TV, Ryan vs. Tank, Amanda Serrano

Hi, Magno.

Hope you and your family are well.

I'm expecting an announcement sometime in this year regarding a new contract with PBC and Showtime. The FOX contract expired, but they weren't doing much anyways. Hopefully they can work something out with Paramount Plus as it has been reported that Showtime will not continue as a stand alone network.

Regarding Ryan vs Tank, hope I was wrong and the fight does happen, but let's see, time will tell.

As for my girl, Amanda Serrano, happy to see her earning good purses, but I do believe that she lost her chance to beat Taylor in their first fight. In the rematch, Taylor will try to outbox her with the home court advantage, I just don't see my girl getting the decision. I just don't see that fire I saw in her before she reached stardom. She seems complacent just to have reached the pinnacle of her career. But again, very happy that she is making good money and will be able to live comfortably for the rest of her life.

– Benjamín from PR.

Hey Benjamin.

I'm totally not up on any of that network/broadcast stuff. Living here in Mexico, it's pretty much a non-issue for me. I hate to see any of the big 4 networks move away from boxing. But I guess the audience we want to cultivate for the sport's future isn't really watching network TV anymore. If the rumors are true and Showtime does indeed get consolidated with Paramount Plus, it's not going to hurt boxing all that much. As a matter of fact, it might better facilitate growth as the product would be all-around more accessible and more discoverable to the younger consumer. Whatever happens, I just hope paywalls get scaled down and accessibility goes up.

As Gervonta Davis made his way to the ring on Saturday, I just couldn't help but think about how crazy the atmosphere would be for Tank-Ryan. Boxing needs a spectacle like that. But, as I've said many times before, I am very skeptical about getting to April with this fight still intact.

Not to discount anything you've said (which seems "on the money"), but I think it's incredible that we've come to a point in this stodgy, old-minded sport where being female is not THE talking people when discussing a female fighter. A boxer is a boxer, a competitor is a competitor, a human being is a human being. Serrano's issues are a factor in all of boxing. It's the old Hagler quote about it being hard to wake up and do roadwork at 5 AM when you sleep in silk pajamas.

Boo-Boo Dispute

Happy New Year Paul!

First time writing in, but I read every bag my brother! Your knowledge of the game is mad respected and appreciated, hope you continue dropping gems big dog - keep doing your thing. All that said, I gotta respectfully push back on the assessment on Demetrius Andrade's PPV performance. I think it was a little too critical for an inactive guy moving up and opening the PPV card. Andrade fought with urgency, put on a solid performance and pushed the pace for a majority of the fight.

The transition from 160 to 168, in my opinion, had more to do with Andrade fading down the stretch, more to than him falling back into his old rhythm but I could be wrong, thoughts?

Lastly before I get out of here, I really appreciate your fight breakdowns, so I wanted to know how you see fights playing out between Boo-Boo and the following; Jermall Charlo, Caleb Plant, & David Benavidez?

Wishing you a safe and prosperous 2023!

-Bazil

Hey Bazil.

Maybe I WAS too harsh. Could be. Maybe I've just conditioned myself to see the worst when I see Andrade. I'm willing to concede that. He's certainly given plenty of reason to build up that kind of bias. But, at the same time, it was ultimately Andrade's decision to be inactive and to move up in weight, so, if those were factors in his performance, then they were the consequences of his own actions. I definitely would not say, however, that he fought with urgency. I thought he came out fast and then settled into a comfortable groove. I did notice him trying to pick up the pace here and there, but he never pushed too hard. It's just not in his character-- and it never will be-- to be a killer. There's no denying his skill, though.

As for the matchups you mentioned…

I think Andrade verses Jermall would be a real snoozer, as are most fights between naturally cautious/clinical counter-punchers. It would definitely be an important and competitive fight, but only true, die-hard connoisseurs of tactical boxing would come away entertained. I think Charlo may edge it, winning an extra close round or two with his "showier" punches.

I like Caleb Plant, but I think Andrade would be a tough stylistic matchup for him. So much of what Plant does, Andrade does better and more intuitively. Boo-Boo would neutralize Plant's best assets and take a 116-112 decision.

People will be tempted to say that Benavidez's work rate and aggression would overtake Andrade. The reality is that, more often than not, a well-schooled, defense-minded fighter slows down and mentally tasks a hard-charging opponent more than the other way around. Observers would be surprised at how slowed-down and "off" Benavidez looks against Andrade. The question, though, is whether Andrade can get a decision in a close fight by merely shutting down Benavidez's forward march. I don't think he can. Benavidez's aggression, although muted to a large extent, would earn him the controversial decision, with many saying Andrade deserved the nod.

About Me

Hi Dear Mag-Man!

I just finished reading your last mail sack -I have become a devote fan already. I couldn't help laughing at the last mail, the stupid one. I loved the fact that you allowed yourself to kindly answer a hateful, full-of-issues reader.

You now have a duty with all your fans man! Tell us what kind of life you lead dude. By the way, do you receive a lot of hate mail?

And thanks for the bad-ass lesson of answering a nut-head, my friend. Keep up the good work.

– Carlos, from Hermosillo, Mexico.

Hey Carlos.

Thanks for reading...and for getting a kick out of me de-pantsing that dimwit bedwetter. I receive TONS of hate mail, but that's okay. Love you or hate you, people responding and reacting means you've captured their attention. I don't get paid for being loved, I get paid for drawing eyeballs.

I rarely go into my personal life or my history. I just don't find it all that important in what I write about. But I'll make an exception this week. I grew up around boxing. My great uncle was a pro and I was practically in the gym since I could walk. I drifted away from active boxing for a few years and then eventually found it again in my twenties. I worked around gyms for a bit and then got the call to work as a co-head trainer in what was supposed to be a prominent gym in Mexico, teaching the young fighters "American Style." I also managed in Mexico and did some promotion. That boxing endeavor failed, thanks in great part to the Narco Wars down here during the presidency of Felipe Calderon. Things got ugly and it was impossible to run a safe, honest business during that brutal chaos. I still live in Mexico, in the state of Michoacan. I've worked as a bodyguard down here, as well as a teacher and some other miscellaneous gigs that I'm not at liberty to discuss. Then, my writing took off and I've been doing that ever since. It's been an adventure. I'm old and tired, so it's a good thing that my fighting is now limited to dealing with dipshits who write me catty hate letters.

Got a question (or hate mail) for Magno's Bulging Mail Sack? The best of the best gets included in the weekly mailbag segment right here at FightHype. Send your stuff here: paulmagno@theboxingtribune.com.