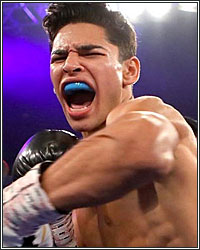 Every Thursday here at Fight Hype, boxing fans gather around my bulbous, bulging sack in anticipation of an Ol' Faithful money shot of gooey, salty truth. This Thursday is no different. So, put your goggles on and cinch up your plastic poncho, here it comes. This week, we have comments/questions regarding Rolly-Ryan, Pitbull Cruz, DAZN Boxing, Winky Wright, and ESPN hypocrisy.

Rolly, Pitbull, DAZN

Hello Paul.

Hope this 2023 brings joy and success to you and your family.

Moving on to questions...

1- Just read about Rolly [Romero] claiming he got a contract to fight Ryan in April, seems like you were right all along, Tank and Ryan will not fight in April.

TBH, this is a pretty good fight which should have already happened with all the views of that infamous sparring session that happened a couple of years ago, this is a very risky fight for GBP. Ryan does not have the best defense and he was dropped hard by someone who was not known as a heavy puncher. I mean, even Jorge Linares, who never had a good chin, withstood Campbell´s shots.

2- Just read your DAZN article and I have been saying for quite some time, DAZN needs to get out of the way now because the biggest roadblock to the biggest fight nowadays are these networks contracts, If we had promoters dealing with biggest bidder we could probably have the big fights we want. How much time left do you think we will have to deal with DAZN?

3- Pitbull Cruz just said he is willing to face Regis Prograis for the 140 lb WBC title. I am not going to be that optimistic about it because I give Prograis credit, but I think this is an excellent fight. Cruz will always have a puncher's chance, but I am aware he is a small guy who will turn this into a dog fight...hopefully it happens.

Best Regards

– Miguel

Hey Miguel.

Thanks for the well-wishes. Same to you and yours. I'll get right to your questions.

1. I don't know what to make of Rolly saying that he's signed to fight Ryan Garcia, with the winner facing Tank in the late summer. But it's Rolly Romero, remember. He could very well be bullshitting just for laughs. Golden Boy lining up Rolly as a backup for Ryan, though, would be a pretty smart move. As things look now, I think everyone's still focused on trying to get Tank-Garcia in April (and crossing their fingers, holding their breath until the opening bell).

2. If not for their Golden Boy deal and friendly relationship with Canelo Alvarez, DAZN Boxing in the US would be all but dead. All they'd have are Matchroom Euro fights and the occasional super flyweight tussle. With Golden Boy and Canelo still in tow, however, they are still technically players. But as you intimated, they're just in the way now. They don't have the numbers to be big-time players and they no longer have the willingness to debt spend for big fights. Even if they did find big fights for their Golden Boy fighters, they couldn't have any of those big fights entirely "in house." They'd have to do like they're doing with Ryan Garcia-Tank Davis-- assume the role of B-side in a co-promotion arrangement. Their existence just complicates everything. My guess is that once the Golden Boy deal is done, DAZN Boxing will be all but done, at least in the US.

3. It's a bit puzzling that Pitbull's people-- and they are very smart boxing people-- haven't really taken advantage of the big-time positive buzz he produced in his bout with Gervonta Davis. Subsequent blowouts of Yuriorkis Gamboa and Eduardo Ramirez served only to keep him (and his name) active. Cruz is in need of a big fight now, but I think Prograis would be a tough stylistic matchup and an unfavorable risk vs. reward pairing. He'd be better suited waiting on the winner of Tank-Garcia or Haney-Lomachenko, where at least a big payday would come along with the tough stylistic task. Cruz versus Rolly Romero would also be a big fight for Pitbull, and a winnable one.

No Props for Winky Wright?

What's up P Mag? Hope all is well. I was looking over the career of Winky Wright and it seemed he didn't get his flowers (i.e. that fight that launched him to the moon). Even being undisputed champ at 154 didn't do it after beating Mosley. What do you think went wrong in his career?

– Robert Elmore

Hey Robert.

I think Winky's problem was that he ran afoul of certain media characters who buried him for being "boring." He came up in the relative infancy of the internet boxing era, but well before there was "new media" and social media debate/influence. Back in those days, the media painted the picture and fans either went with it or kept their dissent to themselves. Wright was constantly belittled and diminished by many of these media voices and he just never got his just due. He also didn't do himself any favors with his laid back ring style, which got him losses against Fernando Vargas and Harry Simon and a draw with Jermain Taylor that probably should've been wins.

ESPN Hypocrisy?

What up Magno!!! Just wrote in about this for Teofimo Lopez vs Sandor Martin fight...So, go ahead and air out Top Rank from top to bottom on this hypocrisy, I'm disgusted with how Tim [Bradley] and my man Dre [Andre Ward] were protesting for review on the cut [in the Jonnie Rice and Guido Vianello fight last Saturday], but never uttered a word for Martin's legitimate knockdown that probably cost him the win vs Lopez. Speak on it!!!!

– FlintowntoAz

Hey "Flintown."

What can I say? You know what's what. Teo is a name and a big-time investment. Even a guy like Ward, who I believe to be a brilliant boxing mind and a straight shooter, can't help but give the benefit of the doubt to the guy in a fight with the bigger name. In a perfect world, there would be the same level of advocacy for justice in all fights, across the board and regardless of who stands to lose with that advocacy for justice. But as we all know, boxing is far from being a perfect world. I wish I could be more up in arms about this kind of stuff, but the sport sometimes beat the outrage out of decent people.

Got a question (or hate mail) for Magno's Bulging Mail Sack? The best of the best gets included in the weekly mailbag segment right here at FightHype. Send your stuff here: paulmagno@theboxingtribune.com.