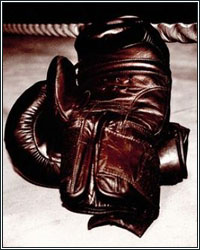 When I got back on Twitter a few weeks ago, it was like I had never left. There were the videos of fast food restaurant brawls, the inane political chatter, and lots of partisan, agenda-driven, mostly ill-informed, and slightly nauseating bickering among boxing fans and media.

But then there was also the 10% or so actually worth one's time.

Within that 10%, there was a recent debate over whether boxing was in decline. I owe a big apology, by the way, to those in that particular discussion because I forgot to write down names to credit the contributors. No disrespect intended.

Anyway, my first instinct when hearing the "boxing's on the rise, not in decline" side was to say to myself, "What? Are these people fucking nuts?"

I see the TV ratings boxing gets now and I remember the ratings it used to get. Less than one full generation of fandom ago, low-end boxing Nielsen numbers routinely quadrupled the highest ratings of today, with even relative nothing fights like David Reid vs. Laurent Boudouani in 1999 bringing in at least 3 million viewers on HBO. When Joe Calzaghe-Mikkel Kessler drew only 1.591 million live viewers in 2007, I remember the "heads will roll" talk that leaked from HBO corporate. In 2022, Calzaghe-Kessler numbers would've been press released as a smash success.

Mind you, this talk is from an entirely America-centric point of view and doesn't take into account worldwide numbers. It also doesn't take into account the very different way fans watch fights these days, with many accessing content outside of the Nielsen Ratings reach via online streams and on demand replays. It would be interesting to see those streaming/on demand numbers reported so we could better calibrate the sport's standing.

Those who refuted the idea of boxing being in decline tossed out a number of recent studies showing just the opposite.

According to research conducted in 2021 by analytics firm Two Circles, boxing has had a huge upswing in support from Gen Z sports fans, making it the fourth most popular sport among that 6-24 age group. A subsequent Harris Poll delivered similar findings, with boxing ranking between basketball and MMA in terms of popularity. Other studies have produced similar results.

So, what gives? Why the popularity in the studies, but the steadily dwindling TV numbers?

What the studies didn't measure was whether self-identifying boxing fans were actually buying into the present day product or even all that enticed into looking into it.

The Harris Poll, with a greater attention to specifics, offered some insight into those questions.

Their findings showed that most of those who called themselves fans of boxing couldn't name one active fighter. Highest on the list of recognizable names among active fighters were Tyson Fury (at 37%), Saul Alvarez and Ryan Garcia (at 26%), and Deontay Wilder (at 24%). Also, according to the poll, only 29% of respondents who identified as boxing fans could name any upcoming non-exhibition boxing match.

Essentially, the studies measuring boxing's reach and popularity asked the questions: "Do you like boxing?" and "Are you aware of boxing?"

And the answer, of course, is "yes" and "yes."

Boxing is part of the American experience. No other sport, with the arguable exception of baseball, is as much a part of the country's history and culture. Just looking at the boxing-related phrases and idioms that have become part of our language (Throw one's hat into the ring, down for the count, roll with the punches, beat one to the punch, throw in the towel, etc.) shows how much the sport has become part of who we are as a people.

So, Americans will always know boxing and recognize it as a sporting endeavor. And, yeah, they'll continue to "like" it, too. That doesn't necessarily translate into subscriptions, buys, or TV ratings, though.

Making the case for the growth of boxing based on these popularity/awareness studies would be similar to asking respondents in a fast food survey if they liked hamburgers and then trying to argue that a pro-hamburger response means Burger King's sales must be up. Maybe yes, maybe no. Apples and oranges. In the grand world of consumerism, sales are the only poll that counts.

The studies do show that, when it comes to boxing, there seems to be a disconnect between fans and the present day product. Harris Poll findings show that most everyone-- young and old-- has an affinity for boxing stars of the past, as well as boxing events of the past. They have nowhere near that same level of excitement for (or even awareness of) present tense goings on. Overall, the picture is painted of a sport that fans enjoy, can relate to, and one that they, ultimately, want to be given a reason to buy into. They just aren't being sold on the current product, at least not to a degree where any real growth can be shown.

But this isn't all doom and gloom. Increased awareness in the youngest demographic group means the job of flipping them into paying, long-term fans will be easier. In sales, awareness of a product is half the battle.

The uncomfortable truth for some is that the latest fad of celebrity boxing-- which drives boxing purists into fits of revulsion-- is the sport's best friend. Jake Paul and the wave of influencers trying their hand at boxing is piquing the interest of young fans. They are raising youth awareness for a sport whose fan base, according to studies conducted as recently as ten years ago, was trending increasingly middle-aged/elderly.

Based on what we see all around us, there's no basis for making the case that "boxing's bigger than ever" and "on the rise." But there's also no basis for "boxing is dead/dying" talk, either.

It's imperative for the sport to spotlight its young, dynamic performers like Ryan Garcia and Gervonta Davis to help further spark the interest of young, curious fans. April's proposed Davis-Garcia bout should bridge the gap between old and new fans nicely.

Boxing has to do a better job of spotlighting the unique stories and personalities of its athletes, a personal, relatable touch which the studies have shown to be a major factor in boxing's increased appeal to young people. The sport also has to find a way to make events even more accessible and more favorably priced for a younger audience.

But there's definitely good news in all of this. Boxing is trending young. New energy is coming. We just have to now nudge aside boxing's old guard to make way for next-generation ideas and sensibilities.