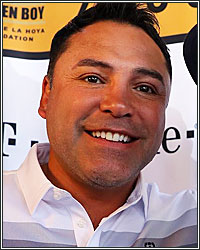 The photo Oscar De La Hoya shared on Saturday of Terence Crawford standing between him and Bernard Hopkins could just be a meaningless social media snapshot.

The buzz it created, though, was jet fuel throughout the rest of the weekend and into this week.

Igniting that fuel was De La Hoya, himself, who pushed the story of a possible Crawford-Golden Boy union before and after Saturday's DAZN/Golden Boy Promotions Alexis Rocha-George Ashie main event at YouTube Theater in Inglewood, California.

"He just wanted to come and say hi to two legends, me and Hopkins, and just showed him some love. Terence Crawford, the best pound-for-pound fighter in the world," De La Hoya told Fight Hub TV after his guy Rocha stopped Ashie with a brutal eighth-round blast. "And we're looking forward to further our discussions so maybe we can make a Rocha vs Crawford fight.

"We can deliver whatever fights he wants. He's the best pound-for-pound fighter in the world now so it's a matter of just strategizing, sitting down with him again, I have a good feeling that he liked what he heard today with me and Hopkins.

"We can get him and Rocha, him and Vergil (Ortiz), and even him and Errol Spence. So this is the way we work with other promoters and we want to make things happen. We want to make 2023 the biggest year for boxing. So I'm going after everybody. I'm back, baby. I am back!"

And Oscar being "back" is a good thing-- not only for him as a human being, but for boxing as a whole.

The post-retirement Oscar De La Hoya saga has had more downs that ups over the years. The "downs" range from the odd and amusing (Google: Oscar De La Hoya Fishnets) to the odd and icky (Google: Oscar De La Hoya kitchen utensils) to dark tales of addiction and alleged sexual assault. The man has probably set the record for contradicting himself in public and generating cringe-worthy moments on social media. He's also the man who was apparently so out of the loop in his own promotional company that he didn't know the fighters he was spending money to build and promote were not actually signed to his company.

But for all the bad, there was a great possibility of good. The De La Hoya name still has value and, for better or worse, the guy is still an attention magnet. Also for better or worse, he continues to be one of the more accessible execs to fans and media.

So, it's a good thing when a lucid De La Hoya drums up attention for his namesake company Golden Boy, which, in a "rising tide lifts all boats" sense, helps the sport.

And if the Crawford story Oscar is pushing is true, the move is a very smart one indeed.

Crawford could be brought into the Golden Boy universe with Rocha being offered up as a human sacrifice. Then, they could position GBP's top welterweight Vergil Ortiz Jr. for a bout with Crawford. Maybe Ortiz pulls off the upset, maybe not, but at least the fight happens on Golden Boy turf and to greater Golden Boy benefit. Even if Ortiz loses, the company's consolation prize would be a good working relationship with a fighter in Crawford who's one solid round of negotiations away from a blockbuster with Errol Spence.

This is as close to a win-win-win as Golden Boy is going to get at welterweight right now.

It would be smart business strategy from a guy in De La Hoya who, way too often these days, has sported the sad sack vibe of a fortunate, but self-sabotaging man constantly finding a way to snatch defeat from the jaws of victory.

Having a clean and fully focused top promotional figure return to the game, looking to MAKE fights rather than maneuver AROUND them, can only be a positive for boxing. An Oscar De La Hoya not buried in salacious scandal or engaged in divisive, rambling, scornful attacks against other boxing companies can help do some real good for not only his own bottom line, but for the sport as a whole.

But as is usually the case with all things "Oscar," there's a feeling that the proverbial other shoe may be dropping soon. So, let's hope for the best.