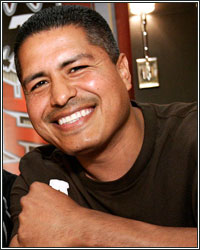 By all accounts, trainer Robert Garcia is one of the good guys in the sport. But this is boxing and, whether they're good guys or not, boxing people will not hesitate to throw you under the bus if it means protecting their bottom line business interests.

Last August, after Anthony Joshua lost for a second time to Oleksandr Usyk (and had a subsequent in-ring meltdown after the decision came in), Garcia, who worked with Joshua for that fight, gave an interview to the Spanish-language site Izquierdazo. In that interview, the veteran trainer was critical of the former heavyweight champ's state of mind for the fight.

"It was Anthony Joshua who mentally defeated himself. In the ninth, Joshua threw a lot of punches, and almost put Usyk out. Maybe, he emptied out, but maybe it was just that Usyk came stronger and more motivated to the tenth round, we don't know.

"In this fight, I think that Usyk was mentally stronger. I think he was stronger, to the point that after being close to a knockout, instead of giving up, he came back stronger...And I think that Anthony's mind is a bit weaker than Usyk's...

"Because of my own experience, I can notice when a fighter is mentally defeated...Instructions don't work, because the fighter is not listening anymore, his mind collapses. What we did with Anthony was trying to motivate him, and not giving instructions on how to win the fight. You have to instill images, like his family, to switch him on, but that didn't work either."

Predictably, the proverbial shit hit the fan when that interview was translated to English and got picked up by English-language sites. The backlash threatened to cut off a possible second Anthony Joshua windfall for Garcia.

So, Garcia did what so many boxing people would do in the same situation. He covered his ass and claimed to be misquoted.

"I talked to a Spanish [site] that I know, so I gave them an interview. But from Spanish translated to English, they make it seem like 'Robert is talking shit' pretty much," Garcia told ESNEWS after he started getting some blowback from the Izquierdazo interview.

"But, no, I would never say that about my fighters. I've never done it before, and I never will. Plus, Anthony was fighting a great fight.

"The headline is, 'Robert says Anthony mentally beat himself' but I never said that. I said that Usyk after being hurt really bad in the ninth he came in the tenth like that never happened, he came strong which you've got to applaud that. So that's not saying 'oh Anthony was beat mentally'.

"We see that stuff from haters. But if you see it from reports, 'Breaking news' and shit like that, then that kind of bothers you because there are people out there who might be a part of the team that actually do believe it. That actually think that it is true.

"Words in Spanish translated to English, it's a big difference, but it's the way it is. It bothers a little, but it's not the end…If something like that happens and the fighter believes that and doesn't want to get the real story, then that's his problem too. If they read that, 'Is this what I'm reading? Is it true?' No.

"It's actually a good story, but translated to English the way people do, they make it seem like I'm talking bad [about Joshua]."

Despite native Spanish speakers confirming that the translated quotes were accurate and despite Izquierdazo's affirmation that they got the words and meaning correct, Garcia held firm that he hadn't really said what he said.

And now, almost seven months later, Garcia admits that he, indeed, said what he said.

"Just because I was his trainer doesn't mean I'm gonna lie about [his performance]," Garcia told iD Boxing in a recent video interview. "I wasn't the only one that said that. Then he should be mad and he should be frustrated with the whole world because mostly everybody said the same thing...

"So there was a lot to be said by so many boxing people, so many boxing experts, because I'm not the only one that said that. And then what happened after the fight when he grabbed the mic and all that, I think that was a lot of frustration. I think that had to do with maybe knowing that you were so close and you let it go. Maybe a little bit of embarrassment because that reaction wasn't the right reaction that a fighter normally takes.

"If they're [Team Joshua] frustrated or they're a little mad for maybe something that I said about his performance or about his mind...mental things...well, I was just being honest and trying to say the truth. If that's the reason they're frustrated, well, there's nothing I can do."

So, why harp on Garcia, who IS one of the good guys, when there's so much other (bigger) bullshit to deal with in boxing and its media?

Because the truth matters.

Lord knows the boxing media needs and deserves figurative (and maybe literal) kicks in the ass, violently and frequently. But, in this case, they didn't get it wrong. Garcia hanging these people out to dry, making them the subject of scorn, just because the words he spoke came back to bite him on the ass and threaten future paydays, is flat-out wrong.