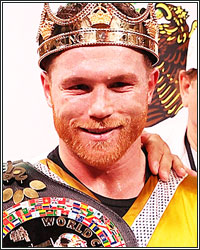 Thursday's, in this corner of the Universo Pugilistico, are all about my sack-- my bulging, bulbous, aching sack-- and the gooey, salty truth contained within. So...sit back, close your eyes, pull back your hair, and get ready for this week's money shot of wisdom. This week we have comments/questions regarding Canelo-Ryder, the Tank-Garcia rehydration controversy, and Broner vs. Cobbs.

Canelo!

Hello Paul

As always, expecting you and your family are fine.

I will start with my favorite actual fighter (Canelo). For starters, I am firm believer that luck is something that exists in boxing, if you don't believe me look at John Ryder. I think he somehow deserves the Canelo fight, but he got it because Zack Parker got injured. In this fight, I saw Parker completely dominate Ryder until his hand got damaged. In an ideal world, I would've liked Canelo to fight Parker because his style resembles a little more Bivol's. This 70-80% version of Prime Canelo should be enough to break down Ryder if you ask me. I am expecting the same thing that happened to Kirkland to happen to Ryder due to Canelo's excellent timing and bodyshots. Do you see the same?

Sometimes I wonder whatever happened to Canelo after the Caleb Plant fight. I got these theories, but I would like to read yours:

a) He has been indeed fighting with an injured hand that prevented him to properly train and emptied his gas tank vs Bivol and Golovkin.

b) He rushed too much in having 4 fights within a year and that diminished his engine.

c) He placed boxing on as second priority, focusing in golf, investments and his new wife.

Hopefully C is not your pick.

Best regards.

– Miguel

Hey Miguel.

Ryder is a tough guy and he'll keep coming for as long as he can. He'll give the fans a good show. I agree that he got fortunate against Parker, but he's also earned this opportunity with wins over Daniel Jacobs and a should've-been win against Callum Smith. I have no issues with Ryder getting this shot.

As for Canelo's issues? Well, it's probably a mix of things. For me, I think he was maybe riding too high after unifying the super middleweight division and took Bivol too lightly. He assumed that he could go in there and will his way to victory. Unfortunately for him, Bivol fought the perfect fight, made no exploitable mistakes, and Alvarez simply had no ability (or energy) to execute any sort of real Plan B. The injured hand may have played a role in his performance against Golovkin, but I said before that fight that he'd probably push GGG a little, but fall back and play it safe if he saw that the Kazakh still presented some legitimate degree of danger. I wasn't surprised by his "do enough to win" performance there.

I think overall, though, Alvarez's fire has diminished and he needs to find new purpose to push him forward. But, as Marvin Hagler once famously said, it's tough to get out of bed to do roadwork at 5 am, when you're sleeping in silk pajamas. Alvarez needs a challenge who will wake up that competitive spirit, a really dangerous foe who could realistically put a beating on him. Maybe he'll find that fire in a rematch with Bivol or, perhaps, a bout with David Benavidez.

The Rehydration Clause

Hi Paul,

Firstly, thank you for all the hard work over the years bringing us fans some semblance of unbiased and balanced reporting on boxing.

In my younger days I competed in wrestling and kickboxing, and we always weighed in on the morning of the tournament with the matches in the afternoon. If you then progressed through the knock-out rounds to the finals on the next day, you were weighed again before being able to compete.

I am very concerned about the amount of weight being cut by current combat athletes for the very reasons mentioned in your notes on Monday. UFC middleweights walk around between 215 – 220 pounds but cut weight to 185 pounds and light heavyweights are around 235 – 242 but they cut weight to 200 pounds. This is not only very unhealthy but downright dangerous and the cause of many traumatic brain injuries as referred to in your article.

In my view same day weigh-ins should be reinstated but I doubt whether this will ever change.

This all said, I do not agree with the starting point of your article stating that weight management is cheating. The current rules of the game allow all fighters to cut as much weight as possible, thus giving them an advantage in the fight. It may not be fair but a physical advantage, better resources to prepare etc may also be "unfair" but it is not cheating.

It also does not fall "outside of the commission's ability to sanction or enforce" – they could enforce it if they decide to adopt rules to govern it but currently there are no such rules.

An advantage gained within the ambit of the existing rules is not cheating and if fans complain about a unilateral rehydration clause insisted on by the A side to my mind that is not saying to "stop cheating by putting in that clause that stops the other guy I like better from cheating." I am also unable to agree with your comparison between "weight managers" and PED cheats. A "weight manager" throws the dice by trying to get an advantage within the rules, it may backfire as we have seen in the past but a PED cheat gets an immediate physical advantage by acting illegally in contravention of the rules.

The issue is that one of the boxers is using his star power to negotiate a physical advantage for him in the fight whist the other is also trying to gain a physical advantage but one that falls squarely within the rules.

Don't you think that this seems unfair and is a valid reason for the many, many excuses that may follow after the fight and complaints about the rehydration clause? It would be a very different set of facts if both boxers were subject to the same clause but from your article it seems that they are not.

All the best and continue to fight the good fight for all of us.

– Louis from Johannesburg, South Africa

Hey Louis.

Thanks for the kind words.

The only reason weight manipulation is not literally "cheating" is because commissions and governing bodies haven't moved to act on the issue. I agree with your statement that this issue is only "outside of the commission's ability to sanction or enforce" because they choose not to address it. Remember, there was a point in time where PEDs were also not illegal and regulatory bodies had to move to regulate their use. Some may also point out that current PEDs testing protocol may be insufficient when it comes to truly maintaining a clean sport. There should always be that movement towards making the sport safer, even if it seems like we're perpetually a half-step behind.

But there's an underlying business reason behind the move from same-day weigh-ins to day-before weigh-ins and that dates back to 1983 when the Michael Spinks-Eddie Mustafa Muhammad rematch on HBO had to be scrapped. Lots of money was lost by everyone when Muhammad refused to make weight the day of the fight and Spinks refused to cut a deal to let the fight go ahead. A near-riot even broke out outside The Armory in Washington D.C. when fans were told, just before doors were to open, that the card had been canceled.

A change had to be made to prevent something like that from happening again. And in this one, singular case– perhaps a first in the entire history of the sport– a reform was swift, decisive, and permanent. Weigh-ins were moved to the day before the event. And that decision opened the door for the massive weight manipulation we see today.

No matter if it's explicitly against the rules or crafted to exploit lack of current regulation, when there's an intent to get a manufactured advantage over an opponent, above and beyond skill, ability, and strategy, someone should put a stop to it. I don't see any reason to limit my moral compass to the weak and sometimes intentionally ineffectual standards of the commissions and sanctioning bodies. Weight manipulation, as you also stated, is a very dangerous game. There needs to be some addressing of the issue and, if regulatory bodies won't do it, it'll have to fall to the fighters and their teams to try. It's similar to when commission PEDs testing was deemed insufficient by some fighters, so they brought in the concept of more complete WADA-style testing for specific bouts.

For me, the only negative in this particular Tank Davis-Ryan Garcia controversy is that, to the best of my knowledge, the rehydration clause doesn't go both ways. It should, even if Team Davis makes the case that he's the naturally smaller fighter who's only competed once above 135. But we shouldn't throw the baby out with the bath water. Some degree of safety is better than no degree of safety. Floyd Mayweather wasn't wrong for insisting on "Olympic-style" PEDs testing for his bout with Manny Pacquiao, even if he seemed to be singling out Pacquiao, only.

And, yeah, of course this rehydration clause is going to make for all kinds of excuses and, in some eyes, it'll take away from Davis' victory (if he wins). So what? Honestly, these same people who will use the rehydration clause to diminish a Davis victory would've found something else to diminish the victory anyway. You can't govern a sport based on the whims and whines of internet trolls.

Weight manipulation needs to be addressed.

Adrien 'The Problem' Broner vs Blair 'The Flair'Cobbs

What's up Paul, I hope all is well your way. As you already know, it feels like Christmas for us boxing nerds because of the upcoming fights such as David Benavidez vs Caleb Plant and Tank Davis vs King Ryan Garcia.

In the midst of all this excitement, Adrien Broner keeps having mishaps in regards to being able to lock in an opponent. I think that an Adrien Broner vs Blair Cobbs fight would be very entertaining and profitable for both fighters. Both men have colorful personalities and at one time both "had" the promise of becoming elite fighters. To add, both fighters had some challenges that have "caused" them to lose momentum in their careers.

I know Adrien wants to drop to 140 lbs. and that Cobbs fights at 147. Maybe they'd be willing to meet somewhere in the middle at a catchweight.

According to Cobbs, he's no longer with Golden Boy and Adrien is no longer with BLK. This seems to be a ripe situation for both men to make this fight happen. As I stated earlier, Broner and Cobbs both have colorful personalities which will make huge contributions on selling this fight. Please share your analysis and thoughts on a fight between "The Problem vs "The Flair."

Thanks.

– Kayee

Hey Kayee.

I like it. Broner-Cobbs would make for an intriguing in-ring contest, but it would make for a hell of an entertaining lead-in. Both guys have the gift of gab and both desperately need a high-profile win. It has the makings of an outstanding second tier fight. I like Broner via decision because I think he's the all-around better, more experienced fighter. However, his efforts have not been all that impressive in recent contests, so you won't really know what's what until the fight actually starts. It would be interesting to see where it would be broadcast, though. DAZN may be the most logical choice. But, yeah, I'd be down for Broner-Cobbs. Hopefully, the boxing bossmen are reading your idea.

Got a question (or hate mail) for Magno's Bulging Mail Sack? The best of the best gets included in the weekly mailbag segment right here at FightHype. Send your stuff here: paulmagno@theboxingtribune.com.