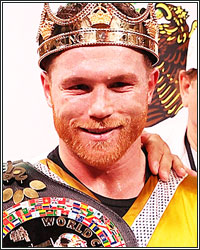 Let's be real here. Everyone complaining about Canelo Alvarez fighting John Ryder on May 6 was going to complain about whoever Alvarez decided to face-- as they've done since the Mexican superstar got big enough to piss these fickle fans off.

These people have been warming up behind their keyboards, honing their selective outrage, just waiting to pounce on the official Alvarez-Ryder announcement. And now, for them, it's SHOWTIME!

Predictably, social media has been overrun with whining and griping and laments about Alvarez ducking or dodging or cherry picking or whatever serial whiners, gripers, and lamenters generally bitch about.

For the Canelo critics, nothing is ever good enough.

Fight veteran former champs-- Canelo sucks because he's fighting old, faded fighters.

Fight classy boxers like Lara and Trout-- Canelo sucks because he didn't look dominant against these guys who make everyone look not-so-dominant.

Fight Cotto-- Canelo sucks because Cotto is too old.

Fight Mayweather-- Canelo sucks because he looked like he was in over his head.

Fight Golovkin (Three times-- because he's "ducking "GGG")-- Canelo sucks because he didn't beat GGG the "right" way.

Move up in weight-- Canelo sucks because he's not fighting the "right" larger fighters.

Unify the super middleweight division in a 4-fight in 11-month run-- The super middleweight division is weak, he should be fighting the guys who AREN'T the champions.

As you can see, there appears to be a pattern here.

Like Floyd Mayweather, Saul "Canelo" Alvarez just seems to fall into that slot of fighter where nothing they do will ever be good enough for the cynics and critics who've decided, pretty much from day one, that THIS guy was never gonna be worthy of their macho fairy tale man-love. But also like with Mayweather, the sour-puss set doesn't seem to matter all that much to Alvarez's bottom line bankability.

John Ryder was an obvious next-opponent choice for Alvarez for many reasons, especially since Ryder is an Eddie Hearn fighter and Hearn-- who has made a bundle being a pilot fish for Alvarez, picking off scraps from around the Mexican shark's mouth-- seems to have the eye and ear of Alvarez.

But [and I'll brace myself for the angry backlash as I write this] Ryder is as deserving of this opportunity as anyone else. If we're talking in pure sporting terms, he's probably the most deserving super middleweight out there right now. Because, while David Benavidez, David Morrell, and Demetrius Andrade, may be more formidable foes, stylistically, Ryder's victory over Daniel Jacobs and his should've-been victory over Callum Smith trump anything on the super middleweight resumes of Benavidez, Morrell, or Andrade as of right now.

Sorry. I know it burns the haters' gizzards to read this, but somebody, somewhere needs to be shoving some bitter reality down their gullets.

Whether Canelo-Ryder is a PPV-worthy fight is up to the consumer. As I've always said about pay-per-view events, the fans will determine whether the show is worth the price tag. That's a business issue that's only my business if I were to get a piece of the pay-per-view money (and, unfortunately, I'm not).

Competitively, Ryder should be over his head against Canelo. But he won't stop coming, he won't stop trying, and we know enough about the guy to know that he'll put in a good showing for as long as he can.

Realistically, this is a showcase fight for Alvarez and a bit of a pause after a tough 2022 and a very active, impressive 11-month run before that. This is Alvarez's Greg Haugen fight, where, like Julio Cesar Chavez did back in 1993, he gets to come home in big fashion and bask a little in "conquering returning hero" glory. Let him have this moment. I know the cynics and critics don't think so, but he's earned this one-fight victory lap.