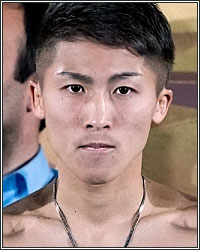 Every Thursday here at Fight Hype, we make a space among the video content for a good, old-fashioned written word money shot from the depths of my bulbous, bulging sack. So, get ready for some of that infamous Magno-rific gooey, salty, sometimes NSFW truth. This week, we have an especially bulging sack with comments/questions regarding Plant-Benavidez, Tank-Garcia, Ortiz-Stanionis, Joshua-Franklin, Inoue-Fulton, Joyce-Zhang, Fury-Usyk, and More...

Tank-Garcia: A Sign of Things to Come?

What's up Paul? You know boxing has been in a slump for a while, because I haven't had shit to talk about!

Ryan Garcia and Tank Davis are signed up for a big clash! This could be a sign of things to come. There's two things that stick out regarding this bout that has me excited about the future.

First of all, this is the first time that we've seen GBP and PBC come together and do a huge promotion. They both need each other more than they'll admit. Prior to PBC, Al Haymon and GBP worked great together. Haymon had the stable and GBP had the customers. Now with PBC they have a large stable but for some reason, they're unable to create a buzz for their fights. Whereas GBP has a few stars, but no talent to match them against. Regardless of what people say about Oscar, he does have a large share of the market cornered, willing to move to the beat of his drum. This could lead up to a big fight with Vergil Ortiz and one of the PBC welterweights, or this could lead up to Munguia vs. Charlo. With that being said, there's many fighters out there that don't want to join PBC. But maybe they'll join GBP with hopes of GBP being able to negotiate with PBC. Do you think PBC and GBP will move forward with a working relationship or is this a one trick pony?

Secondly, I don't think I can remember a time where a fight of this magnitude took place without a belt at stake! With all respect to each fighter, neither guy holds a championship belt from a major sanctioning body. This lets me know that promoters and fighters are willing to bypass the notion that every major fight must be for a belt. With money being tight in boxing nowadays, it would be best to see guys fight each other without the involvement of the sanctioning bodies. They don't have to give up any fees, nor do they have to partake in mandatory challenges in order to keep their belt. For the past decade or more, I myself have become sick of these sanctioning bodies that do nothing, but stall fights. The championship jargon is for the birds and no longer impresses me. If guys ditch the belts and just fight, then we'd have more progress in boxing. Do you think the belts matter anymore and is it a good idea to fight at this level against A-level competition without any hardware on the line?

-- Nail Rahman

Hey Nail.

I'd love to say that Tank-Garcia will be the first in a long line of PBC-GBP cooperative efforts, but it probably won't be. It just so happened that there was a shit load of money in cooperating in the making of Tank-Garcia, so it worked to everyone's benefit to get along (just as Mayweather-Pacquiao brought harmony to the feuding parties involved). The reality is that money will remain the only lubricant in boxing that makes for smooth business partnerships (and, no, the lubricant mention is not a crack aimed indirectly at Oscar De La Hoya).

As for the belts, well, they do and they don't matter. In the big picture, having the "right" belt matters about as much as wearing the right brand of jock strap to the ring. Once a fighter makes it to the next level of stardom, the belts don't matter. Up until that point, though, the belts have proven themselves to be valuable marketing tools in building stars and they also continue to be points of pride for the fighters climbing that ladder of stardom. Of course, things often change when the fighters become stars and the 3% sanctioning fee climbs into the six figures. Honestly, boxing can live without the alphabet organizations and with something less costly and less troublesome taking their place. But just try and get the boxing movers and shakers away from the status quo...

Joyce vs Zhang

Hello Paul.

I hope all is well.

What is your take on this fight next month?

I know he is not well known, but I like Zhang and I feel like he won his last fight. And Joyce gets hit too much.

I say the Juggernaut takes a loss on this one. What do you think?

Thanks.

– Brian C.

Hey Brian.

I also like this fight, even if it's gotten lost in the mix of great fights these coming weeks.

I'm done underestimating Joyce. I was a doubter and one of those "he's too slow, he gets hit a lot" critics. The guy looks vulnerable, but he just keeps winning and he's put together a very nice resume of solid wins to prove me wrong. So, I won't be picking against the Juggernaut anytime soon (or until he fights Fury or Usyk). But Zhang is better than people acknowledge and he should put up considerable resistance. I still have Joyce winning, but Zhang is a real live dog, IMO.

Plant-Benavidez

Hi Paul

It seems we are about to enter to the first great stage of boxing during 2023 with Plant-Benavidez. Which leads me to my first question, how much of a factor will Breadman Edwards be during Saturday night?

Since I started visiting websites, he is a guy that gets too much respect in several websites, he talks very highly of yourself in case you did not know.

I did not watch Plant's last fight, but it seems he did something we are not used to seeing on him which is KO a credible opponent. What I did notice, though, was that he used a very signature move from Canelo (left hook to the body, left hook upstairs). I love this kind of things from fighters, when they learn new stuff from previous rivals.

The other factor to consider, which is one that stuck in my head lately, I saw an interview from Mike Tyson where he said Benavidez will not be defeated by anyone close to his weight because he is an insecure fighter, trying to prove something to people (perhaps that reminds him his young self).

Enjoy this weekend Paul, I will have to go to bed early since I am on ET at Indiana and main events start between 11:45-12, so an alarm will remind me to wake up and watch some fine boxing

Regards.

– Miguel

Hey Miguel.

I have a lot of respect for the Breadman's work as a trainer (and not just because he says nice things about me, although that doesn't hurt, lol). In a lot of ways, he's a throwback-type trainer in the mold of Naazim Richardson. He's not only a nuts and bolts expert in technique, but also very much a builder and supporter of character in fighters, something which is often overlooked in the business of training. I noticed a couple of tweaks to Plant's game in this last fight, but it's hard to really point out too much different in just one fight with a new trainer. At any rate, Plant strikes me as a fighter who knows himself, is sure of himself, and won't be making any grand scale changes to what he does. He does seem to be confident in Edwards' work and, often, that alone is enough to make a fighter overall better.

That Tyson comment can go both ways, though. Some may argue that Tyson's own insecurity kept him from responding as well as he should have when he couldn't just blow away or walk through an opponent. Will that be the case with Benavidez? Will he collapse/implode against a Plant who will not concede and will not let himself be broken down by his overwhelming offensive will? Does Plant have what it takes to be the Holyfield/Buster Douglas to Benavidez's Tyson? Another legend, Bernard Hopkins, has picked Plant to beat Benavidez-- and that comes from a thinking-man's boxer who's been a stylist picked to be blown away by a monster on a few occasions. We shall see. It's going to be a great fight, though.

Benavidez-Plant, Tank-Garcia, Inoue-Fulton, Usyk-Fury, and More!

Hi Paul,

I've been reading your weekly "Bulging Sack" mailbag for four plus years. Great stuff!

While I don't agree with everything you write, I feel that you are not biased, and I personally appreciate that, so I continue to read.

Like you, I am excited about the upcoming bouts scheduled over the next several months. For the fans, it may answer some questions about certain fighters. I'm not talking about "fanboys" but those who genuinely appreciate and understand the sweet science.

Here are some of the questions/comments that I hope will give me clarity for upcoming fights, and I would like to get your thoughts.

– Benavidez and Plant: Is Benavidez truly the "Mexican Monster" that will pose a challenge to Canelo? Or is he an over-hyped brawler that was fed B-Level opposition? Looking at his frame, I think he is outgrowing the division

– Tank and KingRy: On paper, two of the best fighting in their prime. Kudos to the fighters, promoters and networks! I think the winner of this fight becomes boxing's next big superstar taking over Canelo's spot. Tank is arguably on the verge of doing it before this fight.

– Inoue and Fulton: If Fulton can withstand the power of Monster, this will be an intriguing match-up. The problem I see here is that Fulton does not have the power to keep Monster from coming forward.

– Fury and Usyk (if it happens): I think Usyk is the better boxer of the two. But Tyson has great boxing ability as well, and a huge size advantage. I do not believe Fury will be able to use his size on Usyk as he did with Wilder. Usyk's ring IQ seems pretty high. But the winner gives clarity to who's the best heavyweight on the planet.

– Joshua and Franklin: Two years ago, this fight would be nothing to talk about. Just another Joshua mandatory or tune-up. However, given how Joshua has looked (mentally) in his last several fights, this one intrigues me. This fight will let me know if he is done at an elite level, or if under the tutelage of Derrick James he can regain his focus and become a force again.

– Canelo and Ryder: A not so high-profile fight coming off of a Canelo injury. Win or lose I think Bivol is on his radar at 175 for his usual September fight. I'm probably in the minority here, but I think if he loses to Bivol a second time he retires. I think his retirement farewell is starting in May when he fights in Mexico for his fans

– Ortiz and Stanionis: Somebody is getting KTFO! These are my favorite kind of fights. It won't be Chico Corrales vs. Castillo 1 (my favorite fight, all time), but it won't be dull.

Keep up the good work. Hope I make the bag!

Regards,

– Reggie Cannon

Hey Reggie.

With the kind of depth you brought with your email, you were a shoo-in to make the Sack. Now, let me rapid-fire answer these.

– That's the big question to be answered this Saturday. Who really is David Benavidez? He's yet to face someone who, stylistically, is built to nullify his particular style, so we really don't know just how "for real" the young man is. I suspect that he is very much "for real," but he has to show that against Plant. We won't see much in the Plant fight, however, that will show us how Benavidez would do against Canelo, other than his ability to perform in a high-pressure event against someone not destined to take the L. And, yeah, I agree, he's a big kid and may soon be forced into the light heavyweight division. I think if he doesn't beat Plant and get a Canelo fight very soon, we'll see him at 175.

– Tank has worked his way to the stardom he has right now, earning the buzz at a grassroots level. Ryan has been able to cut to (nearly) the front of the line because of his overall marketability. Don't forget, too, that Ryan's marketability right now is due in great part to him fighting on social media for free in his early days as a pro. Overall, there were millions watching his fights as he developed his following. That built his name in the boxing world more than anything he's ever done on social media or since he was closed off behind the DAZN paywall. Tank and Ryan are easy picks for the next "face of boxing."

– That's what worries me about Fulton and his chances. He likes to engage and I'm not sure if he has the power or physicality to play that game with Inoue. However, Fulton's also a very good boxer and if he plays up that angle, showing some good ol' American-style slickness, he'd be giving Inoue something that he's never seen before as a fighter. I love this fight [UPDATE: Inoue has been injured in training, forcing the bout to be postponed until the summer].

– I think I'm in the major minority now when I say that I'm still not convinced about Usyk's ability to stay on top as a heavyweight. Anthony Joshua was stylistically perfect for him as a big man who lacks big-man physicality and who will give an opponent a significant amount of space in which to operate. Fury is significantly more savvy and more doggedly tenacious than Joshua and he can come at this Usyk fight a number of ways. Beating Joshua back-to-back is a big deal, but did Usyk catch AJ at the perfect time and is he still the same man who went back and forth with Derek Chisora and got a little dip in his knees when he got hit hard for the first time by Chazz Witherspoon? The Fury fight will tell all when it comes to Usyk and his high-end heavyweight chops.

– Franklin is perceived as a safe pick for Joshua. Franklin earned a name for himself in his bout with Dillian Whyte, but he showed enough vulnerability in that fight (lack of power, fading late) to be an ideal "comeback" fall guy for Joshua. But, yeah, if he can't flatten Franklin, Joshua needs to just hang up his gloves and go into modeling or something. IMO, though, Joshua is done (at least at a consistent elite level) regardless of what happens against Franklin.

– Canelo retiring is not so crazy. Maybe it's just my imagination, but I've seen that fire fading all throughout last year and it's hard to see too much more out there for him to do if he can't get some measure of revenge against Bivol and, maybe, fend off a guy like Benavidez (if Benavidez beats Plant). Fighting Ryder in Mexico seems to affirm my feelings about Canelo's state of mind at the moment. He wants something to get fired up about because, maybe, he feels that fire fading too.

– I love Ortiz-Stanionis. I have my doubts when it comes to Stanionis' ability to withstand Ortiz's best, but it'll be a brilliant tussle for as long as it lasts.

Got a question (or hate mail) for Magno's Bulging Mail Sack? The best of the best gets included in the weekly mailbag segment right here at FightHype. Send your stuff here: paulmagno@theboxingtribune.com.