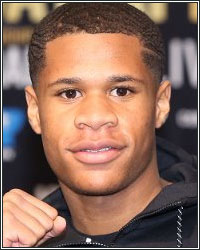 Thursday's, in this corner of the Universo Pugilistico, are all about my sack-- my bulging, bulbous, aching sack-- and the gooey, salty truth contained within. So...sit back, close your eyes, pull back your hair, and get ready for this week's money shot of wisdom. This week we have comments/questions regarding Munguia-Mendoza and the lightweights.

Munguia-Mendoza/Shakur Stevenson/Ryan Garcia

Hello Paul.

I like your take on the Fundora-Mendoza fight. I like it when hard workers get results out of the sacrifices and training, especially fighters who have tasted defeat early on their careers. In my view, Mendoza knew he was going to lose most rounds, but he was waiting for Fundora to make that mistake so he could throw that head hunting left hook on short distance. Reason why I am asking about this is because I think (ideally) Mendoza would make a great opponent for Jaime Munguia (if he ever decides to fight at MW again) now that he can't find an opponent. What do you think of this matchup and who wins?

I have a love/hate relationship with fighters like Shakur Stevenson. These kind of fighters are supposed to be hated (I disliked the fact he did not shake hands with his opponent) and it is what makes them an attraction such as Mayweather during his time, but I see Top Rank struggling to get him a meaningful fight as no one would want to mess with that nullifying style.

P.S. I have watched All Access for Tank-Ryan and the more I watch it the more I think its going to end up badly for Ryan

Regards.

– Miguel

Hey Miguel.

I like Munguia-Mendoza. At this point, the way Munguia's progress has stalled and his skills have atrophied, I think he's ripe for the picking by any solid Top 10 or Top 15 middleweight. Mendoza is better suited for 154 and if he did get Munguia, he'd be basically facing a light heavyweight fighting at middleweight by the opening bell. He'd still have a decent chance, though. That's how tough he is and how vulnerable Munguia is in my estimation. But there's a lot standing in the way of Munguia-Mendoza. Neither Golden Boy nor DAZN are going to get him beat by anyone outside of their own promotional/network reach. Well, the suits at DAZN could probably screw things up and get him beat by an outsider, but I'm thinking Golden Boy is smart enough not to. There's a reason why Munguia "can't find an opponent." His people are looking for a safe in-house opponent who would get the rub and keep it en familia if he managed to upset Jaime.

Top Rank is going to need tranquilizer darts and a butterfly net to get a top dog into the ring with Shakur Stevenson. The key will be to build his star to the point where he can bring the big paydays that get co-A-sides willing to take the risk of looking bad against him (and losing). The guy is a special talent, though. He deserves the fights that will let him climb as high as his skills suggest he can.

As for my take on Ryan Garcia and his "real" chances against Gervonta Davis? I'm saving that for Monday's Notes from the Boxing Underground column. But I will say that I'm pretty much on the same page as you.

The Lightweights (Haney, Loma, Shakur, Tank, Ryan)

Hello Paul.

How are things? Hope you had a joyous Easter.

What are your thoughts on the lightweight division and how do you see it playing out?Who wins between Haney vs Lomachenko? And then how does the winner fare against Shakur Stevenson? Some are saying [the winner of Haney-Lomachenko facing Stevenson] should happen this year.

Also, why isn't Gervonta Davis a part of these discussions?Does he not want to be a champion and unify, like most boxers?

And finally, if Ryan Garcia beats Tank, will you be giving King Ry some much deserved props? I'm just saying…

Thanks.

– Brian

Hey Brian.

Thanks...all is well here.

There's a lot of talent at 135 right now and a lot of young names moving into the picture. The weight class is deep and only boxing politics/boxing business can keep this division from exploding in the next year or two.

I think Haney beats Lomachenko-- and much more decisively than many think. Haney is huge compared to Lomachenko and his jab and nullify style will shut down a guy who, legitimately, could be fighting someone three weight classes bigger than him on fight night. I think Loma's gonna get a taste of what Guillermo Rigondeaux felt when he fought Vasiliy as the much smaller man.

And, honestly, I don't think Haney or Lomachenko will be fighting Shakur next, regardless of what's been floated to the media. Haney will be moving up in weight no matter what and Lomachenko's people don't want to deal with what Shakur can bring. Maybe, possibly Arum might try to get Lomachenko vs. Stevenson if he gets the vibe that Loma is done and he wants to cash-out. Maybe.

When it comes to Tank Davis, he's outside of that Top Rank Haney-Lomachenko-Shakur circle and doesn't seem all that interested about being a part of it. He's definitely embraced the Floyd Mayweather strategy of doing business, which basically sees him doing his own thing, building his star power on his own terms. Like Mayweather, I don't think he gives a flying fuck about winning the "right" title or addressing the matchmaking preferences of critics. Davis will be there if/when the money and business leverage is there, like in his upcoming bout with Ryan Garcia. Until then, his team will work as though Tank is already THE name at lightweight and above the scrambling for divisional dominance. It is what it is.

If Garcia beats Tank, he'll get the appropriate degree of "props." Keeping things real, how can you regard him, right now, as anything better than a fighter whose best wins have come against Luke Campbell and Javier Fortuna? Good, not great, with definitely very minimal high-end experience. For me, he'll earn that elite-level regard depending on his performance against Davis. Even a loss could earn him that regard, tbh. We'll see.

Got a question (or hate mail) for Magno's Bulging Mail Sack? The best of the best gets included in the weekly mailbag segment right here at FightHype. Send your stuff here: paulmagno@theboxingtribune.com.