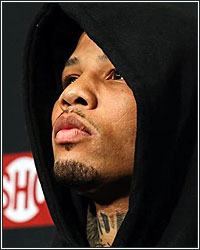 In Monday's Notes from the Boxing Underground column, I pissed off a lot of Ryan Garcia fans by going deep into King Ry's psyche ahead of this Saturday's bout with Gervonta Davis. Now it's time to piss off the Gervonta Davis fans with a similar deep dive beyond the Xs and Os tactical/technical assessments.

There's a lot to unpack in this bout and a lot to suggest that intangibles (like character, mental toughness, focus, maturity, etc.) may play a bigger role in the outcome of this bout than is usually the case in big ticket matchups at this level. So, let's look at the intangible red flags of "Tank" Davis.

To me, almost everything about the Baltimore native screams entitlement, something which is beyond ironic for a young man who grew up under the roughest of conditions as a child.

The Davis who now stands before the world appears to feel entitled to move about his career totally the way he wants. He acts entitled to favorable matchmaking. He even fights with a sense of entitlement, dropping rounds he should be winning and limiting his offensive output to sometimes single-digit punches thrown per round, doing so because victory is a foregone conclusion.

This attitude appears to be something beyond simple confidence. He does because he can and he can because he's entitled to.

At 21-23 years of age, Davis' mentor and former promoter Floyd Mayweather was establishing himself as something special with dominant and devastating marquee wins against top-of-division guys like Genaro Hernandez and Diego Corrales. By 28, Mayweather was already on top of the world, but still decimating high-end opposition.

Davis, by contrast, hasn't fought like he has any burning desire to prove anything since, arguably, the Jesus Cuellar fight back in 2018 when he was 23. Yes, the skill and ability and overwhelming talent is there and it's been there right up to the present, but he doesn't fight with a chip on his shoulder like he used to. He doesn't fight with the fire of a great cramming his greatness down the throats of a doubting public.

He's not coasting, giving up rounds in his fights these days because it's some great strategical ploy, at least not for the most part. He's doing it because he CAN and because, like Ryan Garcia, he can coast on talent alone against most everyone he faces. Sure, some of his inactivity in fights can be credited to sizing up his opposition, but the true greats find ways to read foes while still engaging them.

So, what's the big deal if he can win with less than fiery urgency? What's the problem with winning on talent and skill, alone?

The problem is that he won't be able to do that with everyone and in every instance.

His sense of boxing entitlement tells him that if he set enough traps and stays safe enough, he will eventually get the KO. Eventually, his opponent will run into something...because he's THAT good.

But if there's anything that will get Davis beat by a lesser-skilled fighter with less main stage experience, it's this attitude of "I'm so good, I'll eventually get over," this attitude of someone accustomed to having things slanted his own way.

Davis has been reaping the benefits of his entitlement for awhile now. It makes one question whether he can still grind against a foe with a 50-50 chance of beating him and/or someone with a good chance of laying him out.

Maybe Ryan Garcia is that guy. Maybe not.

Realistically, though, Mario Barrios and Hector Luis Garcia, although very good fighters, weren't going to knock Tank the fuck out, humbling him on pay-per-view in front of fans and friends. Garcia CAN do that.

It will be a good thing for Davis to face an opponent he HAS to respect, at least to a degree. Then, we may see him at 100%, a fighter brutally staking his claim to greatness rather than what we've been seeing from him lately-- a jaded mega-talent doing as little as he can until its time to cash out.