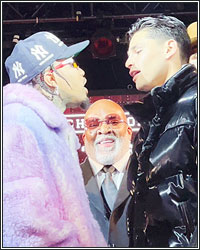 Predictably, this week's inbox was crammed full of Gervonta Davis-Ryan Garcia stuff. So, why swim against the tide? Let's talk Tank vs. King Ry (with a little Zhilei Zhang talk thrown in).

The New Face of Boxing?

Hey Magno.

I can't wait for this Saturday. I haven't been this excited for a fight in a long time. I'm young, so I don't recall the glory days of the sport, but this fight feels like what I imagine what some of the big fights in the old days used to feel like.

Anyway, predict the future for the winner and the loser. Will the winner become the new face of boxing as people have been saying? What do you see him doing next with his career? What about the loser? What will be the loser's next move?

Thanks for all your efforts providing fans with honest, bias-free writing. Your work is appreciated.

– TJ from Texas

Hey TJ.

This will be a big fight for boxing, if for no other reason than it matches up two of the active fighters with the most mainstream crossover appeal. Competitively, it's also a very intriguing stylistic matchup of undefeated 20-something fighters. But the real value in this fight is in the fighters' ability spark interest in people other than the hardcore boxing base who are generally there for everything anyway.

Okay, now here comes the dark cloud for the silver lining. It's not like there are actually other fighters who have the possible crossover appeal of Tank and Ryan. So, no matter who wins, this spark of mainstream/crossover interest dies out almost immediately. Think about it-- who's there for the winner? Unified lightweight champ Devin Haney is young and good, but he barely generates interest among the hardcore base. He has next to zero value in helping push the sport into the consciousness of the casual-curious fight fan. Teofimo Lopez has potential crossover appeal, but he's a mess right now and I'm not sure certain he gets past Josh Taylor in June. Shakur Stevenson is a wizard of technical ability, but he is most definitely NOT a mainstream-friendly fighter. Plus, all of these guys are Top Rank fighters, something which will make signing potential fights a tall task.

There'll be no mainstream momentum for the winner of Tank-Ryan. Probably, the best we can hope for in that area is a rematch, which will tickle the interest of the casual-curious again, but not really bring anything by way of sustained mainstream appeal.

The Tank-Ryan winner could very well be the new face of boxing and the undisputed top draw among US fighters, but he'll be playing to the same boxing base as usual. The days of a boxer being a true crossover mainstream attraction are over until the sport re-works its business model.

Tank Davis, whether he wins or loses, will go back to his matchmaking pattern, hopping around divisions and picking off names that have at least some marginal resume value. I don't see fights with Haney, Lomachenko, Shakur, etc. happening. Maybe we get an Isaac Cruz rematch next.

Ryan Garcia, meanwhile, could be matched against someone like William Zepeda or Mercito Gesta next if he beats Davis. If he loses (depending on how he loses), we're likely to see a long rebuild with fairly soft touch bouts until he can grab at some sort of title.

Tank-Ryan...and Zhang

Hi Paul

Ready for the weekend? I am glad last month has been quite active boxing wise.

I would like to start with Joe Joyce, a strength (his chin) is a strength until it is not. Props to Zhang, in my mind it seems he understood his chin was not going to be a problem so he focused on the eye, you can have an amazing chin but at the end of the day our organism works the same for all human beings. Next question for you is, can Zhang beat the elite heavyweights?

We have discussed several times the outcome of Saturdays fight, questions now are:

-does the winner enter the top 10 p4p?

-who should the win fight?

-does this semi-cross promotional fight opens the door to more fights?

Best regards.

– Miguel

Hey Miguel.

Joyce had won me over because, despite everything wrong with him and everything lacking in his skill set, he just kept winning and had amassed a really good resume up until Saturday. But, as you said, a strength is a strength until it's not.

People need to hold their horses when it comes to Zhang. He's big, he's good, but he's not the fighter being hyped now as this bad-ass soul taker (mostly by people who overvalued Joe Joyce in the first place). I think if Tyson Fury's smart, he jumps at the opportunity to fight Zhang and cash in on the post-Joyce hype. Fury would box circles around Zhang and win fairly easily, IMO.

As for Saturday's fight? I''ll tackle these in order.

- Yes (and I think a case could be made that Davis already belongs there)

- My official on-the-record prediction is in my next response in this Sack

- Maybe, but only if the buys for this fight are truly spectacular. Remember, though, that not even Mayweather-Pacquiao stimulated much in the area of cross-promotional cooperation. If the money is there, there will always be willingness to cooperate. Unfortunately, that kind of money is rarely there these days.

Tank vs. Ryan-- Who wins and how/why?

Hi Paul.

It's go time. Tank vs. Ryan. Throw the diplomacy out the door along with the "this is going to be a tough fight...Ryan may win if he does this...Tank may win if he does this" talk. Who wins-- Davis or Garcia? How? Why?

– Damon

Hey Damon.

I hesitate in making flat-out predictions, not because I'm afraid to be wrong or look foolish (if you're familiar with my work, you know I have no problem going out on a limb). There are just so many variables in some bouts and I'm more fascinated in looking at the multiple paths to victory than picking winners or losers.

But, gun to head, here's what I see happening.

Garcia's hand speed and length will give Davis problems early on. Tank may even get buzzed at some point. Eventually, he'll get the timing down and the bout will even up. Around the ninth or tenth round, Davis will land something really big and Garcia will wobble. Hurt and without the skills to hold on, Ryan will go down hard. The ref will wave off the contest at the nine count as a badly buzzed Garcia gets to his feet. Official prediction: Tank TKO 10.

But, honestly, I can see things playing out any number of ways. Someone could get clipped very early on in the contest and stopped. Given the abilities of both fighters, that's a reasonable prediction as well.

Got a question (or hate mail) for Magno's Bulging Mail Sack? The best of the best gets included in the weekly mailbag segment right here at FightHype. Send your stuff here: paulmagno@theboxingtribune.com.