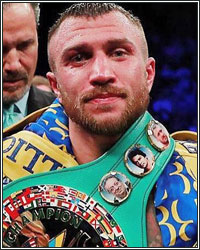 Hello boxing fans and dedicated haters. Here's another week's worth of my bulbous sack, bulging with gooey, salty truth, in your face. Enjoy. This week, we have comments/questions regarding Lomachenko's P4P status, Ring Magazine, and a purse bid insult to two former world champs.

Pound-for-Pound Lomachenko/Purse Bid Insult

Hey Paul,

I know the P4P thing is mythical, but I have always been curious as to how Loma made it on most everyone's list with so few fights. Do you think it is because of his amateur background, or the level of opposition in the pros? I am not discrediting him as a fighter. I think he is an elite level talent. He has good names on his resume-- Gary Russell, Nick Walters, Luke Campbell, Rigondeaux, and Salido. I personally don't know another fighter that has moved up so quickly. What am I missing?

I'm also curious about your take on purse bids. About a month or so ago, I read where some promotional company won a purse bid for $2500.00 to stage a fight. I know there is a criteria and guidelines to it, but that is embarrassing, even for a first fight professional. I get that you have to pay your dues and work your way up the ranks, but as a fighter this can only be considered an investment in yourself, and for what's to come. Forget about paying the trainers, managers, promotional company and lawyers. Hell, both fighters may end up out of pocket when its all said and done. I'm just saying.

Regards.

– Reggie Cannon

Hey Reggie.

Lomachenko got into the pound-for-pound rankings (which I think are completely farcical bullshit, anyway) so quickly because the vast majority of those in the boxing media (like almost every one of them) are a bunch of lemmings who buy into their own nonsense and hyperbole. They bought into the hype of a mega-decorated amateur jumping straight into the deep end of the pro game and ran with it. Once the story was laid out to them, they built their Lomachenko worldview around that story. Not that he wasn't an elite-level talent (as you said) and didn't deserve acclaim, of course. He just got elevated so high, so quickly because that was the story and once the media locked themselves into their echo chamber, that was going to be the story whether it was or it wasn't.

Then, when they had elevated him so high and placed him so firmly atop their pretend pound-for-pound rankings, they were stuck when he got beat by Teofimo Lopez. Teofimo obviously didn't belong, just yet, in the pound-for-pound rankings, but he had to be there because he beat such a highly ranked fighter, who, in turn, couldn't be knocked too far down the rankings because it would make the pound-for-pound nerd list makers look like idiots for having ranked him so highly in the first place. A mess was what resulted, with Lopez ranked way too high and, in some rankings, not ranked at all, while the guy he beat was still placed above him. And now Lomachenko is still in the Ring Magazine pound-for-pound rankings at no. 7 despite not having a truly significant win since 2018. There's a lot of goofiness around these things. Almost by definition, pound-for-pound rankings are nonsense, but when you throw in the mixed-up expertise of boxing media, P4P is guaranteed garbage.

Yeah, I didn't get that $2500 purse bid win either. For an IBF flyweight title eliminator between two former world champs, Cristofer Rosales and Felix Alvarado, it was insulting. Essentially, these guys, if they go through with the bout, will be fighting for free or, as you said, paying out of pocket for the privilege of competing. Just as insulting was the fact that there was only one bid made on the fight, from MP Promotions/M&R Boxing, despite Rosales being promoted by Matchroom Boxing.

Truth and What Doesn't Ring True

Paul,

Man, I really enjoy reading the stuff that you put out on Fighthype. I can see why you're not mainstream. You put the truth out and the boxing establishment is only interested in the run of the mill nonsense that they published everyday. For example: The Ring belt and rankings are treated like gospel, when the Ring Magazine is owned by Oscar de la Hoya. I can't imagine a boxing promoter not putting his fingerprints on any business that he owns, especially considering how honorable and honest boxing promoters are. As a brother from Detroit living in central Mexico (Hidalgo) ( long story) it's cool to read about my favorite sport without the fluff.

– Emory

Hey Emory.

Thanks for the kind words. I try to keep things honest-- intellectually and emotionally. That approach is not popular with my "colleagues" and it's led to them pretty much blackballing me from the mainstream boxing discourse. Luckily, Fight Hype has balls and wasn't afraid to bring me aboard with full creative control. So, the boxing world is stuck with me for the long haul.

Ring Magazine/RingTV has prostituted itself so many times that they may be unsalvageable. The current editor-in-chief (that nice older lady with the ponytail) and her cronies running that hot mess represent the worst Ring Magazine crew the rag has ever had-- and that's saying a lot! Nobody should take what's written over there with any degree of seriousness. There are a couple of decent people at The Ring/RingTV, but it's not enough to pull them from that nosedive. They are deeply compromised as, essentially, public relations branches for Golden Boy and DAZN and they are being led into the abyss by an editor-in-chief who wields some oddly obsessive, psychologically puzzling agendas. They need to sandblast that entire place clean and start over if they ever want to be a place that serves any sort of purpose to the sport and its fans.

Got a question (or hate mail) for Magno's Bulging Mail Sack? The best of the best gets included in the weekly mailbag segment right here at FightHype. Send your stuff here: paulmagno@theboxingtribune.com.