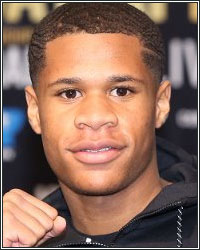 We're not too far away from Devin Haney vs. Vasiliy Lomachenko, and if you check out the social media timelines of old guard media lapdogs, you'd think it was the biggest fight since Leonard-Hearns.

I can think of a small handful of lightweight matchups I'd prefer to hit the ring, but that takes nothing away from this particular fight. It's an intriguing bout and I'm looking forward to it.

And, yeah, this is a big fight. Any fight for the undisputed, four-belt championship is big. I'm a traditionalist, so the belts do matter to me (as they do to, like, 95% of everyone else in the business and around the business). Those who talk about ignoring the sanctioning bodies and the belts are just fronting, or they're idiots. The current mess of sanctioning bodies suck, but they can't be ignored. Ignoring them would be like disregarding umpire calls in baseball. It just can't be done without turning the sport into a muddled mess reconstructed and repurposed in everyone's own mind after the play on the field ends.

But I digress…

Haney vs. Lomachenko matters and it matters more because Haney has all four recognized world title belts at 135.

If we focus on the nuts and bolts of the matchup, Haney will have just about every possible physical advantage coming into this one. He's taller, has almost a 6-inch reach advantage, is eleven years younger, and naturally much bigger. By opening bell, we should effectively be seeing a bursting-at-the-seems welterweight against a super featherweight who makes lightweight with the help of some rocks in his gym shorts.

Competitively, that could very well mean that if Haney opts to jab and grab the whole fight, there'll be little Lomachenko could do about it. Both fighters have high-end, elite-level talent and skill, but size matters-- especially when the size is coupled with an age advantage and an edge in natural athleticism. Consider this Lomachenko's possible karma comeuppance for his 2017 beating of Guillermo Rigondeaux, who was fighting under similar disadvantages.

Given Haney's "just stay safe and get the 'W'" mindset, a Fight of the Year battle is not likely to break out on Saturday. Any fire brought to this contest will be coming from Lomachenko or, at least, it SHOULD be coming from Lomachenko if he wants to have a chance at victory.

All I'm saying is that it wouldn't be a surprise in the least if this lightweight super fight, hyped as a high-stakes boxing chess match, turns out to be about as entertaining as an actual chess match.

Lomachenko is no hapless, hopeless underdog, though. He has the skill and ability to flip the script and force his way back into boxing nerds' pound-for-pound lists. He'll have to take some risks and work his way inside, applying pressure to a Haney who hasn't historically liked to be pressured.

This isn't entirely a mission impossible task for the two-time Olympic gold medalist. He'll have to take those risks to get inside and he'll have to take some shots to get there, but Haney is no killer. The price to pay to get inside will not be as steep as it would be against a more aggressive, angry-hearted opponent.

However, this WILL be exceedingly difficult for him to do against Haney, who is outstanding at nullifying an opponent with his assets-- which include speed, skill, all-around athleticism, and the size to make all of that work well to his benefit.

Haney, meanwhile, will just have to be himself to come out ahead in this contest. It's really as simple as that. Strong fundamentals, along with his natural gifts, should be enough to take a fairly comfortable decision against someone in Lomachenko who I've always felt is the boxing equivalent of a junk ball pitcher in baseball-- someone who has succeeded, in great part, due to an awkward style and presentation that throws opposition off-kilter and off their game. Lomachenko's response to adversity is typically to keep doing more of the same, at a higher pace, and that just won't be enough against a locked-in Haney.

But this is boxing, of course, and politics always matter.

At 35 and a few years removed from his last truly electrifying ring performance, Lomachenko has one foot out the proverbial door. He's at the stage of his career where promoter Bob Arum is typically looking to bail out and convert a fighter into fertilizer for his next big star.

But is Haney Arum's next big star? Free agency looms for the 24-year-old and, depending on what you read and where you read it, this could be his last fight under Arum's Top Rank banner.

In this particular case of Haney-Lomacheno, Arum would be in for a win-win if he can retain the services of both. Lomachenko, win or lose, could be positioned to face Shakur Stevenson while Haney, win or lose, could be moved up to face the winner of Josh Taylor-Teofimo Lopez at 140. So, maybe, on this rare occasion, politics will not play a role in how the actual fight is allowed to play out.

All things considered, Devin Haney should end up with the points victory in a strategically interesting bout that lacks fan-friendly fire. Hardly a super fight, but good (and important) nonetheless.