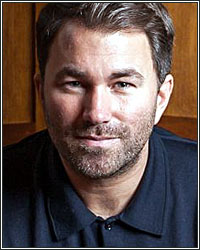 Thursdays, in this corner of the Universo Pugilistico, are all about my sack-- my bulging, bulbous, aching sack-- and the gooey, salty truth contained within. So...sit back, close your eyes, pull back your hair, and get ready for this week's money shot of wisdom. This week we have comments/questions regarding Canelo, Hearn, and the Charlo Brothers

Canelo, Hearn/DAZN, Charlo

London Bridge is falling down! Where does Eddie Hearn go from here? I mean the guy blew through $1 billion and has nothing to show for it. Remember when DAZN first came onto the scene? Remember when the media was running reports about PBC going bankrupt and losing $500 million? When will forensic accountants begin digging deep into DAZN books?

Canelo took DAZN to the cleaners. Licked them for every dime possible. He saw a treasure trove of easy fights, lined them up, beat 'em all and made millions. I've never seen anything like this in professional sports. This is worse than Bobby Bonilla's NY Mets contract.

Conversely, Charlo has been patiently waiting since 2018 and now all of a sudden these same fan boys and media gurus are saying this isn't the fight Canelo should be fighting! It makes no business sense for Canelo to pass up on the Charlo fight before he fights Benavidez. Win, lose or draw, the Benavidez fight will always be there and the longer he waits the more the fight grows.

I like the Charlo fight for boxing. Styles make fights, its going to be an entertaining fight. Charlo has what it takes to bring the best out of Canelo and I think we'll see the best version of Canelo this September.

-- Nail Rahman

Hey Nail.

The stars definitely aligned for Canelo at the end of 2018. He jumped off the dying HBO Boxing ship and landed straight on to the beach of DAZN money marks, in a division stacked with alright, but not at all formidable talent (mostly aligned with DAZN head promoter and boxing figurehead, Eddie Hearn). He made a killing in his five-year run with minimal risk involved. Mind you, he went out there and did what he had to do and looked impressive doing it. So, I'm not going to fault the man for being fortunate. And I still say that his December, 2020-November, 2021 run was historically impressive, with three dominant wins over Top 5 168-pounders and an absolute crushing of a WBC mandatory. This next leg of his career, with PBC, will be significantly more difficult than the DAZN leg.

Honestly, I would've preferred for Canelo to fight Benavidez next and save Charlo for after Jermall had a chance to have at least one tune-up. But I won't complain at all about a Charlo fight right now. Despite his inactivity, I still see him being the all-around most skilled fighter Canelo has faced since Erislandy Lara in 2014 and Floyd Mayweather in 2013. It should be interesting.

As for Hearn? He's not going to come out a loser in this. He hustled the dopes at DAZN and used their money to not only fatten his own wallet, but to also build his stable. He can walk away from DAZN and be good. As utterly dislikable as he is, you have to give credit where credit's due. He pulled off a good hustle and, because the boxing media is the boxing media, he probably won't ever face the kind of criticism or scrutiny Al Haymon or PBC get.

The Charlos

Hello Paul.

How's it going?

Charlo names have been floating around the news lately. Canelo, Adames (after a great win) asking for Jermall. Tim Tsyzu just won his second interim fight while waiting for Jermell.

It's been over a year, do you see the Charlo brothers coming back soon or should their titles be stripped?

Thanks.

-- Brian C.

Hey Brian.

Well, Jermall has been in the news as a rumored opponent for Canelo in September. I haven't heard anything about when Jermell may be coming back. Both have had injury issues and Jermall has had some pretty deep personal issues as well. Whether they should be stripped or not? I don't know. Maybe. Yeah. Interim champs have been named, which is the protocol for when the champ has issues that prevent him from defending the title and the sanctioning body rules that he shouldn't be stripped.

What I want to touch on, however, is how this latest "inactivity" narrative is yet another case of selective outrage and blatant double standard.

Oleksandr Usyk has fought once a year since 2018 (and two of those bouts were against journeymen), yet nobody, anywhere in the media, talks about his inactivity. Jermall has fought the same amount of times in that 5-year span as Usyk has. Jermell has fought one more time in that five-year span. Artur Beterbiev has fought the same amount of times as Jermell has over the course of the same period of time, but nobody is screaming "inactivity" at him. I could go on. So, take all these media-born narratives with a grain of salt and notice who is held to one standard and who is held to another. There's always a "why" the same story is covered two completely different ways.

Got a question (or hate mail) for Magno's Bulging Mail Sack? The best of the best gets included in the weekly mailbag segment right here at FightHype. Send your stuff here: paulmagno@theboxingtribune.com.